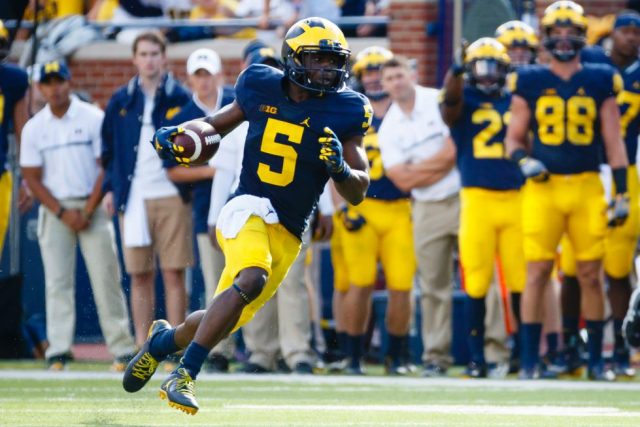 2016 College Football Week 11 Line Moves That Matter
Every week in this space we highlight the most interesting line moves at the market-setting offshore sportsbooks — typically Bookmaker and Pinnacle — which take the highest limits and therefore attract the sharpest bettors. By contrasting the opening and current lines with the public betting trends from our seven contributing offshore sportsbooks, we're able to determine how public betting has affected the line.
We are also proud to announce that in addition to our public betting percentages, we now offer real money percentages, which reflect the percentage of total dollars wagered at one of the sharper offshore sportsbooks. This allows bettors to easily monitor all the factors influencing line movement.
It's important to know which side is receiving the majority of tickets, but it's far more crucial to understand which side is receiving a majority of the money since books are far more likely to adjust their lines if they have significant liability on one side. By waiting until public money has artificially inflated the line, bettors can often capitalize on public perception and find additional line value.
In most games, the ticket percentages and money percentages will match up fairly closely, but it's quite telling when there's a large discrepancy between these two numbers. This information, which is available exclusively to Sportsbook Insider subscribers, is essential in determining what's causing the line to move.
This week's edition of Line Moves That Matter examines three games where public money has affected the spread in a unique manner.
Tulsa Golden Hurricanes at Navy Midshipmen (Saturday at 12:00 PM eastern)
Although it's not the sexiest matchup, Tulsa opened as 1-point road underdogs at Bookmaker for Saturday's showdown with Navy. In early action, the Hurricanes have been largely ignored, receiving just 23% of spread tickets at our contributing sportsbooks.
Despite this one-sided public betting, Tulsa has actually dropped from +1 to -1. Line movement that contradicts our betting percentages is known as reverse line movement, and it's an excellent indicator of sharp money.
[click image below to enlarge]

Despite receiving less than one quarter of spread tickets, the money has been equally distributed with Tulsa receiving 47% of total dollars wagered. Even though the majority of bettors are taking Navy, these evenly split money percentages indicate there have been several large bets placed on Tulsa. That information is confirmed by the steam move on Tulsa, which was triggered by our Bet Signals immediately after the line opened.
Many bettors believe that oddsmakers are looking to balance their book by attracting 50% of the action on each side and thereby mitigating any risk. That is pure fiction. Sportsbooks shade their opening line to capitalize on public perception, and allow their most-respected clients to move the lines. In this case, Bookmaker appears to have adjusted the spread despite having limited liability.
Auburn Tigers at Georgia Bulldogs (Saturday at 3:30 PM eastern)
In one of this weekend's most exciting games, Auburn opened as 10-point road favorites at Bookmaker. Although the Tigers have received just 46% of spread tickets, they have moved from -10 to -10.5. This line movement can be easily explained by our money percentages, which show that Auburn is actually receiving 78% of total dollars wagered.
[click image below to enlarge]

Although the ticket count is evenly split, the majority of money has taken Auburn to cover. With more than three-fourths of the money taking Auburn, the line has moved a half-point from AUB -10 to -10.5. That's very significant since "10" is one of the most important key numbers to football bettors.
We will continue to monitor these trends to see whether the Tigers maintain this level of public support when limits are increased later in the week.
Michigan Wolverines at Iowa Hawkeyes (Saturday at 8:00 PM eastern)
Michigan opened as 17.5-point road favorites and the betting has been extremely one-sided all week. As you can see from the line chart below, not only has the percentage of spread tickets (80%) favored the Wolverines, the percentage of money splits have been even more drastic with 86% of all spread dollars taking Michigan.
[click image below to enlarge]

With the market steadily pounding Michigan throughout the week, oddsmakers have been forced to adjust their number multiple times, eventually landing at the current line of Michigan -21.5. In other words, public money is largely responsible for this massive four-point line move.
It's also worth noting we have tracked more bets on this game than any other Week 11 matchup, and past research has found there's more value betting against the public in the most heavily bet games. We're not advocating for bettors to take Iowa, but it's an important factor to consider.
Interested in checking out our new money percentages and line charts for the entire slate of Week 11 games? Sign up now for a 4-day trial of Sportsbook Insider Pro.
In addition to the features shown in this post, subscribers also have access to our entire suite of live odds, public betting trends, steam moves, smart money alerts and our in-house Best Bet picks. This week we have ten pending college football Best Bets including:
USC at Washington
LSU at Arkansas
Pittsburgh at Clemson
Have any questions for the staff at Sports Insights? Make sure to utilize our live chat or call us directly at 877-838-2853.