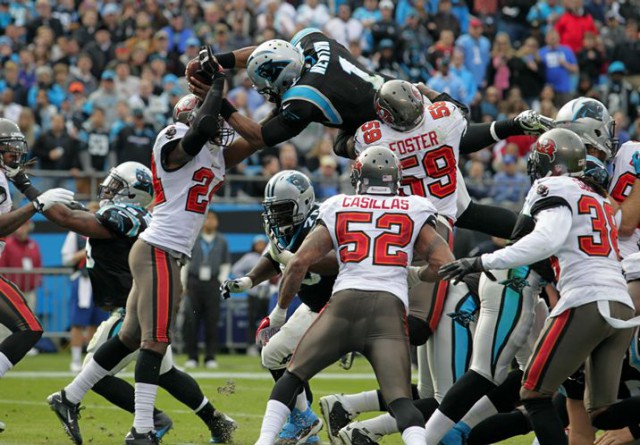 2015 NFL Betting: Week 4 Line Moves That Matter
Last week was one of the worst weeks for sportsbooks, and that typically correlates with poor returns for betting against the public. As the saying goes, "the house always wins," but over the course of a long season there will be down weeks for contrarian bettors.
It's important to know that sports betting is a marathon, not a sprint. By following sharp money, tracking profitable historical trends and utilizing a flat betting strategy with a unit size representing 2-4% of your bankroll, bettors will have success in the long haul.
That said it can actually be beneficial for the betting public to have such a successful week. It typically means that uneducated and under-informed "square" bettors have more money at their disposal. These bettors love to take favorites and overs, which can create value for opportunistic bettors willing to take underdogs and unders.
At the time of publication only one underdog was receiving a majority of public bets — the Giants (+5.5) who are receiving 53% of spread bets. We've also seen four teams receiving at least 80% of spread bets with another three teams teetering on that threshold. Public bettors are clearly overreacting to last year's results, and this means that Week 4 could be the perfect opportunity to buy low on the league's least popular teams.
We have spoken at length about the 80/20 rule — one of the most basic and profitable contrarian systems. Since 2003, underdogs receiving no more than 20% of spread bets have gone 104-82 ATS (55.9%) with +16.75 units won. When that team also lost their previous game, our units won decreases but the winning percentage improves to 57.5%. If both teams play in the same conference, that familiarity disproportionately benefits the team getting points and our winning percentage increases to 61.1%.
For this week's edition of line moves that matter, we wanted to focus on the four underdogs receiving less than 20% of spread bets and analyze what that line movement tells us about each game.
Carolina Panthers at Tampa Bay Buccaneers (Sunday at 1:00 PM eastern)
The Panthers are off to a hot start this season and are one of just seven undefeated teams in football. The Buccaneers on the other hand are just 1-2 after posting the worst record in the league last season. With these teams going on opposite directions, Carolina opened as 3.5-point favorites at CRIS and have received 87% of spread bets. Despite such overwhelming public support, the Panthers have dropped from -3.5 to -3.

When the line movement contradicts our public betting trends, it's referred to as reverse line movement — an excellent indicator of sharp money. It's also important to note that the current total for this game is only 39.5 and underdogs have historically performed well in games with low totals.
It may be tough to support a rookie quarterback against an undefeated opponent, but this is the perfect opportunity to sell high on the Panthers and buy low on the Bucs. We would also recommend that bettors shop for the best line since Tampa Bay is still available at +3.5 at a handful of offshore sportsbooks.
Philadelphia Eagles at Washington Redskins (Sunday at 1:00 PM eastern)
It's amazing how quickly public perception can change. Just last week we were advising bettors to take the winless Eagles as a contrarian underdog against the Jets. After pulling out a 7-point win, spread bettors can't stop hammering Philly.
In a battle of 1-2 teams, the Eagles opened as 3-point road underdogs at CRIS and have received 83% of spread bets. Although this level of public money would typically cause oddsmakers to adjust their lines to encourage action on the Redskins, the line remains Philadelphia -3.
We haven't seen any sharp money indicators like the reverse line movement in the Panthers/Bucs game. We also haven't triggered any profitable on this game. However, the Redskins are an underdog, coming off a loss and receiving less than 20% of spread bets against a conference opponent.
Once again, there are a number of sportsbooks still offering Washington +3.5 so we would advise bettors to shop for the best line before placing a bet — especially since more games have been decided by 3-points than any other margin.
Green Bay Packers at San Francisco 49ers (Sunday at 4:25 PM eastern)
We stress the importance of buying on bad news, and it may be tough to find a team struggling more than the 49ers. After defeating the Vikings in Week 1, San Francisco lost their next two games by a combined 65-points. That includes a 47-7 drubbing against the Cardinals last week, in which Colin Kaepernick threw four interceptions — two of which were returned for touchdowns. Meanwhile, the Packers are off to a 3-0 start including a win over the Chiefs last week in which Aaron Rodgers threw for 333 yards and 5 touchdowns.
Green Bay opened as a 7-point road favorite and have received 84% of spread bets. This one-sided betting have moved the Packers from -7 to -8 at CRIS. We can also determine that public money is solely responsible for this line movement since there have been no steam moves triggered on Green Bay. Essentially, bettors who are willing to take an unpopular stance and take the 49ers will get a free point based on public perception alone.
In addition to our 80/20 rule, the 49ers fit a number of other profitable historical trends. Home underdogs of at least 7 points have gone 118-88 ATS. Teams coming off a loss of at least 20 points have gone 335-282 ATS. San Francisco is also a current game match for our 2015 NFL Betting Against the Public system which has gone 113-66 ATS with +40.09 units won.
With Jordy Nelson out for the season and Davante Adams listed as doubtful, the Packers passing offense may struggle to meet their lofty expectations. The 49ers are offering tremendous contrarian value, and are even available at +9.5 at a number of square sportsbooks.
St. Louis Rams at Arizona Cardinals (Sunday at 4:25 PM eastern)
This may be getting redundant, but this is the ideal week to buy on bad news and sell on good. After upsetting the Seahawks in Week 1, the Rams have lost two straight games and managed just 16 total points in that time. On the other hand, the Cardinals are undefeated and are coming off a 40-point victory.
The Cardinals, who now have the fourth best odds (+1150) of winning the Super Bowl, opened as 6.5-point favorites and have received 89% of spread bets. As the most popular Week 4 bet, Arizona has moved from -6.5 to -7 at CRIS. Once again, there have been no bet signals triggered on either team with means that public perception is solely responsible for this half-point line move.
Need further proof that public opinion is driving this line movement? Before the season, the Cardinals were listed as 3.5-point favorites at CG Technology. The 3.5-point discrepancy between the current and preseason line is the largest of any game excluding BAL/PIT and OAK/CHI which are both due to injured starting quarterbacks.
The Rams fit the criteria for our 2014 NFL Betting Against the Public system and our updated 80/20 rule which focuses on underdogs of at least 7-points. In what should be a low-scoring game, the Rams seem like an excellent value at +7. Bettors worried about the push on a key number will be happy to know St. Louis is available at 7.5 at a few sportsbooks including Bovada.
The screenshot below shows the individual betting percentages from our seven contributing sportsbooks.

These numbers are subject to change before kickoff, so bettors should be sure to visit our free NFL odds page for the latest lines, injuries, public betting trends and more.
Have any questions for the staff at Sports Insights? Utilize our live chat to speak with a customer service representative or e-mail us at help@sportsinsights.com.
David Solar is the Content Manager for Sports Insights and can be reached directly at David@sportsinsights.com.