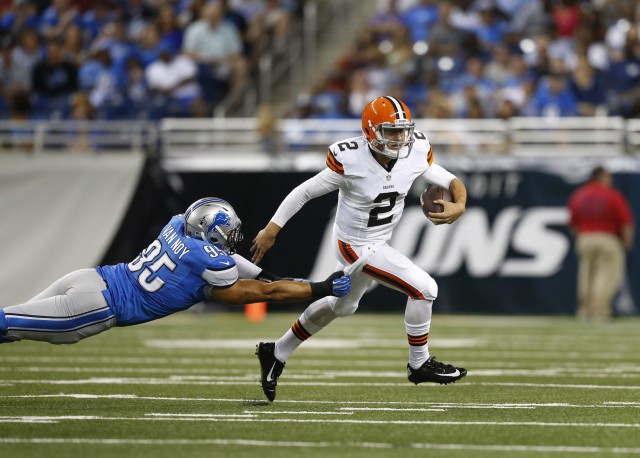 2015 NFL Betting: Week 14 Line Moves That Matter
Every week in this space we highlight the most interesting line moves at the market-setting offshore sportsbooks — typically CRIS, Pinnacle and 5Dimes which take the highest limits and therefore attract the sharpest bettors. By contrasting the opening and current lines with the public betting trends from our seven contributing offshore sportsbooks, we're able to explain what factors are influencing line movement.
In recent weeks we have started to compare our offshore trends with ticket counts and total dollars wagered at William Hill — one of the most prominent Las Vegas sportsbooks. This gives us a more complete overview of the sports betting marketplace.
Although the only picks we fully endorse are our Best Bets, sharp money indicators like reverse line movement help offer insight into which teams are offering value and whether public perception is creating artificial line value.
Last week was highly profitable for visitors, who posted a record of 11-4 ATS. On the season road teams have gone 98-83 ATS (54.1%) and road underdogs have gone 67-52 ATS (56.3%).
Our research also found that underdogs of at least 7-points have been historically undervalued which is particularly significant when you consider that there are seven teams fitting that criteria in Week 14.
NFL underdogs of at least 7 points are now 27-17 ATS (61.4 percent) this season, via @SportsInsights

— Larry Hartstein (@LarryHartstein) December 8, 2015
What's curious about this data is that it contradicts our previous analysis. Our database shows that NFL underdogs of 7+ points have gone 552-502 ATS (52.4%), but the sweet spot has been home dogs fitting these criteria (122-92 ATS, 57%). Road underdogs of at least 7-points have gone just 426-406 (51.2%), which isn't a high enough winning percentage to cover the standard -110 juice charged by sportsbooks.
Instead of focusing on these large road 'dogs, we wanted to continue highlighting contrarian value by examining our betting against the public strategy and teams fitting our most profitable late season trends.
Seattle Seahawks at Baltimore Ravens (Sunday at 1:00 PM eastern)
Though the Ravens quarterback was still undecided at the time of publication, the Seahawks opened as a 10-point favorite at CRIS and have received 72% of early spread bets. With Joe Flacco (Knee) out for the season and Matt Schaub (Concussion) still listed as questionable, Jimmy Clausen could potentially get the start behind center.
This would be a bizarre turn of events since Clausen's last start as a member of the Chicago Bears came back on September 27th against — you guessed it — the Seattle Seahawks. In that game Clausen threw for just 63 yards in a 26-0 loss.
As part of our contrarian strategy we constantly advocate buying on bad news, and selling on good. The truth is that teams are typically a lot closer talent wise than the public believes, which is why the term "Any Given Sunday" has quickly become clichéd. With the Seahawks coming off a 3-game winning streak (including a blowout victory over the Vikings) and the Ravens owning the league's fourth worst record in football, this could be the perfect storm for opportunistic contrarian bettors.
Home underdogs of at least 7-points have gone 122-92 ATS (57%) while home 'dogs of at least 10-points have gone 38-24 ATS (61.3%).

The Seahawks have been the best home team in our database (66-42 ATS), but they have actually been subpar on the road (46-58 ATS). It may not be a pretty play, but the Ravens are offering clear cut value as a double-digit home underdog.
San Francisco 49ers at Cleveland Browns (Sunday at 1:00 PM eastern)
This may be one of the worst games of the season, but that doesn't mean that bettors can't find value. After opening as a pick 'em at CRIS, San Francisco was pounded in early action, receiving 70% of spread bets. Although the 49ers have been the more popular side, they are now listed as 2-point underdogs. This reverse line movement is an excellent indicator that sharp money likes the hometown Browns.

The Browns have lost their past seven games including a 34-point loss against the Bengals last week, which could make Cleveland an interesting buy low candidate. Since 2003, teams have gone 138-105 ATS (56.8%) following a loss of 28-points or more.
Johnny Manziel should be considered an upgrade over Austin Davis and the Browns fit the criteria for our Week 4 and Week 8 betting systems for ESPN Insider. There have also been a number of bet signals triggered on Cleveland, making them a clear cut value pick.
New England Patriots at Houston Texans (Sunday at 8:30 PM eastern)
The Patriots, who have lost their past two games including a shocking 7-point home loss against the Eagles, opened as a 3-5.point favorite at the market-setting Pinnacle sportsbook.
Despite their recent losing streak and rash of key injuries, the public has overwhelmingly supported New England. The Patriots have received 88% of tickets at William Hill and 81% of spread bets at our contributing sportsbooks.

The Patriots are still listed as 3.5-point favorites at Pinnacle despite this lopsided public betting, however, bettors should be sure to shop for the best line since many oddsmakers are hanging New England -3.
There have been a number of bet signals triggered on Houston, and they also appear to be offering contrarian value. That said, it's always dangerous to bet against the Patriots — especially following a loss. Since 2003, New England has gone 18-3 ATS (85.7%) in road games following a loss. We should also point out that the Patriots have suffered back-to-back losses just four times, going 3-1 ATS in the subsequent games.
With Rob Gronkowski's status unclear and contradicting information abound, we would suggest that bettors lay off this game.
---
Want our official Best Bet picks for NFL Week 14?
Sign up for a 4-day trial of our Sportsbook Insider Pro and access all of our picks instantly! That includes NFL, NCAAF, NBA, NCAAB and NHL. Schedule a one-on-one demo with our customer service manager and we'll tack four free days onto your subscription.
These numbers are subject to change before kickoff, so bettors should be sure to visit our free NFL odds page for the latest lines, injuries, public betting trends and more.
Have any questions for the staff at Sports Insights? Utilize our live chat to speak with a customer service representative or e-mail us at help@sportsinsights.com.
David Solar is the Content Manager for Sports Insights and can be reached directly at David@sportsinsights.com