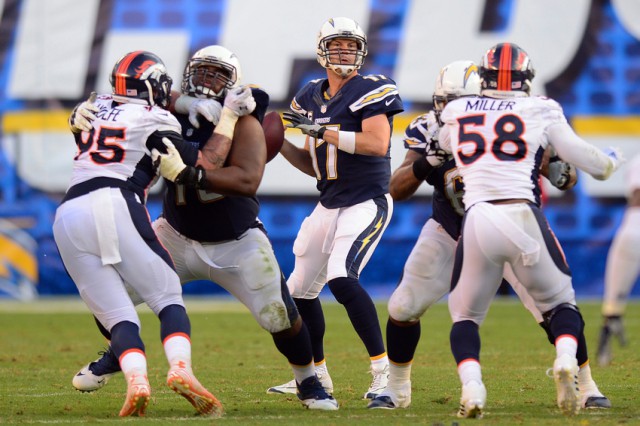 2015 NFL Betting: Week 13 Line Moves That Matter
Every week in this space we highlight the most interesting line moves at the market-setting offshore sportsbooks — typically CRIS, Pinnacle and 5Dimes which take the highest limits and therefore attract the sharpest bettors. By contrasting the opening and current lines with the public betting trends from our seven contributing offshore sportsbooks, we're able to explain what factors are influencing line movement.
In recent weeks we have started to compare our offshore trends with ticket count and total dollars wagered at William Hill — one of the most prominent Las Vegas sportsbooks. This gives us a more complete overview of the sports betting marketplace.
Although the only picks we fully endorse are our Best Bets, sharp money indicators like reverse line movement help offer insight into which teams are offering value and whether public perception is creating artificial line value.
We preach the importance of betting against the public, and those strategies have proven extremely profitable this year. Our most recent NFL Betting Against the Public report details a system that has gone 118-68 ATS (63.44%) including a 7-2 ATS (77.78%) record this season.
As we mentioned in our Week 12 NFL recap, teams receiving less than 30% of spread bets have gone 25-17 ATS (59.52%) this season and that record improves to 24-14 ATS (63.2%) when we focus on underdogs and 18-8 ATS (69.2%) when we focus on underdogs of at least 3.5-points,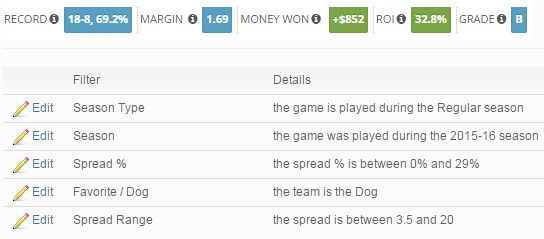 Our past research has also shown that favorites have performed exceptionally well in high-scoring games, so bettors should make sure to focus on games in which the closing total is 47.5 or lower. One reason that we chose this number is because "48" is considered a key number of over/under bettors.
Knowing that our contrarian strategies have continued to be profitable, we wanted to examine the line movement in three games with lop-sided public betting.
Arizona Cardinals at St. Louis Rams (Sunday at 1:00 PM eastern)
In this NFC West showdown, the Cardinals opened as 5.5-point favorites at the market setting Pinnacle sportsbook and have received 80% of spread bets. This one-sided public betting has moved Arizona from -5.5 to -6 across the sports betting marketplace.
Over at William Hill, there has been similarly lopsided public betting with the Cardinals receiving 88% of tickets and 97% of total dollars wagered.
The screenshot below, available to our Sportsbook Insider Pro members, illustrates how this game has been bet at our seven contributing sportsbooks:

Although it was fairly predictable, it's interesting to see such lop-sided public betting in this game. The Rams have lost their past four games while quarterback Nick Foles has barely looked qualified to start for a Pop Warner football team. Still, underdogs have performed exceptionally well in divisional games, 'dogs have been profitable in low-scoring games (over/under is currently 43.5) and the Rams actually defeated the Cardinals back in Week 4.
Our Week 9 analysis for ESPN Insider explained how bettors typically overreact after a team is blown out, and that system indicates that the Rams could be offering additional value following last week's 24-point loss to the Bengals.
Denver Broncos at San Diego Chargers (Sunday at 4:05 PM eastern)
Following their improbable come from behind victory against the New England Patriots, the Broncos opened as 4-point favorites at Pinnacle and have received 75% of spread bets. This level of public support is typical after an impressive win on national television; however, it would appear that square bettors may be overvaluing the Broncos.
Despite receiving a majority of public bets, Denver has dropped from -4 to -3.5. This reverse line movement is an excellent indicator that sharp money likes the Chargers as a home underdog. The screenshot below charts the movement in more detail.

You can see that early public money pushed the line from Broncos -4 to -4.5 before sharp money hammered the Chargers. At William Hill, the Broncos are receiving 85% of tickets and 76% of total dollars wagered. Although we would prefer to see a higher percentage of money wagered on the Chargers, it's encouraging to see that the Broncos are receiving a higher percentage of tickets than total dollars.
Additionally, our research has found that the league's top teams have historically under-performed down the stretch. That bodes well for the 3-8 Chargers as the face off against the 9-2 Broncos.
Over the past twelve years, bettors have severely overvalued "elite" teams in late season games. pic.twitter.com/6gkAhEt5lK

— Sports Insights (@SportsInsights) December 3, 2015
We always recommend buying on bad news and selling on good, which makes San Diego an intriguing option on Sunday.
Philadelphia Eagles at New England Patriots (Sunday at 4:25 PM eastern)
New England's undefeated season came to a halt last week against Denver, but that has done very little to quell the enthusiasm of oddsmakers and bettors alike. The Patriots opened as a 10-points favorite and have received 74% of spread bets for Sunday's game against the Eagles. Despite this one-sided public betting, the line remains unchanged at New England -10.
These betting trends fall in line with the public betting in Las Vegas, with 79% of tickets and 77% of total dollars wagered taking the Patriots at the William Hill sportsbook. However, it's interesting to see that New England actually dropped from -10 to -9.5 shortly after opening at William Hill.
This is an instance where shopping for the best line is crucial, since "10" is considered one of the most significant key numbers. It's also important because double-digit underdogs have gone 223-192 ATS (53.7%) although they have gone just 49-59 ATS in non-conference games.
The Eagles fit a number of profitable betting systems. Aside from the aforementioned systems involving teams coming off a blowout loss and fading elite teams in late season games, we have found that teams have gone 118-86 ATS (58.7%) after allowing 42-points in their previous game. Even so, it's always dangerous to bet against the Patriots after a loss.
Since 2003, the Patriots have gone 31-11 ATS (73.8%) following a loss. They're currently 9.5-point favorites against the Eagles.

— Sports Insights (@SportsInsights) December 2, 2015
While the Patriots have been the league's best bounce back team, they have not performed well as a large favorite. Since 2003, New England has gone just 20-29 ATS (40.8%) as a double-digit favorite and 109-63 ATS (63.4%) in all other games. For these reasons, bettors can feel confident backing Philly this week.
---
Want our official Best Bet picks for NFL Week 13?
Sign up for a 4-day trial of our Sportsbook Insider Pro and access all of our picks instantly! That includes NFL, NCAAF, NBA, NCAAB and NHL. Schedule a one-on-one demo with our customer service manager and we'll tack four free days onto your subscription.
These numbers are subject to change before kickoff, so bettors should be sure to visit our free NFL odds page for the latest lines, injuries, public betting trends and more.
Have any questions for the staff at Sports Insights? Utilize our live chat to speak with a customer service representative or e-mail us at help@sportsinsights.com.
David Solar is the Content Manager for Sports Insights and can be reached directly at David@sportsinsights.com