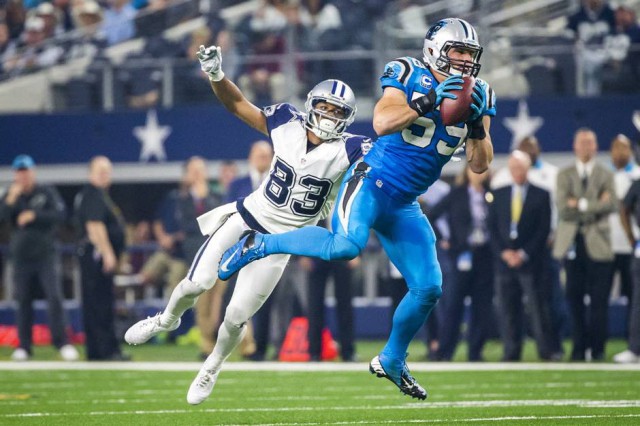 2015 NFL Season: Week 12 Betting Recap
Every Tuesday morning, the team at Sports Insights will examine some of the most interesting trends and results from the past week's NFL action. We'll also look at our betting systems, prop bets, bad beats and more before looking ahead to the following week.
In Week 12 favorites went 9-7 ATS, home teams went 10-6 ATS and home favorites went 7-4 ATS. This was a significant departure from the norm as favorites have gone just 74-95 ATS this season. Similarly, home teams have gone just 79-87 ATS and home favorites have gone 48-63 ATS.
Typically our betting against the public strategies struggle when home teams and favorites are victorious, and this week was no different. In Week 12 teams receiving less than 50% of spread bets were 7-9 ATS and teams receiving less than 40% of spread bets were 5-6 ATS. However, we should note that teams receiving less than 30% of spread bets were 2-0 ATS (Redskins +1 and 49ers +7.5).
On the season teams receiving less than 50% of spread bets are 86-79 ATS, teams receiving less than 40% of spread bets are 57-54 ATS, teams receiving less than 30% of spread bets are 25-17 ATS and teams receiving less than 20% of spread bets are 4-3 ATS.
Last week the over went 8-7, moving the season record to 85-85.
In the past we have spoken about how the under provides value in divisional games and particularly in high-scoring divisional games. Last week the under went 3-2 in divisional games including a 3-0 record in games with a total of at least 45. Games fitting this criteria have gone 15-10 this season and 227-169 (57.3%) all-time.
This week's biggest upset may surprise many bettors. The Browns opened as 1-point home favorites against the Ravens, but ended up moving 5-points and closing as a 6-point favorite. With the game tied and just 3-second remaining on the clock, Cleveland attempted a 51-yard game-winning field goal. Things did not go as planned.
https://vine.co/v/iWWin9EvTeH
Brent Urban blocked the potential game winning field goal attempt and Will Hill returned it 64 yards for a touchdown. This gave Baltimore (closed +220 on the moneyline) the shocking 33-27 victory.
In another exciting game, Brock Osweiler led the Broncos (closed +2.5 on the spread, +115 on the moneyline) to a comeback win against the previously undefeated Patriots. Although Osweiler has been more impressive than Peyton Manning this season, oddsmakers still expect Manning return as the starter later this year.
You got it @ToddFuhrman Will Peyton start another game this season? Yes -220, No +175

— Dave Mason (@DaveMasonBOL) November 30, 2015
Every Tuesday we highlight the worst beat of the week for bettors. We already mentioned the tough finishes for anybody taking New England or Cleveland, but there were other noteworthy games.
The Bills, who closed as 4.5-point underdogs, were leading 16-7 late in the second quarter. Although nothing is guaranteed that early in a game, Buffalo was outscored 23-6 down the stretch as the Chiefs were able to cover.
Under bettors were feeling good in Sunday's Jets/Dolphins game. The Jets led 21-7 entering the fourth quarter and the total had closed at 44. Unfortunately, there were more points scored in the fourth quarter alone (30) than the first three quarters combined (28). That includes three touchdowns in the final five minutes, giving over bettors the unlikely win.
With the Patriots loss to the Broncos, the Carolina Panthers are now the only remaining undefeated team. Although New England (+313) is still the favorite to win the Super Bowl, there are a number of interesting prop bets available.
Panthers Props (5Dimes)

Cam Newton MVP: +140
NFC Champ: +210
16-0 Regular Season: +425
18-0 NFC Champ: +775
19-0 Super Bowl Champion: +1300

— Sports Insights (@SportsInsights) December 1, 2015
With just five games left in the season, the MVP race has come down to just four players:
Tom Brady +120
Cam Newton +140
Carson Palmer +800
Adrian Peterson +2500
Although his team is still undefeated, Ron Rivera (+250) trails Bill Belichick (+220) as the Coach of the Year favorite.
Bill Belichick +220

Ron Rivera +250

Bruce Arians +400

Mike Zimmer +400

Marvin Lewis +1000

John Fox +2000

Todd Bowles +2500

Gary Kubiak +2800

Jack Del Rio +4000

Andy Reid +5000

Mike Tomlin +5000

Dan Quinn +10000

Pete Carroll +10000

Mike McCarthy +20000

Tom Coughlin +20000

Rex Ryan +25000
Most likely Super Bowl matchups at 5Dimes
New England Patriots vs Carolina Panthers +626
New England Patriots vs Arizona Cardinals +747
New England Patriots vs Green Bay Packers +1570
Denver Broncos vs Carolina Panthers +1655
Cincinnati Bengals vs Carolina Panthers +1825
New England Patriots vs Seattle Seahawks +1885
Denver Broncos vs Arizona Cardinals +1945
Cincinnati Bengals vs Arizona Cardinals +2150
New England Patriots vs Minnesota Vikings +2310
Pittsburgh Steelers vs Carolina Panthers +3825
The AFC is listed as a 1.5-point favorite over the NFC in Super Bowl 50. The over/under is listed at 52.5.
Jameis Winston was the first overall pick in the NFL Draft and opened the season as the favorite to win the Offensive Rookie of the Year Award. However, four games into the season Winston had thrown 7 interceptions and was listed at +250 to break the single season rookie record (28 by Peyton Manning in 1998). In recent weeks, Winston has been spectacular while fellow rookies Todd Gurley and Amari Cooper have struggled. This has caused a dramatic shake-up for Rookie of the Year odds.
Jameis Winston Rookie of the Year Odds

Current: -110 (Favorite)
Nov 25: +200
Nov 18: +2000
Oct 8: +1200
Preseason: +550 (Favorite)

— Sports Insights (@SportsInsights) December 1, 2015
---
Looking forward to next week? Don't forget to read our Week 13 Opening Line Report for early line movement and a comparison to preseason lines from CG Technology.
Make sure to bookmark our free NFL odds page for the latest lines, public betting trends, injuries, futures and more. Have any questions for the staff at Sports Insights? Utilize our live chat to speak with a customer service representative or e-mail us at help@sportsinsights.com.
David Solar is the Content Manager at Sports Insights and can be reached directly at David@sportsinsights.com