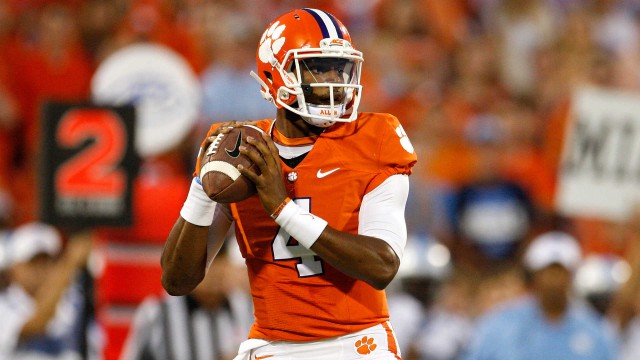 2015 College Football: Week 8 Line Moves That Matter
Last week we examined three of the biggest college football games and highlighted sharp money indicators on two favorites: Notre Dame (-6.5) and Michigan (-8.5). While the Fighting Irish defeated USC 41-31, things didn't go quite as planned for the Wolverines.
Leading 23-14 in the fourth quarter, bettors were likely optimistic about Michigan's chances to cover. However, those hopes were thwarted when Michigan State scored on 1-yard touchdown run just 29 seconds later to make it 23-21.
With just seconds remaining in the game, the Wolverines continued clinging to this 2-point lead. Although it was clear that Michigan State would cover the 8.5-point spread, the 86% of bettors taking the Spartans moneyline (closed +262) looked to be out of luck — until something inconceivable happened.
https://www.youtube.com/watch?v=ah7KrvaX-NA
This outrageous turn of events left Michigan fans in shock, and forced at least one Spartan moneyline bettors to dig through the trash to find their winning ticket. This ranked as the weekend's fourth biggest upset trailing Georgia State (+481), Memphis (+309) and Idaho (+298).
Betting against the public didn't work out the Michigan backers, and overall there were mixed results for contrarian bettors. Teams receiving less than 50% of spread bets went 28-27 ATS, but that record drops to 10-17 ATS when we focus on major conference schools (ACC, Big Ten, Big 12, Pac-12 and SEC).
We always recommend buying on bad news and selling on good, and that strategy was certainly effective last week as teams coming off a loss of at least 42 points went 4-0 ATS (New Mexico State, Kansas, Fresno State and North Texas). Looking forward to this week, it may be a good opportunity to buy low on Kansas State (+4 at Texas), Eastern Michigan (+28 at Northern Illinois) and UL Monroe (-1 at Idaho) — all of whom where blown out in their previous game.
Every week we analyze the three or four most interesting College Football games using a combination of line movement and betting trends. This week we will once again compare betting trends from our seven offshore sportsbooks, with the ticket count and dollars wagered at the Las Vegas based William Hill sportsbook. (@WilliamHillUS on twitter)
Clemson at Miami Florida (Saturday at 12:00 PM eastern)
In this marquee ACC matchup, 6th-ranked Clemson opened as a 5.5-point favorite at the market-setting Pinnacle sportsbook and have received 72% of early spread bets. This one-sided public betting has moved Clemson from -5.5 to -6.5, but it's worth nothing that a number of sportsbooks (including 5Dimes, BetUs, Bovada and Sportsbook.com) have already moved to the key number of -7.
Over at William Hill, they have taken similar one-sided public betting on Clemson. According to Michael Grodsky, they have taken 84% of spread bets and 97% of total dollars wagered on the Tigers. This would seem to indicate that sharps and squares are both pounding Clemson.
The screenshot below shows how the line and betting trends have moved since opening:

Texas A&M at Mississippi (Saturday at 7:00 PM eastern)
In one of last week's most shocking upsets, Ole Miss lost by 13-points to Memphis and clearly bettors are overreacting to this result. Mississippi opened as a 4-point home favorite against Texas A&M but have received just 33% of early spread bets. Despite low levels of public support, the Rebels have moved from -4 to -6. This reverse line movement is an excellent indicator that sharp money loves Ole Miss.
The current betting trends in Las Vegas tell a slightly different story. Although they have tracked similar one-sided public betting on Texas A&M (receiving 88% of spread bets), they have also tracked 94% of total dollars wagered on the Aggies. This doesn't necessarily mean that sharp money has taken a side, but we would have preferred to see a higher dollar figure on Ole Miss to confirm our sharp money indicators.
In addition to the reverse line movement at offshore sportsbooks, we have a number of betting systems triggered on Ole Miss — almost all of which involve exploiting the AP Top 25 rankings. When two ranked teams play, the favorite has gone 250-208 ATS (54.6%). We have also found that betting against the public is particularly effective when their opponent barely cracks the Top 25.
We will continue to monitor this line throughout the week, but right now we would have to lean towards Ole Miss as the rare contrarian favorite.
Utah at USC (Saturday at 7:30 PM eastern)
As we mentioned earlier, USC lost to Notre Dame on national television last week which may make this the ideal opportunity to buy low Trojans.
In the most bet game of the week, USC opened as a 3-point favorite at Pinnacle and have received just 19% of spread bets. Despite this one-sided public betting, the Trojans have moved from -3 to -3.5 across the sports betting marketplace. This reverse line movement once again indicates that sharp money loves Cody Kessler and company.
This sharp money is confirmed by the betting trends at the William Hill. Although 92% of tickets have taken Utah, only 67% of total dollars wagered are on the Utes. That indicates that a large number of big bets have taken USC.
The screenshot below shows the current public betting breakdown at five of our seven contributing sportsbooks:

Ohio State at Rutgers (Saturday at 8:00 PM eastern)
Ohio State has gone 7-0 this season and remain the favorite to win the National Championship, but coach Urban Meyer decided to make a major change this week — replacing incumbent starting quarterback Cardale Jones with J.T. Barrett.
Although the Buckeyes have thrived this season, Jones has failed to live up to lofty expectations. After totaling 286 total yards and three touchdowns in a Week 1 victory over Virginia Tech, Jones (+1100) had the fourth best odds of winning the Heisman Trophy. Since then, he has had a number of subpar games including outings against Northern Illinois (47 total yards) and Penn State (68 total yards).
With Jones expected to start, Ohio State opened as a 20.5-point favorite against Rutgers and received 75% of early spread bets. once it was announced that Barrett would get the start, the game was taken off the board. This game is still off the board at many books, but the Westgate Superbook re-opened the Buckeyes as 21.5-point favorites. This indicates that oddsmakers view Barrett as an upgrade over Jones, and this 1-point line is particularly significant since it involves a key number.
Since this game was taken off the board, there are no available trends from William Hill. Based on our offshore betting trends, Rutgers would appear to have slight contrarian value in Saturday night's game. That value was confirmed by the number large numbers of reverse line moves triggered on Rutgers +21.5
---
These numbers are subject to change before kickoff, so bettors should be sure to visit our free College Football odds page for the latest lines, injuries, public betting trends and more.
Looking for picks? We have 10 pending College Football Best Bets which bettors can access by signing up for a 4-day Pro trial. Interested in adding more time to your subscription? Schedule a one-on-one demo with our customer service manager and receive an additional four days for free!
Have any questions for the staff at Sports Insights? Utilize or live chat to speak with a customer service representative or e-mail us at help@sportsinsights.com.