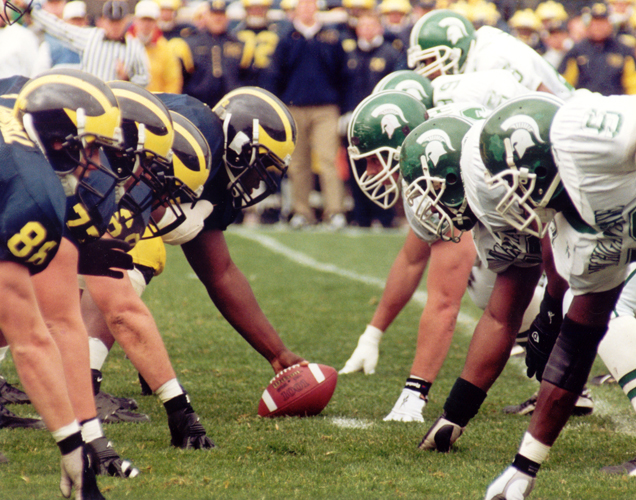 2015 College Football: Week 7 Line Moves That Matter
In last week's edition, we examined the line movement in four games and highlighted sharp money on Texas and a betting system match on Miami (FL). Not only did Texas easily cover the 17-point spread, but they actually upset Oklahoma with a shocking 24-17 victory. Meanwhile our betting system — which focused on well rested road teams against ranked opponents — improved to 85-51 ATS as Miami (+9) lost to Florida State by just 5-points to cover the spread.
At first glance, it would seem like Week 6 was atrocious for our betting against the public philosophy with underdogs going 23-33 ATS and teams receiving less than 50% of spread bets going 26-30 ATS. However, we have mentioned numerous times that betting against the public is a far more profitable strategy in major conference games due to the higher volume of bets.
If we look at the five major conferences (ACC, Big Ten, Big 12, Pac-12 and SEC), teams receiving less than 50% of spread bets were actually profitable with a 16-10 ATS record. Going a step farther, teams receiving less than 40% of spread bets were 9-4 ATS and teams receiving less than 30% were 3-1 ATS.
In order for betting against the public to be an effective strategy, oddsmakers need to take enough action on one side to warrant a line move. That's not an issue for popular sports like the NFL, NBA and MLB, but it's one of the reasons why betting against the public hasn't been as profitable for secondary sports.
To really highlight that point, we opted to examine three of this weekend's most heavily bet games — all involving teams from the major five conferences plus independent darling Notre Dame. We also spoke with Michael Grodsky of William Hill to compare how public betting in Las Vegas with our figures from seven offshore sportsbooks.
Michigan State at Michigan (Saturday at 3:30 PM eastern)
Before the start of the season, 5Dimes posted "Game of the Year" lines for a number of marquee games throughout the season. When this was released, Michigan State was listed as a 5.5-point road favorite against in-state rival Michigan. Flash forward several months, and the Wolverines have surpassed all preseason expectations while the Spartans have greatly underperformed.
When 5Dimes released their opening lines on Sunday evening, Michigan was listed as a 6.5-point favorite, but they have received just 29% of spread bets. This is perplexing when you consider that Michigan State has gone 0-6 ATS this season. Despite this lop-sided public betting, the Wolverines have moved from -6.5 to -8.5. It's rare to see this type of reverse line movement on a favorite, but it's a clear indicator that sharp money loves Jim Harbaugh's squad in this matchup.
In Las Vegas, all indications are that sharp bettors are taking Michigan. At William Hill, 71% of tickets have taken Michigan State but 56% of total dollars have taken Michigan. Essentially squares are taking the Spartans and sharps are taking the Wolverines, making this the quintessential "Pros vs. Joes" game.
In addition to this sharp money indicator, we also have a profitable betting system triggered on Michigan which focuses on contrarian favorites when two ranked teams face off.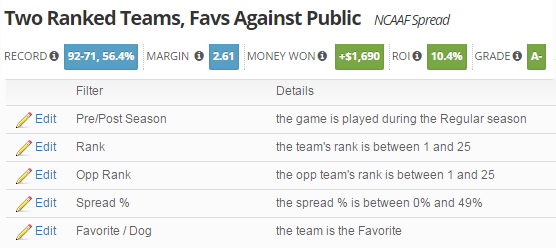 Michigan has shut out their past three opponents and boasts the nation's top ranked defense, allowing just 6.3 points per game. Although underdogs are typically undervalued in low-scoring games, we like Michigan as a contrarian favorite in this week's most heavily bet game.
Florida at LSU (Saturday at 7:00 PM eastern)
Earlier this week, Florida Gators quarterback Will Grier was suspended for the year after testing positive for performance enhancing drugs. Typically we would recommend that bettors buy low on this type of bad news, but what does the line movement tell us?
Florida opened as a 6-point road underdog at CRIS and had moved to +7 by the time that news broke of Grier's suspension. Oddsmakers took the game off the board following this announcement, and eventually re-opened the Gators at +9.5 which indicates that Grier is worth 2.5-points to the spread.
Sophomore Treon Harris is expected to start in place of Grier on Saturday, and the 5'11" quarterback does have some experience. Last season Harris completed just 55 of 111 attempts (49.6%) for 1,019 yards with 9 touchdowns and 4 interceptions while adding 332 yards on the ground. Bettors clearly aren't scared about this quarterback change, as public betting has been evenly split with 42% of spread bettors taking Florida.
Over at William Hill, the current betting trends don't help shed much light on the situation. The ticket and money count are split very equally with 60% of bettors taking LSU and 52% of total dollars wagered on Florida. Since we don't have any sharp money indicators triggered at the time of publication, we would likely advise laying off.
The screenshot below shows how the public betting has affected the line at CRIS:

USC at Notre Dame (Saturday at 7:30 PM eastern)
It's been an interesting week for USC football to say the least. On Sunday it was announced that head coach Steve Sarkisian would take an indefinite leave of absence after years of battling alcoholism. The very next day it was announced that Sarkisian's contract had been terminated.
Offensive coordinator Clay Helton will serve as the interim head coach, but oddsmakers believe that USC will pursue another Pac-12 coach to replace Sarkisian.
Utah head coach Kyle Whittingham (+350) is the favorite to be the next full time coach at Southern California (USC). pic.twitter.com/0wHymey6m4

— Sports Insights (@SportsInsights) October 13, 2015
With so much turmoil surrounding the team, USC opened as a 4-point underdog for Saturday night's game. In early betting, 72% of spread bettors have taken Notre Dame which has moved the Fighting Irish from -4 to -6.5. Although it would appear that public perception is responsible for this line move, that's not necessarily the case since there was a 5Dimes steam move triggered on Notre Dame -6.
The public betting at William Hill seems to validate this sharp money indicator. As of Wednesday afternoon, 79% of tickets and 93% of total dollars wagered were taking Notre Dame. That would seem to indicate that public and sharp bettors are both taking the Fighting Irish.
Many sportsbooks have already made Notre Dame a 7-point favorite, so bettors should grab ND -6.5 before they hit the key number of -7 across the sports betting marketplace. It's rare that we will recommend betting with the public, but we can't ignore sharp money indicators on the Irish.
These numbers are subject to change before kickoff, so bettors should be sure to visit our free College Football odds page for the latest lines, injuries, public betting trends and more.
Have any questions for the staff at Sports Insights? Utilize or live chat to speak with a customer service representative or e-mail us at help@sportsinsights.com.