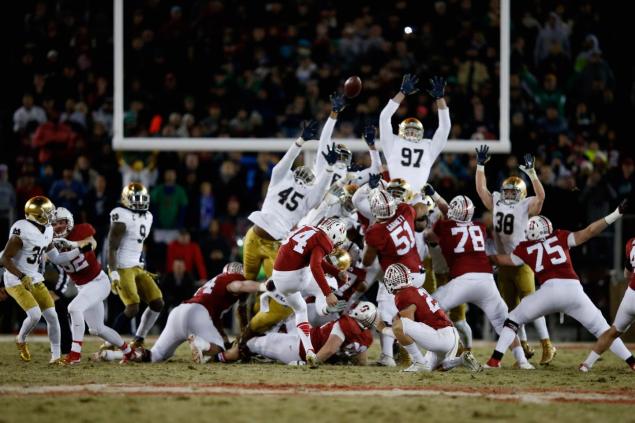 2015 College Football: Week 13 Betting Recap
Largest moneyline upsets of the week:
New Mexico +363 vs. Air Force
Ohio +355 at Northern Illinois
Western Michigan +244 at Toledo
Miami-FL +228 at Pittsburgh
-Contrary to early reports this week, Saturday was NOT Les Miles' final game as head coach at LSU. He has gone 63-66 ATS since 2005 including 9-14 ATS as underdog.
-Ohio State HC Urban Meyer has gone 19-5 ATS in his career as an underdog (stat via @doustism on Twitter) but Ohio State ended up closing -1 against Michigan on Saturday despite opening +2.5. The Buckeyes were actually listed -16 for this matchup back in June at Golden Nugget. The Buckeyes easily covered in their romp over Michigan, but will not play in the Big Ten title game.
-Iowa on the other hand, IS in the Big Ten title game and a win would get them into the CFB Playoff. They were 1200:1 to win the National Championship at 5Dimes on September 3.
-Syracuse was the top Over team (10-1) this season but were looking at their lowest total all year on Saturday, 40.5 vs. BC. BC was the top rated defense in the nation and only 35% of bets were on the Over, and bettors were right- Syracuse won 20-17 sending the game under the total.
-The highest total of the week was 71.5 between SMU and Memphis. Despite Memphis holding a 56-0 lead at the half, only 7 points were scored in the entire second half, falling under the total.
-That game also featured the second-highest halftime margin of the season with SMU down 56 points (only behind BC 62-0 over Howard). Teams down 49+ points at the half had covered 10 straight games on the second half line, but SMU +7 pushed on Saturday.
-Virginia fired head coach Mike London. Mike London went 33-36 ATS in his 6 seasons at Virginia, but actually covered his final 6 games.
-On Sunday morning Georgia officially fired HC Mark Richt. He went 93-95 ATS in his time there.
-Here was the bad beat on Tulane against Tulsa Friday night:
Last night Tulane (closed +9.5) was covering the spread by 19.5 points with 8 minutes left but lost 45-34: pic.twitter.com/yWzrC8CF2O

— Sports Insights (@SportsInsights) November 28, 2015
-Similarly Alabama scored a late TD against Auburn to win by 16 and cover the opening (-13) and closing (-15) spread.
-Visitors went 36-24 ATS in Week 13.
-Favorites went 36-25 ATS in Week 13 including a 27-15 ATS mark on Saturday alone. According to David Purdum, Saturday was the worst Saturday of the season for Vegas sportsbooks.
Futures Watch:
-The two lowest Season Win Totals both went under: Kansas (1.5) won 0 games while Eastern Michigan (1.5) won 1 game.
Conference Title Matchups and their preseason conference title odds:
AAC: Houston (+600) vs. Temple (+550)
ACC: Clemson (+300) vs. North Carolina (+3300)
Big Ten: Iowa (+6600) vs. Michigan State (+950)
CUSA: WKU (+325) vs. Southern Miss (+5000)
MAC: Northern Illinois (+325) vs. Bowling Green (+475)
MWC: Air Force (+1800) vs. San Diego St (+450)
Pac-12: USC (+240) vs. Stanford (+625)
SEC: Alabama (+325) vs. Florida (+3100)
Videos/Vines:
-Southern Miss WR Mike Thomas makes a one-handed grab for a TD at La Tech:
Southern Miss goes up 21-3 on Louisiana Tech thanks to this Mike Thomas catch: https://t.co/GFUAAbRAjd pic.twitter.com/U4x2dXyQ2j

— Deadspin (@Deadspin) November 28, 2015
-Houston WR Demarcus Ayers also with a one-handed grab then a spin move on his way to the end zone:
Demarcus Ayers can't stop making these ridiculous catches! (via @PickSixPreviews): https://t.co/sYFruKC0Cx https://t.co/0yhnzEvnmr

— SB Nation (@SBNation) November 27, 2015
-Michigan State WR Aaron Burbridge has made a few spectacular plays this year, and here was his incredible double-spin move against Penn State:

Join us live Saturday mornings at 11am ET
We're now holding our members-only live Sports Betting Hangouts Saturday mornings to prepare you for a full day of College Football. Members, simply log into your account Saturday morning to access the hangout.
Not a member? Start a trial today to join our Sports Betting Hangouts held six days a week, plus all the other Sportsbook Insider Pro benefits.