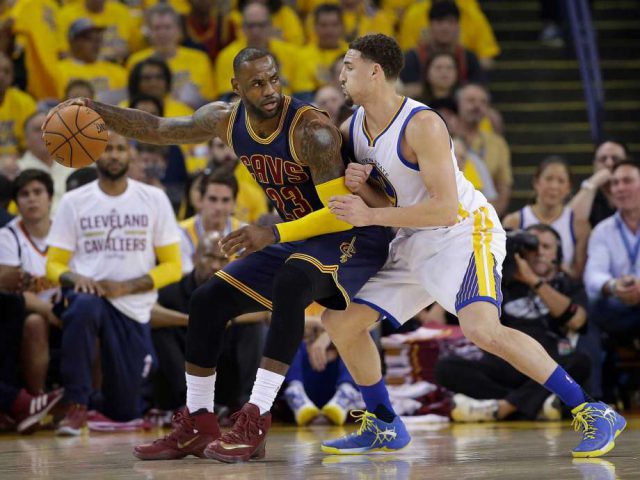 Where is Sharp Money Going in Game 4 of the 2016 NBA Finals?
Over the past three weeks, I have broken down the marquee NBA playoff games using the tools available to Sportsbook Insider and Bet Labs subscribers. By examining public betting trends, sharp money indicators and betting system matches, I have been able to identify which sides and totals offered value to bettors.
Three weeks ago I highlighted value on the Golden State (-8.5) and the under (222) in Game 2 of the Western Conference Finals
Two weeks ago I explained that bettors were overreacting to Golden State's recent struggles, and argued that they were once again offering value as a 7.5-point favorite in Game 5 of the Western Conference Finals. The Warriors went on to win by 9.
Last week I pointed to sharp money indicators on the spread and total in Game 1 of the NBA Finals. For the third consecutive week, those picks won with ease.
In this week's edition, I will try to maintain this hot streak while identifying value on the spread and total. Although the home team has won by an average of 26 points per game this series, there's reason to believe that the tides will change this evening.
[On the go? Download the Sports Insights app for live odds, trends, injuries and more ]
After losing the first two games of this series, the Cleveland Cavaliers defeated the Golden State Warriors by 30-points in Game 3 of the NBA Finals. Following this blowout victory, the Cavs opened as 2.5-point favorites at the market setting Pinnacle sportsbook. Perhaps even more interesting is that this marks the first time under Steve Kerr that the Warriors have been underdogs in back-to-back games.
Although bettors rarely have the opportunity to take Golden State as an underdog, there has been a strong reaction to the Game 3 blowout. At the time of publication, the Cavs were receiving overwhelming public support with 63% of spread bets and 71% of the money.
The screenshot below displays the individual betting trends at our contributing sportsbooks.
It's interesting to note that square sportsbooks (like SIA and BetUs) have seen incredibly one-sided public betting on Cleveland while sharper books (like 5Dimes and BetDSI) have been far more evenly split. It's also worth noting that over the past two seasons, the Warriors have gone 13-6 ATS when they're not receiving a majority of public bets.
Although teams receiving less than 50% of spread bets have posted a winning record, the optimal threshold for betting against the public comes at the 40% level. Since 2005, teams receiving no more than 40% of spread bets have gone 237-201 ATS (54.1%) with +24.89 units won. That includes an 11-4 ATS record during the NBA Finals.
It's true that contrarian favorites have been the best value during the NBA Playoffs, but further analysis found that the real value comes when we examine "elite" teams that are being largely ignored by the betting public.
Elite teams (>70% win rate) have gone 48-23 ATS (67.6%) in #NBAPlayoffs when receiving 40% or less of spread bets. (h/t @SportsInsights)

— David Solar (@TheDavidSolar) June 10, 2016
As a contrarian bettor, I always advocate buying on bad news and selling on good. It's an excellent way to capitalize on public perception and find artificially inflated lines. One of the best ways to buy low, as we detailed in an earlier blog article, is taking teams after a blowout loss. My research found that playoff teams coming off a 30+ point loss have gone 17-13 ATS since 2005 and 37-21 ATS since 1990. Going one step further, I found that teams coming off a 25+ point loss in the NBA Finals have gone 4-0 ATS since 2005.
All of these indicators point towards sharp money on Golden State (+2.5), but it's important to note that there are some recent trends that favor Cleveland. For starters, home court advantage has been crucial during the NBA playoffs. Home teams have gone 52-30 ATS (63.4%) during the 2016 NBA Playoffs and 513-471 ATS (52.1%) since 2005.
There have been contradicting bet signals triggered on this game, but almost every historical trend points towards value on the Warriors as a small road underdog. In fact, several systems also point towards value on the Warriors moneyline (+119). Over the past eleven seasons, playoff teams coming off a loss of 25+ points have gone 37-36 straight up with +28.67 units won and a 39.3% return on investment (ROI). When we focus solely on road teams, that ROI soars to 63.2%.
I love the value on Golden State +2.5 on the spread and +119 on the moneyline, but I expect this to be a close game so I would recommend that bettors take the points.
In addition to finding value on the spread, there's also tremendous value on the over/under in tonight's game.  The opening total was 207 at Pinnacle and public bettors have been hammering the over. At the time of publication, 74% of tickets and 95% of the money were taking the over. Despite this one-sided public betting, the total dropped from 207 to 206.5. That reverse line movement indicates that sharp money is on the under.
In addition to this reverse line movement, there was a smart money alert triggered on Under 207 at SBG. This season the SBG smart money alert has gone 31-17 (+11.2 units), making it one of the most profitable NBA bet signals this season.
These trends already pointed towards value on the under, but the referee assignments helped to cement this pick. Since 2005, the under has gone 343-288 (+39.22 units) in games officiated by Dan Crawford which makes him the second best "under" ref in our database. Jason Phillips (52.40%) and Mike Callahan (52.14%) could also be qualified as "under" refs.
Defensive intensity typically ramps up during the postseason, and that has historically benefitted under bettors. The under has gone 49-32 record (60.5%) during the 2016 NBA Playoffs and 518-475 (52.2%) since 2005. When the closing total is at least 190, that win rate improves to 54.3%.
It's also worth noting that Kevin Love (concussion) has been updated to probable for tonight's game. The Cavs actually looked like a better team with Love on the bench, so it will be interesting to see whether he's re-inserted into the starting lineup.
These numbers are always subject to change, so make sure to visit our free NBA odds page for up to the moment lines, betting trends, injuries and more.
Have any questions for the staff at Sports Insights? Utilize our live chat to speak with a customer service representative or e-mail us at help@sportsinsights.com.