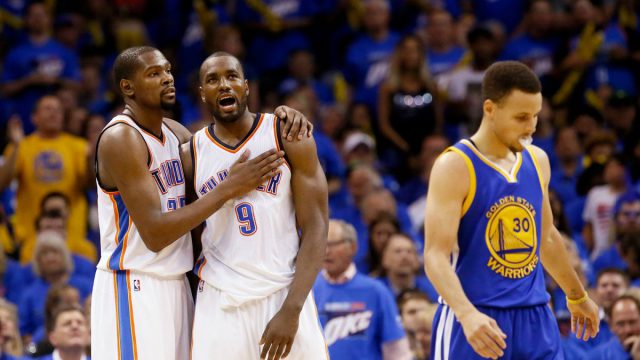 Where is Sharp Money Going in Game 5 of the Western Conference Finals?
Last Wednesday in this space, an examination of the betting trends for Game 2 of the Western Conference Finals revealed value on both the spread and total. My research pointed towards sharp money indicators on Golden State (-8.5) and the under (222), both of which easily cashed when the Warriors defeated the Thunder 118-91. That victory evened the series at one game apiece, but momentum has certainly turned in the past week.
Over the past last games, the Thunder outscored the Warriors by a combined 52-points. With Golden State on the verge of elimination, their odds of winning the series dropped to +243 at 5Dimes, with Oklahoma City listed at -285. Perhaps the more interesting tidbit is that the Warriors' odds of winning the championship have dropped to +340. This marks the first time since the preseason that Steve Kerr's team has not been favored to win the title.
There's no doubt that the Warriors will be excited to return home for tonight's game. As mentioned in last week's article, Oracle Arena has provided one of the league's best home-court advantages. Since 2005, Golden State has gone 246-215 ATS (53.4%) during the regular season and 22-11 ATS (66.7%) during the postseason at "Roaracle." Despite this past success and the "must-win" nature of tonight's game, the public can't seem to reach a consensus.
The Warriors opened as 7-point favorites at the market-setting Bookmaker.eu (a sister site of CRIS) and have received 55% of spread bets at our contributing sportsbooks. Although public betting has been evenly split, the Warriors had moved from -7 to -7.5 at the time of publication.
The line graph below, which is available to Sportsbook Insider customers, displays how public betting has impacted the spread at CRIS.

Roughly one minute after opening on Tuesday night, Golden State moved from -7 to -7.5 at CRIS. Although this may not seem noteworthy, there was actually swift and uniform line movement across the sports betting marketplace, which triggered a steam move at Heritage — one of the sharper offshore sportsbooks.
For anybody unfamiliar, steam moves are the result of a sudden overload of money placed at multiple sportsbooks and, in most cases, occur due to betting groups, syndicates and/or respected sharp players with the resources to get down heavily at multiple locations, all at once. Since books like CRIS, Pinnacle and Heritage offer the highest limits; they attract the sharpest bettors and therefore provide the sharpest lines. When the line moves at one of these sportsbooks, bettors should take notice.
This season the Heritage NBA steam move has gone 146-117 ATS (55.5%) with +17.3 units won. That means that $100/game bettors would have earned $1,730 by following every steam move triggered at Heritage.
[ Access our bet signals by signing up for an extended trial of Sportsbook Insider Pro ]
We should also note that although the ticket count is fairly even, our newly added money percentages tell a different story. At the time of publication, the Warriors were receiving 72% of total dollars wagered. That's another excellent indicator that sharp money likes the home favorite in tonight's matchup.
To see if those offshore trends matched up with the action in Las Vegas, I reached out to Ryan Oakes from the William Hill sportsbook. He reported that 55% of tickets and 64% of total dollars wagered had taken the Warriors (-7.5). Not surprisingly, casual bettors are looking for a big payday by loading up on the Thunder (+300) moneyline. Oakes reported that 81% of tickets and 77% of money believe that Oklahoma City will win straight up.
I'm a huge advocate of the contrarian strategy, and that means taking a lot of unpopular opinions and capitalizing on public perception. Square bettors tend to overreact to recent events, so opportunistic bettors can find tremendous value by taking teams following a loss.
Since 2005, home favorites coming off a loss have gone 189-159 ATS (54.3%) during the NBA Playoffs. (h/t @Bet_Labs)

— Sports Insights (@SportsInsights) May 25, 2016
That basic contrarian strategy improved to 190-159 ATS with last night's victory by the Cavs, but it's even more profitable if that team was blown out in their previous game. After being shellacked in their past two games, this could be the perfect opportunity to buy low on the Warriors.
All week long, the mainstream media narrative has unequivocally argued that Oklahoma City has finally cracked Golden State's "Death Lineup." After utilizing the size of Steven Adams and Enes Kanter against the Spurs, the Thunder have opted to give extended playing time to smaller players like Andre Roberson and Dion Waiters. They matched speed against speed and, so far, it has paid off.
Oklahoma City has made the necessary strategic adjustments to counter Golden State's small ball lineup, but there's a reason Steve Kerr was named Coach of the Year. I fully expect to see the Warriors to play off Roberson, one of the league's worst shooters, to provide additional help on Durant and Westbrook. The Thunder may have punched first, but the Warriors are prepared to counter tonight.
During the 2016 NBA Playoffs, home favorites have covered the spread at a 65.4% clip. Based on our historical trends and sharp money indicators, it looks like chalk will continue their winning ways in this evening's win-or-go-home matchup. Most contrarian strategies tend to highlight value on the underdog, but bettors should be laying the points and taking Golden State -7.5.
We always encourage bettors to shop for the best line before placing a bet, since getting an extra half-point can increase your long-term win rate by 1-2%. Ideally you would have access to three sportsbooks: one sharp (like CRIS or 5Dimes), one square (like Bovada, SIA or Sportsbook.com) and one reduced juice (like Pinnacle or 5Dimes).
Several sportsbooks, including BetOnline and the Greek, are still offering Golden State -7. Make sure to visit our free NBA odds page for up to the moment lines, betting trends, injuries and more.
Have any questions for the staff at Sports Insights? Utilize our live chat to speak with a customer service representative or e-mail us at help@sportsinsights.com.