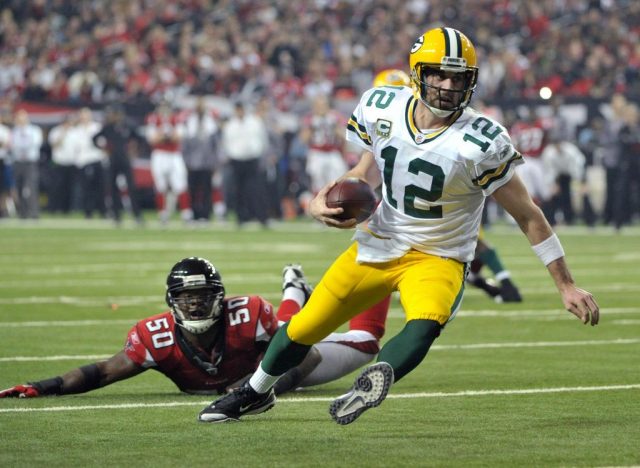 What Should Bettors Know About Sunday's Packers-Falcons Total?
After several ho-hum games, the NFL playoffs finally produced some excitement on Sunday afternoon as the Green Bay Packers upset the Dallas Cowboys 34-31 to advance to the NFC Championship Game. That sets up another opportunity for fireworks this upcoming Sunday, as the Packers travel to the Georgia Dome to face MVP front-runner Matt Ryan and the Atlanta Falcons.
Atlanta led the league in scoring during the regular season (33.8 points/game) and ranked 2nd in total offense (415.8 yards/game). However, the Falcons defense ranked 27th in scoring defense (25.4/game) and 28th in passing defense (266.7 yards/game). This combination of offensive firepower and defensive ineptitude has allowed the Falcons to be the most profitable 'over' team (14-2) this season.
On the other side of the football, Green Bay's offense ranked 4th in scoring (27.0 points/game) while their defense ranked 21st in scoring (24.3 points/game). Once again this has created the perfect storm for over bettors, with Packers' games going over the total in 12 of 18 games this season.
With two elite offenses and two questionable defenses, the total for Sunday's game opened at 60 at the market-setting Bookmaker sportsbook. That's the highest NFL opening total in our database, which goes back to 2003. Despite that lofty total, public bettors have been undeterred with 69% of tickets and 80% of money taking the over. This influx of public money has caused the total to jump from 60 to 61.
[click image below to enlarge]
Although our database only goes back to 2003, my research found that the highest regular-season total came back in 2000 when the St. Louis Rams (also known as the Greatest Show on Turf) hosted the San Francisco 49ers. That total closed at 61.5 and the Rams defeated the 49ers 34-24, barely going under the total. The league's recent rule changes have resulted in more scoring and higher totals.
Dating back to 2003, there have been six regular-season games and one playoff game with a total of greater than 57. Bettors love high-scoring games and naturally gravitate towards the over — especially in a matchup of two elite offenses. In fact, at least 60% of spread tickets have taken the over in each of these games. Those public bettors have been rewarded, as the over has actually gone 7-0 despite these lofty totals.
December 25, 2004, Oakland Raiders at Kansas City Chiefs, O/U 60, Chiefs won 31-30
*January 7, 2012, Detroit Lions at New Orleans Saints, O/U 59.5, Saints won 45-28
January 1, 2017: New Orleans at Atlanta Falcons, O/U 58.5, Falcons won 38-32
November 16, 2014: New England Patriots at Indianapolis Colts, O/U 58, Patriots won 42-20
October 27, 2013: Washington Redskins at Denver Broncos, O/U 58, Broncos won 45-21
November 8, 2004, Minnesota Vikings at Indianapolis Colts, O/U 58, Colts won 31-28
September 29, 2013: Philadelphia Eagles at Denver Broncos, O/U 57.5, Broncos won 52-20
There are only eight NFL teams that play in domed stadiums, but it's interesting to note that four of these games have taken place indoors. Using our historical database, I found that the average total at domed stadiums has been roughly three points higher than it has been at outdoor stadiums. That's a significant development given that the Falcons play their home games in the Georgia Dome.
Since 2003, NFL regular season overs have gone 411-379 (52%) when the game is played in a dome and 1,360-1,370 (49.8%) when the game is played outdoors. During the postseason, that schism grows even larger with indoor overs going 23-8 (74.2%) and outdoor overs going just 49-66 (42.6%). That's part of the reason Sunday's total has been so high. "In most cases, we're going to tick the total up a notch when teams are playing indoors," stated Scott Cooley, a spokesman for Bookmaker. "Fast turf, fast-paced, offensive-minded, great weather for kicking game."
"When looking at the raw numbers, you have two top 5 offenses in terms of efficiency and two of the lower-tiered teams regarding defensive efficiency," elaborated Cooley. "At that basic juncture, you're looking to set the total in the upper 50s. Additionally, the public perception of this matchup is a couple of potent, pass-oriented offenses that can get up and down an indoor field very quickly. And everyone witnessed that in their earlier meeting this season."
It's worth noting that these two teams actually faced off back in Week 8, with the Falcons squeaking out a 33-32 home victory. In that game the total opened at 52.5 and, although 85% of bettors took the over, the total actually dropped from 52.5 to 51. That indicates that sharp money actually liked the under in their earlier matchup.
[click image below to enlarge]

Despite playing in the same venue, Sunday's total is 10 points higher than it was when these two teams faced off over two and a half months ago. That's partially based on the Falcons' red-hot offense, which has averaged 34.9 points/game since defeating Green Bay. Conversely, the Packers have averaged 32.1 points/game during their current eight-game winning streak. For both teams, the over has hit in five consecutive games.
Interested in analyzing this data for the both of the NFL conference championship games? Sign up for a 4-day trial of our Sportsbook Insider Pro software, for instant access to all of our betting/money percentages, bet signals, and Best Bet picks for all sports.
Have any questions for the staff at Sports Insights? Make sure to utilize our live chat or call us directly at 877-838-2853.