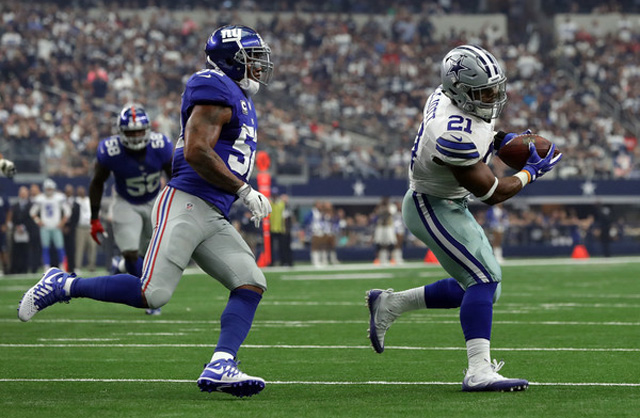 What have you missed since NFL Week 1 lines opened?
While there's still one month until the first Sunday of the 2017-18 NFL season, sportsbooks opened Week 1 lines back on April 21, giving bettors over three and a half months to analyze matchups for valuable betting opportunities. While most bettors aren't itching to get their money down until the preseason shakes out key positional battles and official regular season rosters, there are a handful of trends and storylines NFL bettors should be aware of as we approach the start of the season.
Early Public Sides
Based on our proprietary betting trends data, the following sides are the most popular among public NFL bettors:
| Team | Spread* | Spread % | Opponent |
| --- | --- | --- | --- |
| Carolina Panthers | -6 (-115) | 90% | at San Francisco 49ers |
| Atlanta Falcons | -7 (-115) | 83% | at Chicago Bears |
| Buffalo Bills | -7 (-105) | 81% | vs. New York Jets |
| New York Giants | +4 (-115) | 81% | at Dallas Cowboys |
| Green Bay Packers | -3.5 (-105) | 69% (nice) | vs. Seattle Seahawks |
*Spreads via Bookmaker, as of 8/10/17
Early Sharp Money
With limits low, sharp action isn't as prevalent as it will be in days leading up to Week 1. However, a quick scan of our Bet Signals indicates that the Tennessee Titans (vs. Oakland Raiders) have inspired a handful of bets from sharper players, illustrated by three reverse-line moves and one Steam Move trigger.
Games Off The Board
At the time of publication, uncertainty regarding the injury statuses of Joe Flacco and Andrew Luck and Jay Cutler's triumphant return have forced oddsmakers at market-setting sportsbooks like CRIS and Pinnacle to take their Week 1 games off the board.
If you simply can't wait to torture yourself with an early wager on Jared Goff, lines for these games are available at a handful of other sportsbooks.
High Total
Since 2003, only five Week 1 games have closed with totals higher than the current over/under (51.5) for this season's Oakland Raiders at Tennessee Titans Week 1 matchup. At the time of publication, 68% of over/under tickets have taken the 'under'.
Ezekiel Elliott
Rumors continue to swirl that Elliott could be facing a suspension as the result of domestic violence accusations. While running backs don't normally have an effect on the line, Zeke is worth a half point to the spread so it's a situation NFL bettors should monitor going forward.