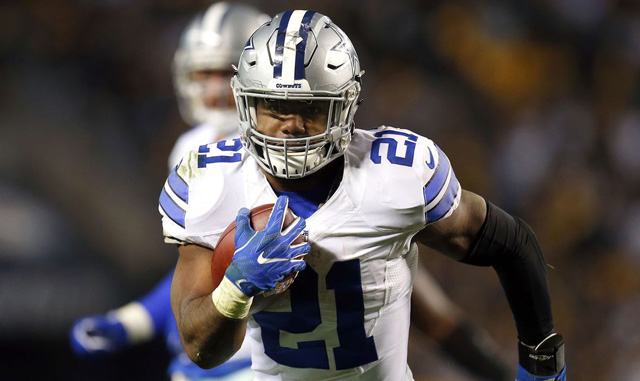 What is Ezekiel Elliott's value to the point spread?
ESPN's Adam Schefter is reporting "there's a growing sense" that Dallas Cowboys running back Ezekiel Elliott could be facing a 1-2 game suspension as a result of domestic violence accusations.
An update on the Ezekiel Elliott investigation:https://t.co/W3ndM6JdVi https://t.co/KQhuTus66k

— Adam Schefter (@AdamSchefter) July 14, 2017
At the time of publication, 85% of spread bets across the NFL betting market are on the Giants with prices ranging from New York +5 (-123) at Bookmaker to +4 (-108) at Pinnacle.
With a potential suspension looming, we reached out to Scott Cooley, an odds consultant for Bookmaker.eu, to assess Elliot's value to the point spread and what kind of adjustment they'd make in response.
"Always depends on the opponent when assessing value to a player, but Elliott is generally worth a half point to a spread," said Cooley. "Still not too many players other than quarterbacks that have enough value to impact a line. We may adjust to -4.5 and then the public perception would likely push down to -4."
Interestingly, we ran a poll asking our Twitter followers their opinions regarding Zeke's value to the point spread.
POLL: In your opinion, what is Ezekiel Elliott's value to the point spread?

— Sports Insights (@SportsInsights) August 11, 2017
A value of 1-2 points lead with 35% of the vote, illustrating how public perception could push a line further than Elliott's actual value.
If Elliott is ultimately handed a suspension, we encourage all NFL bettors to visit our Free NFL Live Odds Page for real-time odds and betting percentage updates.