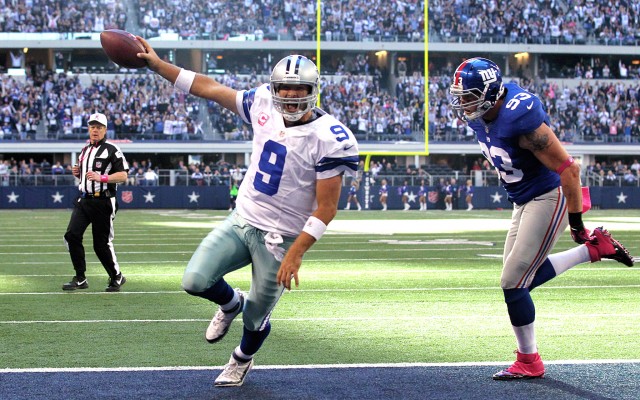 Week 7 NFL Line Moves That Matter
From the time most sportsbooks open their NFL lines on Sunday evening to the time they close before kickoff the following week, a lot can happen. In fact, many oddsmakers will adjust their lines on a given game several dozen times over the course of the week. This can be done to sync up with the rest of the sports betting marketplace or to encourage action on the other side in an attempt to balance their book and mitigate risk.
While comparing line movement with public betting trends can be useful in determining which teams are being pounded by sharp money, betting a game simply because of line movement is an easy way to blow through your bankroll. In essence, it's not enough to know that a line moved — you need to know why it moved.
With that in mind we look forward to this weekend's action and pinpoint four games that should be interesting to every NFL bettor.
New York Giants at Dallas Cowboys
In this classic NFC East rivalry, the hometown Cowboys opened as 4.5-point favorites at CRIS and were receiving 81% of public bets when we first researched this game on Wednesday afternoon. That lopsided public betting moved the Cowboys to -6.5 at Pinnacle and -7 at a number of square sportsbooks such as Bovada and Sports Interaction (SIA).
Although the Giants were receiving just 19% of spread bets on Wednesday, over the past two days the G-Men have become far more popular among bettors and are now receiving 41% of spread bets. Still, we were more interested in whether there were any other factors in this 2-point line movement. At the time of publication, there had been no Bet Signals triggered on the spread which indicates that it's public money responsible for this line move. In other words, this line has moved largely based on public perception — not because of sharp money.
One potential cause for such a dramatic shift in public betting could be the health of Cowboys star running back DeMarco Murray. The former Oklahoma Sooner has rushed for at least 100 yards in each of his teams six games this season and leads the league in rushing (785) by more than 200 yards. However, Murray missed the Cowboys practice on Wednesday due to illness which could have caused bettors to jump of the Dallas bandwagon. The fourth-year player returned to practice on Thursday and is expected to play on Sunday, but bettors can find the latest player updates on our free NFL injuries page.
The Cowboys are riding high after last week's huge win in Seattle and bettors seem more than willing to buy the hype. This public overreaction presents the perfect opportunity to sell high on Dallas and buy low on New York, so we would encourage any bettors who like New York to shop for the best line and take the Giants +7 with this artificially inflated line.
Note: If the Giants finish with less than 25% of spread bets they would fit the criteria for our 2014 NFL Betting Against the Public Report.

Seattle Seahawks at St. Louis Rams
Dating back to 2003, no NFL team has ever received less than 8% of spread bets. In fact, this type of lopsided action has occurred just twice in the past eleven years:
11/23/03: Atlanta Falcons +7 (8% of bets vs. Tennessee Titans)
10/27/03: San Diego Chargers +6 (8% of bets vs. Miami Dolphins)
Early in the week it looked like all of that was ready to change this week with the defending Super Bowl champion Seahawks facing the 1-4 Rams. When we first posted this article, the Rams were receiving just 4% of spread bets at our contributing sportsbooks — roughly the same level of public support received by the Hollywood train wreck known as I, Frankenstein. That number has since climbed to 19% which would still qualify as the most lopsided bet game this week.
There are still two days until kickoff and these percentages could still change over the next 48 hours, but it's noteworthy that most sportsbooks have not moved off Seattle -6.5 despite 4 out of every 5 bets taking the road favorite Seahawks.

Arizona Cardinals at Oakland Raiders
With Carson Palmer finally healed from a right shoulder injury, bettors must believe that the Cardinals are a force to be reckoned with. How else could you explain the overwhelming support for Arizona? Since 2003 the Cardinals have never received more than 79% of spread bets, however, they're currently receiving 77% of public action.
After opening as a 4-point favorite at CRIS, you would anticipate that oddsmakers would need to make the Cardinals a larger favorite to encourage action on the Oakland Raiders. However, there has actually been reverse line movement on the Raiders as they've dropped from +4 to +3.5. This is an excellent sharp money indicator which suggests that wise guys and betting syndicates have been hammering Oakland as a home underdog.

Houston Texans at Pittsburgh Steelers
The Monday Night Football game features two middle-of-the-pack teams as the Pittsburgh Steelers (3-3) host the Houston Texans (3-3). The hometown Steelers opened as 4-point favorites at CRIS but in a rare occurrence, were receiving just 24% of spread bets as of Thursday afternoon. This is particularly noteworthy because no favorite has ever received less than 20% of public action (9/11/11: Jacksonville -3 vs. Tennessee).
Although the Steelers are now receiving 34% of spread bets, it's still a rarity to see the public pounding an underdog. In fact, since 2003 there have been just 43 games in which the favorite of 3+ points received less than 35% of spread bets.
Since opening Pittsburgh has moved from -4 to -3 and there has been just one Bet Signal triggered on the game (a reverse line movement alert on Pittsburgh -2.5). This would indicate that books are simply adjusting for public money, which means you can get a free point by taking the Steelers -3 this weekend. This one-point move is particularly important because it involves a key number (3).

NOTE: This article was originally published Wednesday (10/15) at 12:55 p.m. ET and was most recently updated on Friday (10/17) at 2:15 p.m. ET. For updated lines and real-time betting data, please visit our Free NFL Odds page.
[adrotate group="4″]