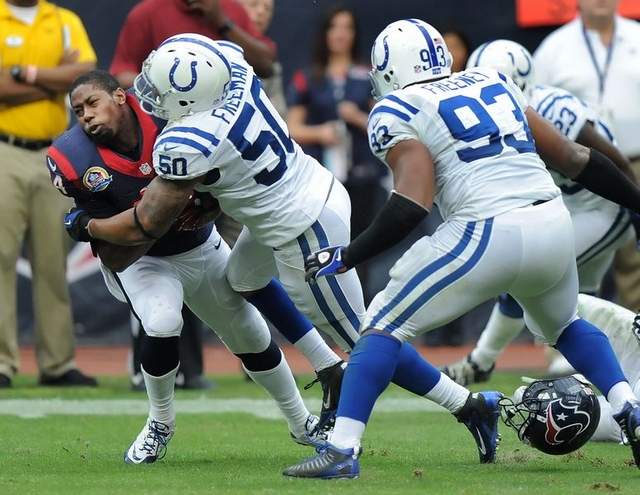 Week 17 NFL Odds: Examining Early Line Movement
As we approach the final week of the NFL season many teams have already locked up their spot in the playoffs, however numerous teams are still fighting for their postseason lives while others are simply jockeying for position.
The Washington Redskins (-3) will host the Dallas Cowboys with the NFC East crown on the line. The Patriots (-10 against Miami) can earn a first-round bye with a win coupled with a loss by either Denver (-16 against Kansas City) or Houston (-7 at Indianapolis).
The Minnesota Vikings (+3 against Green Bay) can lock up a playoff spot with a win this Sunday, however if the Vikes lose, it opens the window for the Giants to potentially sneak into the postseason — that is, assuming the Lions (+3) can emerge victorious from their matchup with the Bears.
There are a number of potential outcomes, but for now, we're going to focus on the three most interesting line moves from the slate of week 17 games.
Houston Texans (12-3) at Indianapolis Colts (10-5) – Sunday 12/30 at 1:00PM ET
Up until three weeks ago, the idea that the Texans could end up playing in the wild-card round would have been considered ludicrous. Sitting on an 11-1 record, defensive end J.J. Watt looked like a legitimate MVP candidate and the team was considered the Super Bowl front-runner.
In fact, as of December 3rd the Texans were the Super Bowl favorite at Bovada with 9/2 odds. However after losing two of their last three games, the Texans need to knock off the division-rival Colts in order to secure that first round bye.
According to our NFL Betting Trends, Houston opened as a 5.5 point favorite at CRIS. Despite the fact that Indy is currently receiving 64% of spread bets, the line has actually moved to -7. This reverse line movement would indicate that early sharp money is on the road favorite.
St. Louis Rams (7-7-1) at Seattle Seahawks (10-5) – Sunday 12/30 at 4:25PM ET
Although Seattle has already clinched a spot in the post-season, this game actually holds a fair amount of significance. If hell freezes over and the Arizona Cardinals (+16.5) upset the 49ers, a Seattle win would give them the NFC West crown as well as home-field advantage in the first round of the playoffs. Given their past success at home, that could prove extremely valuable.
Seattle opened as a 9.5-point favorite at CRIS and are currently receiving 81% of spread bets. This extremely one-sided public betting has moved the line a full point — past the key number of 10 — to -10.5. If these betting percentages hold up, the Rams would fit our 80/20 NFL Betting System. That system tells us that underdogs receiving less than 20% of spread bets have gone 88-68 with 15.42 units earned and a 9.9% return on investment since 2003.
Additionally, this line movement seems to be driven completely by square bettors as there have been no betting systems triggered on this game. That would indicate that bettors taking the Rams are essentially getting a free point, which means the value is on the road dog in this NFC West showdown.
Miami Dolphins (7-8) at New England Patriots (11-4) – Sunday 12/30 at 4:25 PM ET
While this game may be meaningless for the Dolphins, the Patriots are in an interesting situation. If either Denver or Houston lose during the one o'clock games, a New England victory would earn them a first-round bye (NE defeated both Denver and Houston, giving them the tiebreaker). On the other side if both the Broncos and Texans emerge victorious, New England would be locked into the third seed and a first round matchup with the Bengals.
What's interesting here is that the Patriots will know whether or not the game holds any significance before kickoff. Considering they have injuries to a number of key players (including Rob Gronkowski, Aqib Talib and many others), the Patriots could potentially bench a number of players if they are already locked into the three seed.
Perhaps that explains the early movement we have seen on the total for this game. Despite relatively even public betting percentages (60% of bettors are on the under at the time of publication), the total has fallen four full points from 49.5 to 45.5. That is even more significant when you understand that 47 is considered a key number.
When the line on this game opened on Sunday evening, kickoff was scheduled for 1:00.  However the league opted to flex this game to its current time slot. If the Patriots were playing at 1:00 PM, they would have to play all of their starters in the off-chance that either Houston or Denver lost. Now that they will know the outcome before game-time, it's entirely possible that New England will bench a number of key players which would explain this waning total.
How do you think the playoff picture will shake out? Will Adrian Peterson set the all-time rushing record, and perhaps more importantly, will the Vikings make the postseason? Leave your line movement and game analysis thoughts and questions in the section below.
Join us live Sundays at noon ET
We're now holding our members-only live Sports Betting Hangouts Sunday mornings to prepare you for a full day of NFL games. Members, simply log into your account Sunday morning to access the hangout.
Not a member? Start a trial today to join our Sports Betting Hangouts held six days a week, plus all the other Sportsbook Insider Pro benefits.