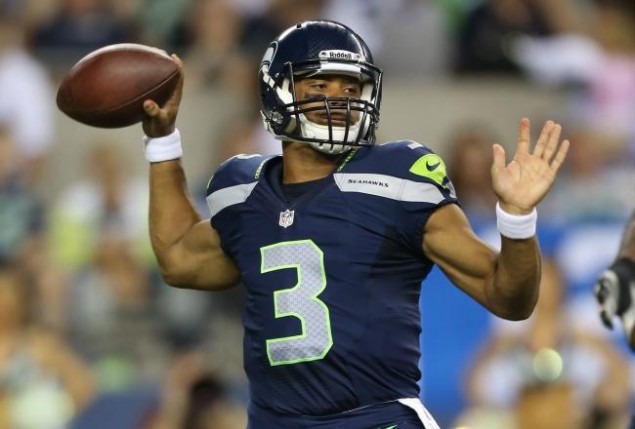 Can the Seattle Seahawks Win Without Their 12th Man?
It's a well-known fact that the Seattle Seahawks own one of the best home field advantages in all of sports. The fans at CenturyLink Field — typically referred to as the 12th man — are among the loudest in the NFL and help to wreak havoc on opposing offenses as they attempt to convey their play calls.
It is often said that bookmakers will spot teams about three points for home field advantage, but can they really account for this particularly raucous crowd?
Since 2003 the 'Hawks have gone 32-21 at home and 16-38 on the road, but how have they fared against the spread (ATS)? The table below, using line data from Pinnacle, shows just how important home cooking has been for Coach Pete Carroll's squad.
| | | | |
| --- | --- | --- | --- |
| Filter | ATS Record | Units Won/Lost | Return on Investment |
| All Home Games | 46-30 | +14.3 | 18.8% |
| All Road Games | 28-48 | -21.6 | -28.4% |
| Home vs. NFC | 32-25 | +6.05 | 10.6% |
| Road vs. NFC | 26-33 | -8.3 | -14.1% |
| Home vs. NFC West | 17-10 | +6.8 | 25.2% |
| Road vs. NFC West | 12-16 | -4.65 | -16.6% |
It's quickly evident that the Seahawks are a superior team at home and have greatly outperformed the expectations of oddsmakers over the years. On the flip side, this team has been woeful outside of Seattle — regardless of opponent. That fact becomes all the more interesting when we look at tonight's Thursday Night Football bout in which the 'Hawks travel to San Francisco to face the 49ers. Not only have the Seahawks struggled in division games, but this matchup actually fits another recently discussed betting trend.
Almost a month ago we wrote about how home teams (and particularly home favorites) had covered the spread at an alarming rate on Thursday night's. Since 2003, home teams have gone 39-27 on Thursday night with home favorites recording a record of 28-13.
Have any questions or thoughts about tonight's NFC West showdown? Make sure to leave your comments in the section below.
Join us live Sundays at noon ET
We're now holding our members-only live Sports Betting Hangouts Sunday mornings to prepare you for a full day of NFL games. Members, simply log into your account Sunday morning to access the hangout.
Not a member? Start a trial today to join our Sports Betting Hangouts held six days a week, plus all the other Sportsbook Insider Pro benefits.