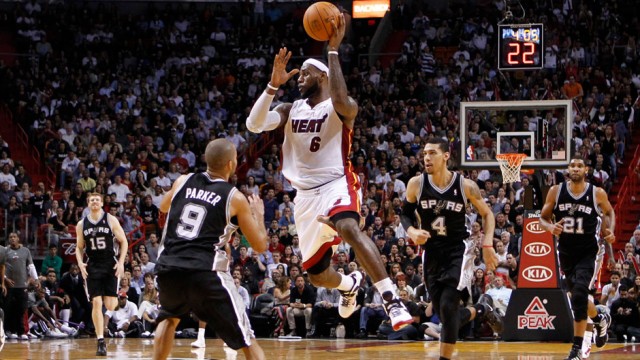 NBA Finals Betting Trends: Tracking Smart Money on the Under
The NBA finals will tip-off tomorrow night with the defending champion Miami Heat hosting the perennially under-appreciated San Antonio Spurs. The Heat, who made head waves this season by challenging the 1971-72 Lakers' epic 33-game winning streak, are currently listed as -220 favorites for the series and 5.5-point favorites in NBA Finals betting for Game 1.
According to our NBA Playoff betting trends, the line remains unchanged since opening despite 66% of spread bets taking the visiting Spurs. While this type of lop-sided NBA Finals betting certainly fits into our betting against the public philosophy, it was another postseason trend that could pay dividends to NBA bettors.
Regardless of sport, unders are typically undervalued as bettors love taking the over. Their hopes for an exciting and high-scoring game artificially inflates the over and creates value on the under. During the NBA regular season, unders have gone 5,083-5,022. While that type of performance is not enough to overcome the vig at any sportsbook, it does display a slight edge. That seemingly insignificant advantage is magnified during the postseason when teams put their nose to the grindstone and begin playing lock-down defense.
Using our BetLabs historical odds software, we were able to determine that, since 2004, betting every under during the NBA playoffs would have resulted in a record of 343-305 with +20.12 units earned. However, we wanted to see what happened when there was also smart money on the under, so we focused solely on games with reverse line movement (RLM). To do this, we highlighted games in which a majority of the public (at least 50%) was on the over, but the line moved against the public betting percentages.
*All line data from the table below is taken from the Pinnacle sportsbook.
| | | | |
| --- | --- | --- | --- |
| Criteria | Record | Units Won | ROI |
| All Postseason Unders | 343-305 (52.9%) | +20.12 | 3.1% |
| Unders Receiving <50% | 296-255 (53.7%) | +25.66 | 4.7% |
| Unders with RLM | 171-128 (57.2%) | +32.86 | 11% |
With each new filter we add to the system, we see an increase in both units won and return on investment (ROI). But what would happen if we focused on games that took place during the NBA finals?
To clarify our search criteria, we selected the "non-conference" filter as the finals are the only time during the playoffs in which a team from the Western Conference will take on a team from the Eastern Conference.

As you can see in the above screenshot, this system has been particularly profitable for NBA Finals betting. In the 19 games in which there has been reverse line movement on the under, the under has produced a 16-3 record with +12.49 units won and an astounding 65.7% ROI. While this may be a small sample size, the fact that this system has been profitable for bettors throughout the regular and postseason gives us confidence in its long-term stability.
| | | | |
| --- | --- | --- | --- |
| Criteria | Record | Units Won | ROI |
| All Finals Unders | 23-14 (62.2%) | +7.88 | 21.3% |
| Finals Unders <50% | 21-11 (65.6%) | +9.14 | 28.6% |
| Unders with RLM | 16-3 (84.2%) | +12.49 | 65.7% |
Unfortunately, tomorrow's Game 1 does not currently fit this system. Although just 40% of wagers have been on the under, the total has moved from 187 to 188.5 at Pinnacle, at the time of publication. This is indicative of public money moving the NBA Finals betting line as opposed to smart money.
Would you like to modify this system or test your own NBA Finals betting systems? Learn how to do your own analysis by signing up for a free Bet Labs demo, or check out our Sportsbook Insider live odds software package with a FREE 7-day trial.