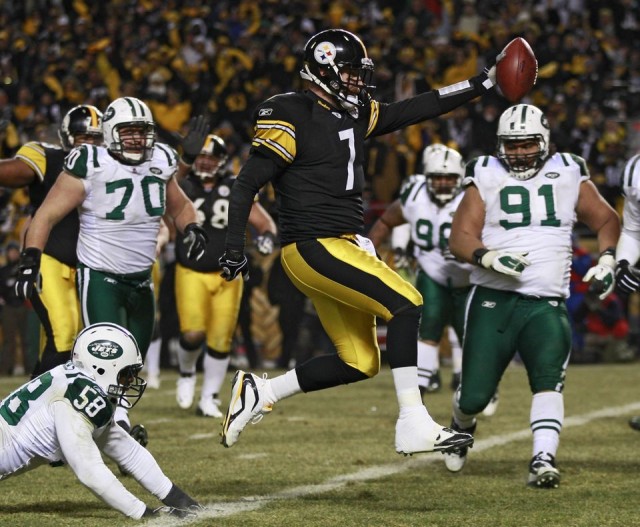 Week 10 NFL Line Moves That Matter
We're past the halfway point in the NFL season and the playoff picture is beginning to gain some clarity. Last weekend the New England Patriots easily defeated the Denver Broncos and appear to be the team to beat in the AFC. The Arizona Cardinals, who won in Dallas against a Tony Romo-less Cowboys team in Week 9, are sitting on an improbable 7-1 record and are firmly in the driver seat over in the NFC.
This week there are only 13 games on tap with the Houston Texans, Indianapolis Colts, Minnesota Vikings, New England Patriots, San Diego Chargers and Washington Redskins all on their bye week. There is also some uncertainty surrounding two games as Michael Vick (Foot) and Tony Romo (Back) are both listed as questionable. However, the Cowboys/Jaguars game in London is currently off the board while the Jets were listed as 4.5-point underdogs at the time of publication.
It's interesting to note that this week has seen some of the most lopsided betting of the season with 10 of 13 games featuring a team receiving at least 70% of spread bets. Perhaps even more notable is the fact that three teams are currently receiving at least 85% of spread bets which means they fit the criteria for our 80/20 betting system.
While comparing line movement with public betting trends can be useful in determining which teams are being pounded by sharp money, betting a game simply because of line movement is an easy way to blow through your bankroll. In essence, it's not enough to know that a line moved — you need to know why it moved. With that in mind we look forward to this weekend's action and pinpoint three important Week 10 line moves.
NOTE: This article was originally published Thursday (11/6) at 3:30 p.m. ET. For updated lines and real-time betting data, please visit our Free NFL Odds page.
Tennessee Titans at Baltimore Ravens (-9.5)
In his first career start last weekend, rookie quarterback Zach Mettenberger provided a silver lining in Tennessee's 30-16 loss to Houston by passing for 299 yards and 2 touchdowns. Despite this solid debut, bettors are hesitant to back the rookie quarterback this week as the Titans are receiving just 27% of spread bets.
Tennessee opened as a 10.5-point road underdog in this matchup and, although they've been largely ignored by the betting public, have dropped to +9.5 at the market-setting CRIS sportsbook. This reverse line movement indicates that sharp money is taking the Titans, but perhaps more notable is the fact that the line moved past the key number of 10.
Since 2003, 6.14% of games have finished with a 10-point margin of victory — the third most common margin during that time trailing just 3 and 7. This is particularly noteworthy given how quickly the line steamed through +10 to hit +9.5. The betting line history below shows that within ten minutes the line dropped from +10.5 to +10, and that just 90 minutes later the line was sitting at +9.5.

Road teams, double digit underdogs and betting against the public have all been profitable trends over the past decade, so the Titans do appear to be offering some value to bettors this weekend. That said, bettors should make sure to shop for the best line as a number of sportsbooks are still hanging a line of Tennessee +10.
Pittsburgh Steelers (-4.5) at New York Jets
As mentioned earlier, Michael Vick is currently listed as questionable for this game due to an ankle injury and Geno Smith is listed as questionable with a shoulder injury. That means it's entirely possible that 2nd year signal caller Matt Simms (i.e. Phil Simms youngest son) might get the nod on Sunday. Clearly bettors are worried betting on the proverbial mystery box as the Jets are currently receiving just 10% of spread bets. This is particularly unusual because no team has receiving such limited public support since December 7th 2008 when the Seahawks (+7 vs. New England) received only 9% of spread bets.
Perhaps more notable is the fact that the Jets actually opened at +5.5 before dropping to +4.5. This is yet another excellent example of reverse line movement which indicates that sharp money likes the Jets this weekend despite their anemic 1-8 record.
It should also be noted that despite their struggles in the passing game (New York ranks dead last), the Jets haven't been nearly as bad as fans seem to believe. New York has the third best rushing attack, the 12th best passing defense and the 7th best rushing defense.
Considering Ben Roethlisberger has thrown for 12 touchdowns over the past two weeks while the Jets have lost seven straight games, this might be the best opportunity to sell high on the Steelers and buy low on the Jets. Bettors should also be sure to view our free NFL injuries page for the latest updates on the Jets quarterback situation.
The line graph below displays how public betting has affected the line at CRIS since opening on Monday (11/3) morning.

Denver Broncos (-11) at Oakland Raiders
Keeping with our theme of ridiculously one-sided public betting, we examine this weekend's AFC West showdown between a potential Super Bowl contender and the favorite to land the number one overall pick in next season's draft. In this game, the Broncos opened as 10.5-point road favorites and are currently receiving 90% of spread bets. This lopsided betting has pushed the line a half-point to Denver -11.
What's particularly compelling about this game is that double digit underdogs have typically provided excellent value to bettors. Since 2003 underdogs of 10+ points have gone 209-175 ATS with +21.87 units including a 36-22 ATS record (+12.32 units) when we focus on home teams.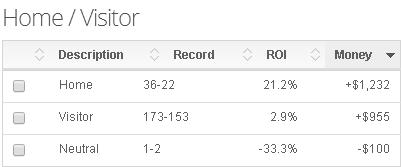 This game is also interesting because many bettors are happy to take any double-digit underdog — especially at home. In fact, since 2003 no home dog of 10+ points has ever received less than 12% of spread bets (Minnesota on 10/23/11 and St. Louis on 10/25/09). There's still plenty of time for these percentages to change, but the winless Raiders are set to become the least popular double-digit underdog in our database.
There have been no bet signals triggered on this game which likely means that the half-point line movement in this game is based on public money. The Raiders also fit the criteria for our ESPN Week 5 NFL system which highlights the historical value of large underdogs in conference games.
The screenshot below displays the public betting trends from each of our seven contributing sportsbooks:

For updated lines and real-time betting data, make sure to visit our Free NFL Odds page. Bettors can also receive our Best Bets which have gone 24-19 (+3.1 units) in the NFL and 53-38 (+10.1 units) in College Football by signing up for our 4-day Pro trial. 
Have any questions for the staff at Sports Insights? Utilize our live chat to speak with a customer service representative or e-mail us at help@sportsinsights.com.
[adrotate group="4″]