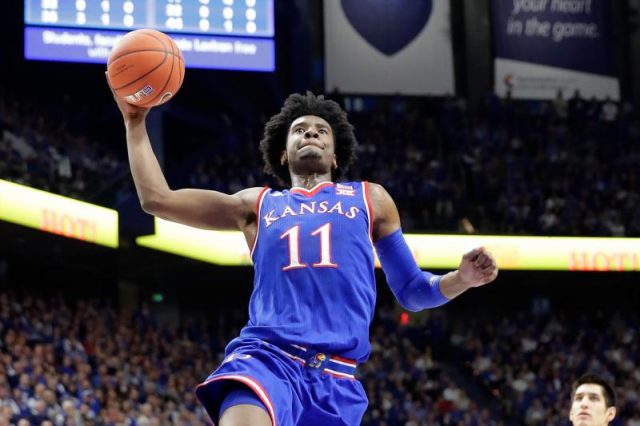 Ticket vs. Money Percentages: How Do They Compare in College Basketball?
For anybody unfamiliar with Sports Insights, we track public betting percentages from seven major offshore sportsbooks: 5Dimes, BetDSI, BetUs, Carib, GTBets, SIA, and Sportsbook.com. These betting trends reflect real bets placed by real bettors, as opposed to other websites that use "consensus" numbers. By including both sharp and square sportsbooks, our betting percentages accurately reflect which teams the public is backing across the marketplace.
Last year we also added money percentages from one of the sharper offshore sportsbooks, which allows us to fully analyze all of the factors responsible for line movement. Since adding this information, there have been many questions about how to best utilize money percentages and whether there's still value utilizing our ticket percentages.
We have been tracking ticket percentages for over a decade, but we have a much smaller data sample for our money percentages. It's always difficult to make broad generalizations based on a limited sample size, but I wanted to determine how often our ticket percentages matched up with our money percentages during the 2016-17 college basketball season.
The tables below examine all games in which a team received the majority (at least 51%) of spread dollars.
All Games
| Public Tickets | Majority of Money | Total Games | Percentage |
| --- | --- | --- | --- |
| At least 51% | 2778 | 3281 | 69.4% |
| At least 60% | 1697 | 2213 | 76.7% |
| At least 70% | 916 | 1066 | 85.9% |
| At least 75% | 553 | 615 | 89.9% |
| At least 80% | 224 | 235 | 95.3% |
Heavily Bet Games
| Public Tickets | Majority of Money | Total Games | Percentage |
| --- | --- | --- | --- |
| At least 51% | 814 | 1155 | 70.5% |
| At least 60% | 634 | 805 | 78.8% |
| At least 70% | 378 | 434 | 87.1% |
| At least 75% | 231 | 255 | 90.6% |
| At least 80% | 102 | 106 | 96.2% |
As you can see, the majority of spread tickets and spread dollars have been on the same team in roughly 70% of games this season. Although we have only been tracking money percentages for one season, those figures match up with historical rates according to Scott Cooley, a spokesman for Bookmaker.eu. "I think 70 percent sounds about right. It may be anywhere from 65 to 75, depending on the season."
It's logical to see that the correlation between public tickets and public money is strengthened in heavily bet games (which I have defined as any game with more bets than the daily average), as public money has a greater impact in these marquee matchups. However, this doesn't necessarily tell the entire story. Betting against the public is only an effective strategy in heavily bet games with extreme levels of one-sided public betting and limited sharp involvement.
Historically, the sweet spot for fading the public has come at the 75% threshold. Since 2005, teams receiving less than 25% of spread tickets have gone 1,528-1,432 ATS (51.6%) when the number of bets on the game is at least the daily average and 416-363 ATS (53.4%) when the number of bets is at least twice the daily average. Although we're dealing with a smaller sample size, I wanted to determine whether money percentages correlated with ticket percentages at this historically profitable threshold.
The table below displays the money percentage for team's receiving at least 75% of spread tickets. This season there have been 615 games in which one team received at least 75% of spread tickets including 255 that have been classified as heavily bet.
All Games
| Spread Dollars | Total Games | Percentage |
| --- | --- | --- |
| <50% | 60 | 9.8% |
| >50% | 555 | 90.2% |
| >60% | 508 | 82.6% |
| >70% | 412 | 67.0% |
| >75% | 360 | 58.5% |
| >80% | 288 | 46.8% |
Heavily Bet Games
| Spread Dollars | Total Games | Percentage |
| --- | --- | --- |
| <50% | 22 | 8.6% |
| >50% | 233 | 91.4% |
| >60% | 222 | 87.1% |
| >70% | 179 | 70.2% |
| >75% | 152 | 59.6% |
| >80% | 111 | 43.3% |
Once again, you can see the correlation between public tickets and public money is strengthened in heavily bet games. You can also see that teams receiving at least 75% of spread tickets have received at least 75% of spread dollars more often than not.
There's a common misconception that a large bet is always a sharp bet. In fact, many bettors that I have spoken with believe that one-sided money percentages are an excellent indicator of sharp money, but that's simply not the case. "You can't always assume that one sharp play is going to greatly outweigh one square play," stated Cooley. "We may have a smart guy bet $5K on a game and then a square bet $20K on the other side, but we'll adjust towards the smart play."
Oddsmakers shade their opening lines to capitalize on public perception and then allow their most well-respected bettors to shape the line throughout the day. Sportsbooks aren't attempting to attract 50% of the action on each side; their goal is to maximize profits by exploiting the easily predictable tendencies of casual bettors.
Let's take a hypothetical matchup between a very public team (Duke) and a team that's usually avoided by public bettors (Boston College). Sportsbooks can easily anticipate overwhelming one-sided public betting on Duke, so they shade their opening line to force bettors to take bad numbers when playing the popular side. If public money continues to hammer Duke, sportsbooks may continue to adjust their lines to account for the influx of public money. These artificially inflated lines help to explain why betting against the public has been proven to be a historically profitable strategy.
For the sake of this exercise, we will pretend there is a sharp bettor who wins more than 55% of their bets over a prolonged period of time. Sportsbooks will respect their action since they have consistently been shown to place wagers with positive expected value. In this example, we'll pretend the sharp bettor places a $2,000 wager on Boston College after public money causes the line to move from +9 to +10.
On the other side, we'll pretend there's a wealthy bettor that has historically won just 50% of their bets (think Floyd Mayweather). They don't think there's any possibility that Boston College can compete with Duke, so they're willing to wager $10,000 on the Blue Devils -10. Sportsbooks would take a major loss if Duke covers the spread, but they're not trying to minimize risk — they're trying to maximize profits. Since one of their more respected bettors already took Boston College +10, they have no incentive to adjust their spread and balance their book. If sportsbooks believe they have an edge, they're willing to deal with the type of liability that comes with one-sided public betting.
"We are often willing to take a position against the public teams," confirmed Cooley. "Sometimes we'll let the liability keep piling up because we respect the wiseguys' side." That statement can be easily confirmed by our money percentages, particularly in marquee matchups which are more likely to attract an influx of square bettors. In heavily bet games, teams receiving at least 75% of spread dollars have gone just 158-175 ATS (47.4%). What's even more interesting is how the line has moved based on those one-sided money percentages.
When teams are receiving three-quarters of total dollars wagered in heavily bet games, the line has gotten at least a half-point worse (i.e. moving from -5 to -5.5) in 56.8% of their games. For what it's worth, the line has gotten at least a half-point better (i.e. moving from -4 to -3.5) in 27.0% of these games and it has remained unchanged in 16.2% of these games. In games where the line got at least a half-point worse, teams have gone just 87-102 ATS (46%). That shows how contrarian bettors can take advantage of artificially inflated lines.
In addition to targeting heavily bet games with one-sided public betting, contrarian bettors need to make sure there have been no sharp money indicators triggered on their opponent. Bettors need to pay more attention to bet signals triggered at market-setting sportsbooks, and the Pinnacle NCAAB steam move has gone 578-548 ATS (51.3%) this season and 3,287-2,944 ATS (52.8%) since their inception in 2007.
Teams receiving at least 75% of spread dollars in heavily bet games have gone 14-10 ATS (58.3%) when there has been a Pinnacle steam move triggered on them and 144-165 ATS (46.6%) in all other games. Betting against the public is a profitable strategy, but bettors need to ensure that sharps and squares aren't on the same side.
These money percentages are proprietary Sports Insights information, and they are available exclusively to Sportsbook Insider subscribers along with real-time odds, public betting trends, breaking injury alerts, archived line histories and much more. Sign up for a 4-day Pro trial and you will also receive steam moves, reverse line movement alerts, Contrarian Plays and our in-house Best Bet picks!
Have any questions for the staff at Sports Insights? Utilize our live chat to speak with a customer service representative or e-mail us at help@sportsinsights.com.