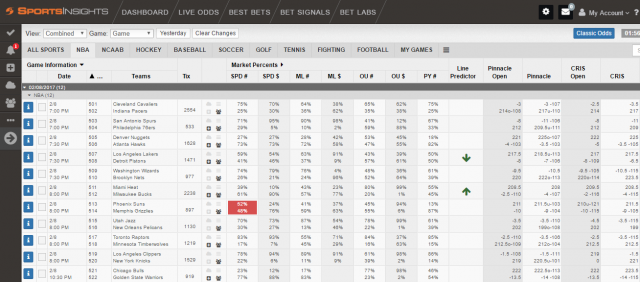 Why is it Important to Follow Market-Setting Sportsbooks?
Contrary to popular belief, betting lines don't originate in Las Vegas – they originate from market-setting offshore sportsbooks. These oddsmakers take massive limits, which attracts the sharpest bettors. As an example, sharp sportsbooks like CRIS and Pinnacle were taking six-figure wagers on the Super Bowl while square sportsbooks like Bovada or Sportsbook.com were capping bets at $2,000 and $10,000, respectively.
Typically these market-setting sportsbooks will be the first to move their lines after getting steamed – i.e. taking large bets from well-respected professional bettors. Square sportsbooks will oftentimes move on air, meaning they'll adjust their point spreads simply because other books have, not necessarily because they took a big bet.
This is important to know for anybody interested in chasing steam or tracking sharp money. Since the lines at market-setting sportsbooks like CRIS and Pinnacle are much sharper, they have historically produced the most profitable steam moves and reverse line movement alerts. They're also typically the first to move, which means they trigger far and away the most alerts.
There's a common misconception that bettors need to have an account at these market-setting sportsbooks in order to capitalize on these line moves. That couldn't be further from the truth. After a bet signal is triggered and the line moves, much of that value is lost. Having access to multiple sportsbooks allows bettors to shop for the best line and consistently find books that are still hanging bad numbers. Consistently getting the better number and beating the closing line is crucial to long-term success in sports betting.
Because sharp sportsbooks accept professional action and the highest limits, they do not shade their lines off the market. In order to maximize value by shopping for the best line we recommend sports investors have at least one account at a sharp sportsbook. It's also crucial to have an account at a square sportsbook, as this allows value-minded sports investors to improve their winning percentage by consistently getting down at better numbers. Since the public typically gravitates towards favorites and overs, there's typically better value taking underdogs and unders at square sportsbooks.
Examples of Square Sportsbooks:
Bovada
Sports Interaction (SIA)
Sportsbook.com
Examples of Sharp Sportsbooks:
It's important that bettors realize that not all bet signals are created equal, and the Pinnacle steam move has historically been our most profitable move across nearly every sport. Because they cater to professional players, their line moves are much sharper than other offshore sportsbooks. This has led to tremendous profits across all six major US sports, but particularly in sports like baseball which feature a longer regular season.
Since their inception in 2007, the Pinnacle MLB moneyline steam move has gone 4,503-4,132 (52.1%) with +302.8 units won. That means a $100/game bettor would have earned over $30,000 by following this one sharp money indicator. The CRIS MLB moneyline steam move has been the second most profitable, going 1,029-944 (52.2%) with +73.6 units won. Bettors following steam moves on the total would have realized even greater profits.

Sportsbook Insider Pro members receive access to all steam moves and reverse line movement alerts, so make sure to sign up for our 4-day trial. Members also have access to real-time odds, public betting trends, money percentages, and our official in-house Best Bet picks.
Still have questions? Utilize our live chat to speak with a customer service representative or e-mail us at help@sportsinsights.com.