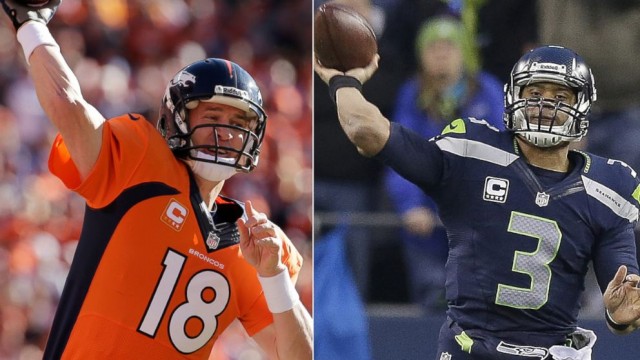 Super Bowl XLVIII Opening Line Report: Public vs. Sharp Money
Entering the season, the Denver Broncos (+600) were the co-favorites to win the Super Bowl at Bovada along with the San Francisco 49ers and followed immediately by the Seattle Seahawks (+850) and New England Patriots (+1000). Nearly six months later, oddsmakers are looking prophetic as all four teams advanced to their respective conference championship games. However, now we're left with just two teams playing for the Lombardi Trophy, in a classic matchup of offense versus defense.
The Broncos, who boast the league's most potent offense (including a league-leading 457.3 yards and 37.9 points per game) opened as a 1-point underdog against the Seahawks but have been pounded by the public since sportsbooks posted their lines late Sunday evening.
With 21,995 bets reported at our contributing sportsbooks, Denver has received 79% of spread bets and 58% of moneyline wagers. This lopsided betting has moved the Broncos from +1 to -2 at the market-setting CRIS sportsbook. As strong advocates of betting against the public this begs the questions: Where is sharp money falling on this game?
CRIS, one of the most respected sportsbooks based largely on their willingness to accept large bets, opened the Seahawks as 1-point favorites when their lines were released Sunday night. Within minutes (and with 72% of bettors taking the Broncos) the line moved to Denver -1, with the line adjusting to Denver -1.5 just seconds later. The next significant line movement occurred nearly an hour later with the Broncos moving to -2.5.
The line remained stationary at -2.5 overnight with only slight adjustments to the juice; however, we did see some buyback early Monday morning including a smart money move triggered at BetOnline on Seattle +2.5. At the time of publication, the market consensus has the Broncos listed as 2-point favorites, although there is no unanimity among the sportsbooks. Sportsbook.com, renowned for being a very square book, moved all the way to Denver -3 before being bought back to -2.5 (-120). Conversely, Bovada and 5Dimes were still offering Denver -1.
The table below displays the individual public betting trends at our seven contributing sportsbooks, which is available to all of our Premium and Pro subscribers.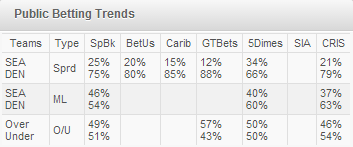 To summarize, the public has been hammering the Broncos since they opened as a 1-point underdog. This one-sided public betting moved the line all the way to Denver -2.5 before we saw any sort of buyback on Seattle.
What will be interesting to monitor is whether any sportsbooks adjust their odds to Denver -3, as that is a key number for spread bettors and would represent a very significant line move. Thus far, Sportsbook.com is the only book to post that key number, and that line was available for just under four hours as you can see in the line history below: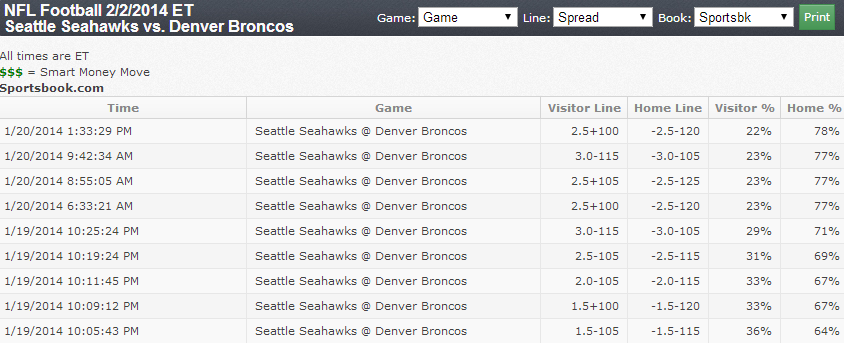 So who do you like in this year's Super Bowl? Make sure to leave your thoughts and projections in the comment section below.
[adrotate group="4″]