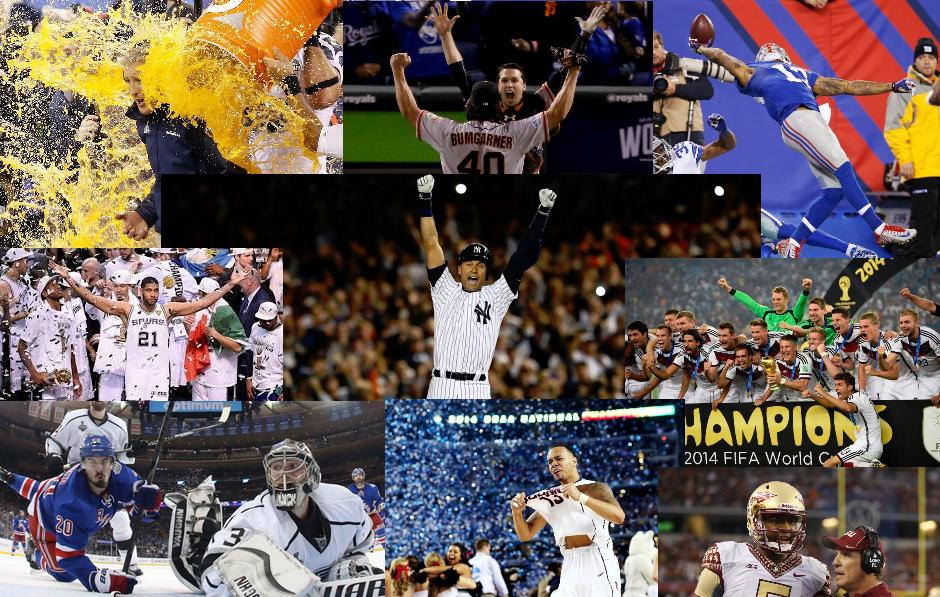 Sports Insights 2014 Year in Review
The crew at Sports Insights is always aiming to help bettors gain an edge by improving the Live Odds page, adding features, revising Best Bet strategies, developing our Bet Labs software, and more. In 2014 we were able to accomplish a lot with the help and feedback from our members, and below we've highlighted the progress we've made in addition to some popular stories and tweets, profitable teams, title winners and more from the past year.
New Features:
1. Live Odds improvements: Improved Futures page with title odds for each sport from BetOnline, Detailed videos showing our Live Odds and Bet Labs software in motion, Added GTBets Betting %'s for Spread, ML, and Over/Under, Added 5 more Las Vegas sportsbooks' odds.
2. Enhanced Mobile Apps and New Tablet App: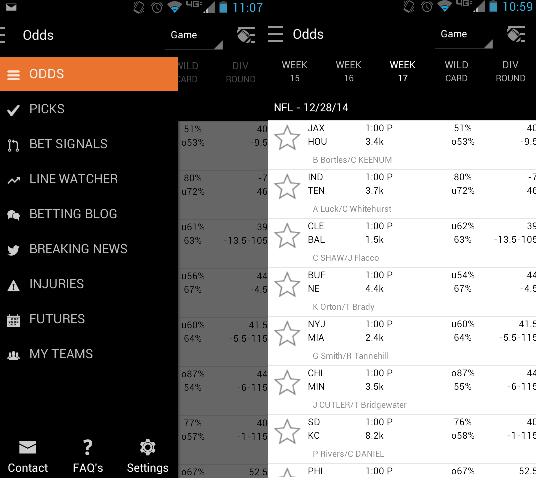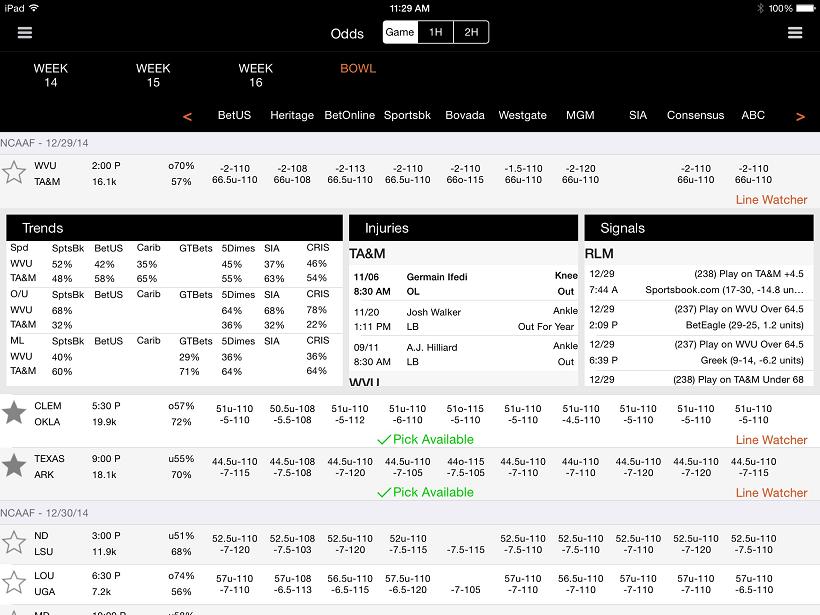 3. Bet Labs Think Tank: Redesigned Think Tank interface with enhanced filtering to make it as easy as possible to find the most profitable systems created: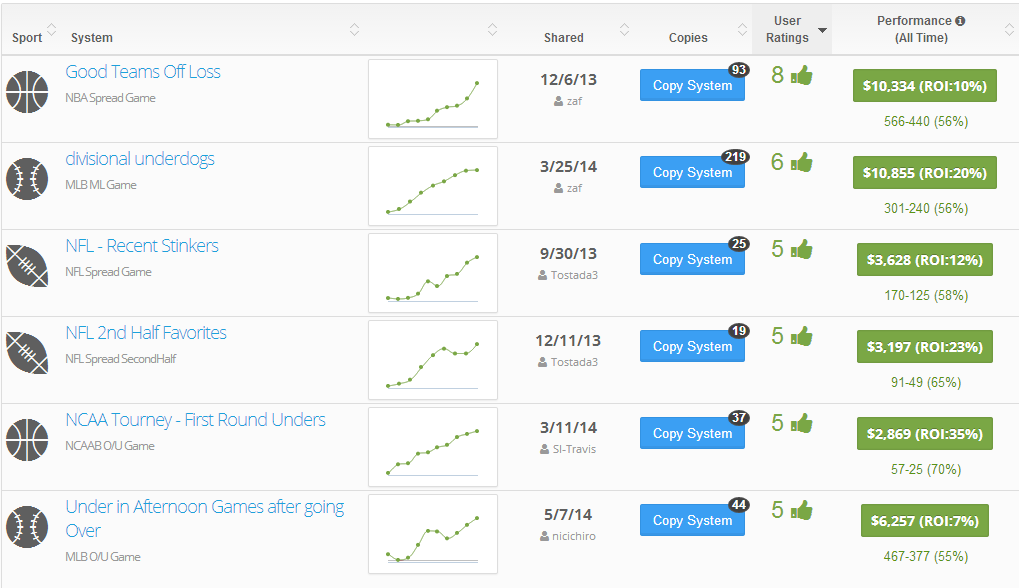 4. Added Bet Labs filters: Tournament Type (i.e. Bowl Games, March Madness), Tournament Round, Seeding, Opponent Seeding, Week#, Game #, Series Game #, Opponent Statistics, Opponent Stat Streaks, Previous Season Made/Miss Playoffs, Previous Season Win Total, Previous Season ATS Win %, Teaser/Pleaser Records for all sports. You can find a rundown of all features available here.
5. Bet Labs integration into Live Odds: If you have an active Bet Labs membership, you can now view all of your current game matches right from your Live Odds page: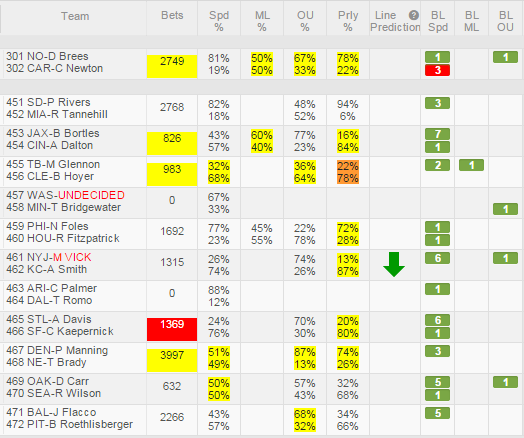 In the News:
Our Live Odds and Trends are now part of ESPN's Odds and Info section and we've been contributing NFL and NCAAF articles to their ESPN Insider section. Sports Insights has also been featured on Yahoo Radio and the Washington Post over the past year.
Best Bet Records:
Our ATS picks have gone 214-172 for +23 units (NFL, NCAAF, NBA, NCAAB) for the 2014-15 seasons.
Our ML picks have gone 249-263 for +34.17 units (MLB, NHL) for the 2014-15 seasons.
Our picks for all sports combined have earned bettors +57.17 units for the 2014-15 season.
With the cost of a membership, how profitable can these picks be? If your usual bet size is $100, our picks have earned bettors roughly $5,700 and below shows the minimal unit size that you'd need to bet on each pick in order to break even:

Even for recreational bettors betting only $50 a game, they'll still turn a healthy profit if they're paying for a membership month-to-month.
Most Popular Stories/Posts:
Over the past year we have detailed a number of betting systems, trends, game analysis and much more. However, these were the five most popular articles in 2014:
Possibly the worst beat of the year happened on Christmas Eve in the Popeyes Bahamas Bowl. Down 49-14 heading into the 4th quarter, it seemed nearly impossibly that Central Michigan would be able to cover the +3.5 spread against Western Kentucky. According to ESPN Stats and Info, CMU had less than %0.10 chance (1,000:1 odds) to comeback and win at that point. After 28 straight points and 1 second left on the clock, here's how game came to an unlikely finish:
Our most popular tweets of the year:
This year NFL teams are 1-13 ATS the week after playing the #Cowboys. Only Arizona in Week 10 was able to cover after playing Dallas.

— Bet Labs Software (@Bet_Labs) December 22, 2014
#Nebraska Head Coach Odds: Scott Frost +200 Greg Schiano, Jim McElwain & Tom Herman +400 Pat Narduzzi +500 Jerry Kill +750 Matt Wells +900 — SportsInsights.com (@SportsInsights) December 2, 2014
The NFL has filed an injunction against sports betting the same week it sends two teams to London where sports betting is legal. — SportsInsights.com (@SportsInsights) October 22, 2014
#ESPN #Grantland – Bill Simmons, Disciplinary – is questionable for appearance Monday (11/10) at Mike and Mike — SportsInsights.com (@SportsInsights) November 6, 2014
#Mavericks starters by salary: Parsons $14.7 million Chandler: $14.6 million Rondo: $12.9 million Ellis: $8.4 million Nowitzki: $8 million — SportsInsights.com (@SportsInsights) December 18, 2014
The BCS computers would have Ohio State in over Baylor and TCU as well MT @BCSKnowHow: Updated BCS rankings: pic.twitter.com/51DBxokwIq — SportsInsights.com (@SportsInsights) December 7, 2014
NJIT's win over Michigan as a 24.5 point dog is the biggest upset in terms of the spread since 2007 (Gardner Webb +26 at Kentucky in 2007). — Bet Labs Software (@Bet_Labs) December 6, 2014
#Browns are -4 this week at #Jaguars. CLE is 7-2 ATS as a road fave since 2003 and hasn't been above -3 on the road since 1995 at JAX. — Bet Labs Software (@Bet_Labs) October 13, 2014
#Florida -5 is the smallest spread for a 1-seed in the Round of 32 over the last ten years.

— Bet Labs Software (@Bet_Labs) March 21, 2014
2014 Title Winners and their Consensus Preseason Odds:
NFL: Seahawks +850
NCAAF: Florida State +1200
MLB: Giants +2000
NBA: Spurs +600
NCAAB: UConn +5000
NHL: Kings +1200
Men's Olympic Hockey: Canada +200
World Cup: Germany +650
Champions League: Real Madrid +550
English Premier League: Manchester City +250
Golf: Masters: Bubba Watson +2500 | US Open: Martin Kaymer +4000 | British Open: Rory McIlroy +1500 | PGA Champ: Rory McIlroy +550
Men's Tennis: Australian Open: Wawrinka +4000 | French Open: Nadal +140  |  Wimbledon: Djokovic +150 |  US Open: Cilic +7500
Women's Tennis: Australian Open: Li Na +2000 | French Open: Sharapova +500  |  Wimbledon: Kvitova +1200 |  US Open: S. Williams +150
WNBA: Phoenix +850
NFL: Vikings 10-5 ATS, Cardinals 10-5 ATS
NCAAF: TCU 10-2 ATS, Western Michigan 10-2 ATS
MLB: Orioles 96-66, +31.88 units (nearly more than all other profitable MLB teams combined)
NBA: Raptors 48-32 ATS
NCAAB: Virginia 21-6 ATS
NHL: Islanders 44-31, +17.98 units
WNBA: Phoenix 19-11 ATS, Indiana 19-11 ATS
While 2014 is nearly behind us, we'd love to hear any suggestions or feedback on what you'd like to see in 2015, so feel free to leave comments below or reach us directly at Help@SportsInsights.com.