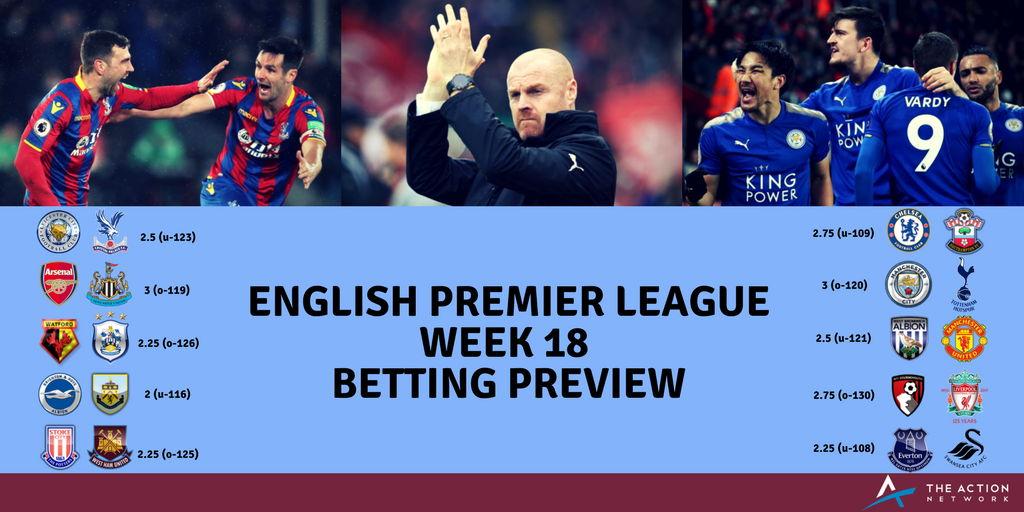 Premier League Week 18 Betting Preview: Draws, Draws, Draws
Manchester City just cannot be stopped and have now won a record 15-straight Premier League matches after easily dismantling Swansea 4-0 on Wednesday night. My value plays (+22.83 units this year) were also successful again after Crystal Palace scored two late goals in the 88th minute and stoppage time to stun Watford 2-1. Here's a quick look at last week's results, season trends, biggest payouts, title odds and value plays for Week 18.
Week 17 Results:
Home 4 of 10 (-2.81 units)
Away 4 of 10 (+1.08 units)
Draw 2 of 10 (+2.06 units)
Road teams finally had a positive week and draws earned over +2 units despite cashing just two of 10 games.
Season Results:
Home 78 of 170 (+3.59 units)
Away 51 of 170 (-20.96 units)
Draw 41 of 170 (-3.07 units)
Road teams have still struggled overall this season at nearly -21 units. Blindly betting every home team has earned over +3 units while betting every draw has resulted in about -3 units lost.
Season's Biggest Payouts:
Burnley (+1125) at Chelsea in Week 1
Huddersfield (+875) vs. Man Utd in Week 9
Crystal Palace (+695) vs. Chelsea in Week 8
Tottenham/Swansea Draw (+695) in Week 5
West Ham (+655) vs. Chelsea in Week 16
It had been a while since we saw a big payout in the Premier League, but West Ham's upset over Chelsea in Week 16 cracked the Top-5. Three of the five biggest payouts this season have been outright wins over Chelsea. They could sure use those nine extra points right now, but would still be well behind Man City in the table.
Title Odds via Paddy Power:
Man City -2500 (49 points)
Man Utd +1800 (38 points)
Chelsea +6000 (35 points)
Liverpool +8000 (31 points)
Tottenham +10000 (31 points)
Arsenal +12500 (30 points)
Burnley +200000 (31 points)
Leicester +100000 (26 points)
Man City and Man United were the most popular picks to win the title before the season, but many believed Tottenham would be in the hunt as well. They're now 18 points off the pace, and even a win at Man City this weekend leaves them 15 points behind. In a way, I'm almost glad that Spurs have struggled lately because you can get a generous price this weekend on the road– Tottenham are +500 on the moneyline while the draw is listed at +360. Unfortunately, public bettors are on the same wavelength and are also taking Tottenham or the draw, but I can't let that sway me too much. With a total of 3 goals, I expect both teams to be able to score, and at +350 I think the draw is worth betting.
Another draw I really like this weekend is between West Brom and Manchester United at +313 odds. West Brom have been the best 'draw' team this season, with 8 of their 17 matches finishing all square. When looking at just their home record, 5 of 8 matches have ended in a draw. For Sunday's tilt against Manchester United, you'll be hard-pressed to find many people willing to bet West Brom or the draw– currently more than 80% of moneyline bets have jumped on Man United. However, their odds have gotten worse, from -179 to -167, so the market has no problem offering a better price on Man United knowing that bets would still pour in on them. I'm not feeling bold enough to pick a West Brom upset at +555, but I think the draw has tremendous value at +313 odds.
Let's make it a trifecta of draws this weekend with the last value play on Brighton/Burnley +195. You won't find many draw lines this low, and the total sits at just 2 goals with heavy juice on the Under. Everyone and their mother is betting on Burnley to somehow escape with another win, but I just can't get myself to jump on the bandwagon. There's no doubt they've been the most impressive team in terms of exceeding expectations but now's the time to sell high. On the other side of things, Brighton's season appears to be crumbling and they've been outscored 9-1 in their last three matches. Now's a great time to buy low, especially since they're actually the 'favorites' for Saturday's matchup. On paper, this looks like an easy bet on Burnley but that's why so many casinos and sportsbooks exist. Take the draw at +195 odds and hope to see a scoreless game.
Most Lopsided Action:
87% on Leicester (-113) vs. Crystal Palace
83% on Watford (-127) vs. Huddersfield
Biggest Line Moves:
West Ham (+270 to +247) at Stoke
Southampton (+895 to +778) at Chelsea
Value Plays (19-20 season record, +22.83 units, 59% ROI)
West Brom/Man Utd Draw +313
Man City/Tottenham Draw +350
Burnley/Brighton Draw +195
Premier League Week 19 takes place on Friday/Saturday and no games are played on Christmas Eve or Christmas. I'll have a preview ready to go before Arsenal and Liverpool square off on Friday afternoon.
As always, you can track all the latest Premier League line moves, betting percentages, market data and more with a Premium or Pro membership.