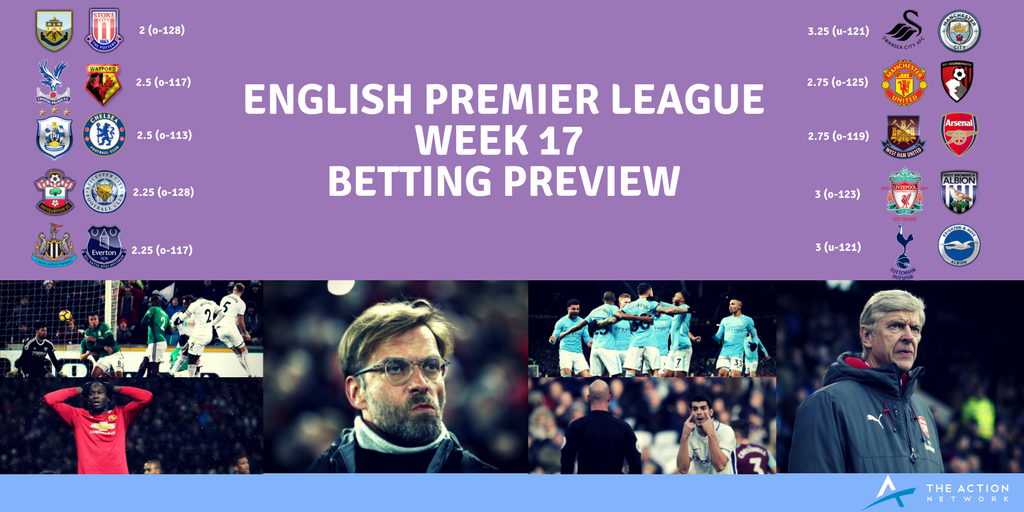 EPL Week 17 Betting Preview: Will Palace Escape the Cellar?
Last week got off to a great start with West Ham pulling off the upset as +630 underdogs over Chelsea, and value plays are now up over +22 units on the year. On Sunday we saw Man City extend their win streak to 14 games in the Premier League with a 2-1 win at Old Trafford, while other contenders like Liverpool and Arsenal both drew 1-1 to fall off the pace. With an 11-point lead at the top of the table, it's highly unlikely that anyone will be catching Man City for the title this season. Here's a look at the most recent results, season trends, title odds and value plays for Week 17.
Week 16 Results:
Home 5 of 10 (+7.26 units)
Away 2 of 10 (-4.77 units)
Draw 3 of 10 (+2.68 units)
Season Results:
Home 74 of 160 (+6.41 units)
Away 47 of 160 (-22.04 units)
Draw 39 of 160 (-5.13 units)
Title Odds via Paddy Power:
Man City -2000 (46 points)
Man Utd +900 (35 points)
Chelsea +5000 (32 points)
Liverpool +5000 (30 points)
Arsenal +7000 (29 points)
Tottenham +10000 (28 points)
Burnley +200000 (28 points)
As I mentioned last weekend, the Premier League schedule gets extremely hectic in the month of December. Matches for Week 17 will be played on Tuesday/Wednesday and Week 18 is right around the corner on Saturday/Sunday. The short layoff makes it difficult to really analyze the market since there hasn't been a lot of line movement or public betting yet, but I do still think there's value out there.
One match I'm legitimately excited about is Burnley hosting Stoke City. Burnley are a fascinating club and one of the favorites to be relegated before the season but currently sit tied for sixth in the league with 28 points. They also have an identical record at home as on the road (4 wins, 2 losses, 2 draws) despite scoring just six goals on their own turf. Obviously their defense has been extremely important to their success, giving up just 12 goals all season, but I can't see this level of performance lasting much longer. This is especially critical for Tuesday since Stoke haven't had a problem scoring away from home– their problem is letting in goals.
So what does this mean for bettors looking for value? Nearly 60% of public bettors are loading up on Burnley at a price of +134 but we've actually seen the line move away from them. It makes a lot of sense that the majority of casual bettors are backing the better team to win at home, but this will not be easy for Burnley and the market agrees. The O/U is really low at just 2 goals (with juice on the Over), and it's hard to see anything but a 1-1 finish. The value in this game is fading Burnley and taking the Draw at +218 odds.
The other value play I really like this week is Crystal Palace +126 vs. Watford. Over the course of the season Crystal Palace should have scored a lot more than they have, but they're rock-bottom in the Premier League table and have scored just 10 goals in 16 matches. By most metrics, they should be a mid-table team right now but their lack of finishing has absolutely crushed them. Look at their expected goals for their most recent match against Bournemouth which they tied 2-2:
Expected goals from chances created: Crystal Palace (4.45) vs. Bournemouth (0.70)
Crystal Palace even had a penalty kick in stoppage time with a chance to win but couldn't put it in the back of the net. Now of course you're thinking, why bet on a crap team to win? The simple answer is that they aren't that bad, and they're a really nice contrarian pick this weekend. Less than 10% of bettors are taking Crystal Palace even though their win expectancy is about 44% (+130 odds). The large majority of public bettors are taking Watford at a big price of +250, so fade the trendy underdog and take Crystal Palace +130 to win at home. Palace supporter Rebecca Lowe would be proud.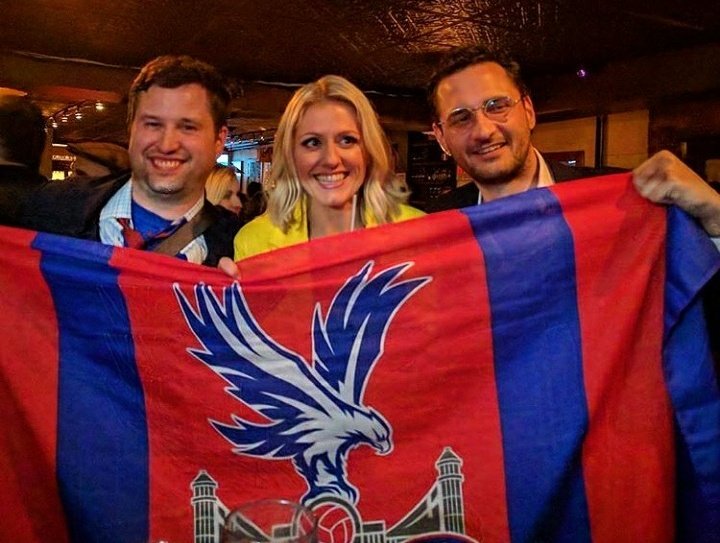 Most Lopsided Action:
73% on Watford (+260)
45% on West Ham (+445)
Biggest Line Moves:
Huddersfield (+965 to +808) vs. Chelsea
Crystal Palace (+133 to +126) vs. Watford
Value Plays (18-19 season record, +22.53 units, 61% ROI)
Stoke/Burnley Draw: +218
Crystal Palace: +130
As always, you can track all the latest Premier League line moves, betting percentages, market data and more with a Premium or Pro membership.