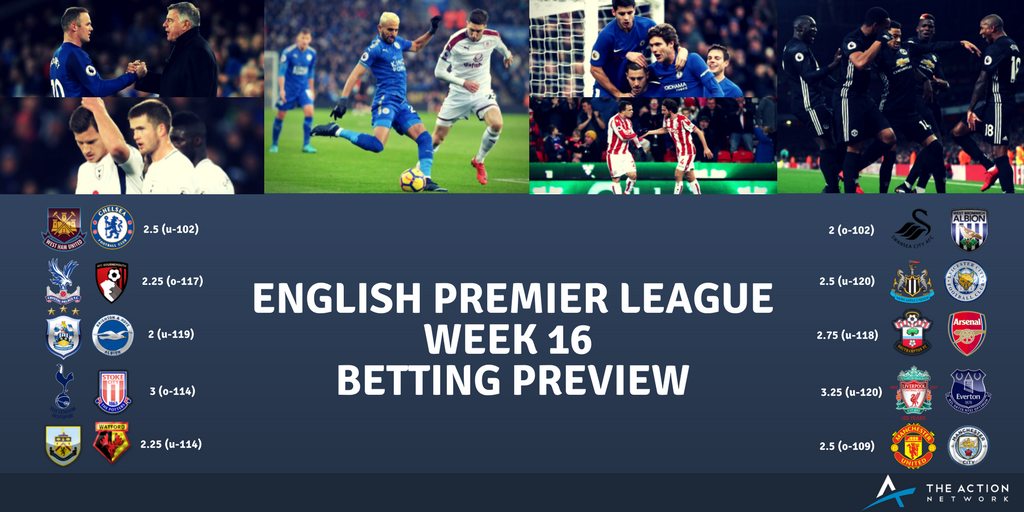 Premier League Week 16 Betting Preview: Derby Sunday, Draws, And A Potential Upset
The Manchester derby, Merseyside derby, relegation battles and contending London teams all headline a really fun upcoming weekend of Premier League football. Our season value plays keep plugging along thanks to draws cashing, but unfortunately the 3-team moneyline parlay of Liverpool/Tottenham/Everton was ruined when Spurs got a red card early in the 2nd half (serves me right as an Arsenal fan betting on Tottenham). Nevertheless, another profitable weekend puts value plays at +18.23 units on the year.
In Week 16, the marquee matchup is obviously the Manchester Derby with Man United hosting Man City at Old Trafford. Man City are now just 2 wins away from breaking Arsenal's consecutive win streak of 14 set in 2001-02, and will break the record with wins against Man United and Swansea. You can read the full Manchester Derby preview here, but right now public bettors are all over United at home so you may want to avoid the trendy underdog. Here's a look at recent results, season trends, title odds and a breakdown for Week 16 with value plays.
Week 15 Results:
Home 5 of 10 (-1.90 units)
Away 2 of 10 (-5.11 units)
Draw 3 of 10 (+0.83 units)
Season Results:
Home 69 of 150 (-0.86 units)
Away 45 of 150 (-17.27 units)
Draw 36 of 150 (-7.81 units)
Title Odds via Paddy Power:
Man City -900 (43 points)
Man Utd +1000 (35 points)
Chelsea +2000 (32 points)
Liverpool +4000 (29 points)
Arsenal +4000 (28 points)
Tottenham +10000 (25 points)
Burnley +200000 (25 points)
I was definitely leaning toward the draw for the Manchester Derby but now that Man City have moved from +105 to +130, I think there could be some value on them to win. No matter what, I'm going to avoid Man United as they've been getting more than 60% of tickets all week long. Too trendy of an underdog, and bettors have already drained any value out of the line.
Bettors also love the underdog in the Merseyside Derby as Everton are getting the bulk of support as big +1050 underdogs. Liverpool are -350 on the moneyline to take care of business at home and they've been throttling teams lately. Despite their form, I think the line is a bit high, especially since Everton have finally put a solid string of matches together in the Premier League and Europa League. I'm not quite ready to trust them against a good team, but I certainly understand why bettors are risking a little on The Toffees for a big potential payout.
The quality matches are on Sunday, but the value plays are on Saturday. It looks like the public is catching on to draws with low totals as there's more than 30% of tickets on the two that I like: Brighton/Huddersfield +205 and West Brom/Swansea +210. Fortunately the lines haven't moved too much and the public support isn't too high, so I'm definitely sticking to what works. Both totals are listed at 2 goals with juice toward the Under, more great news for draw bettors.
There's also a big underdog that I think is undervalued, no matter how ugly they may appear: West Ham +630 vs. Chelsea. This is the opening match of the week early on Saturday morning on West Ham's own turf, albeit a short travel for Chelsea. Public bettors are all over Chelsea at -200 odds and I couldn't find anyone out there giving West Ham any chance whatsover. The home side should have some confidence after a strong (but losing) performance at Man City last weekend, and the visitors had to play a Champions League game against Atletico Madrid on Tuesday night. No one's really expecting an upset here, but at +630 it's worth a shot.
Most Lopsided Action
81% on Chelsea (-200)
74% on Crystal Palace (+105)
60% on Man United (+237)
Biggest Line Moves
Man United (+286 to +237)
Southampton (+310 to +269)
Watford (+228 to +205)
Value Plays (17-17 season record, +18.23 units, 54% ROI)
Huddersfield/Brighton Draw +205
West Brom/Swansea Draw +210
West Ham +630 vs. Chelsea
The Premier League schedule is absolutely loaded from now until early January and Week 17 matches are Tuesday and Wednesday. Don't worry though, a betting preview will be out by Monday afternoon for the midweek action.
As always, you can track all the latest Premier League line moves, betting percentages, market data and more with a Premium or Pro membership.