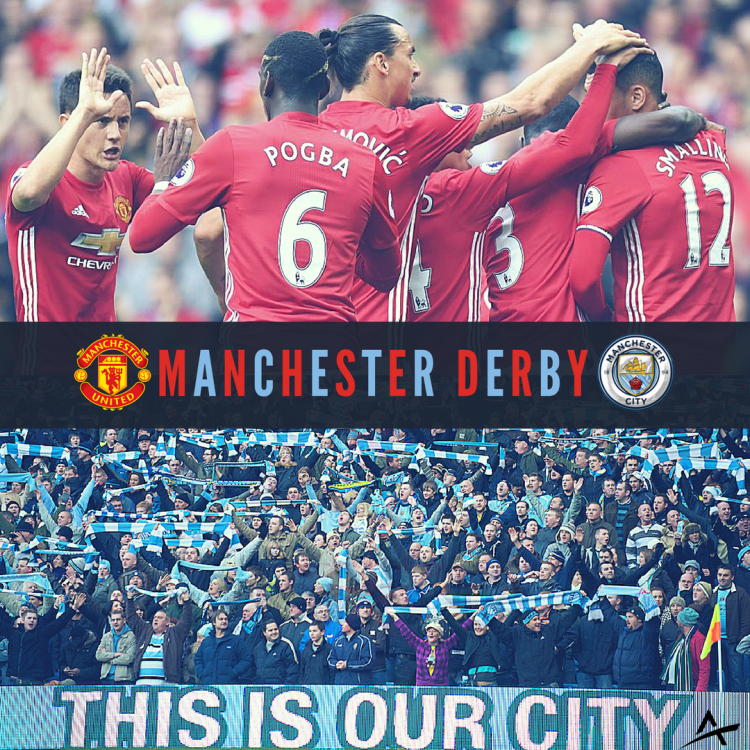 What's at Stake for Sunday's Manchester Derby?
Manchester City have won 13 consecutive Premier League matches and are now just 2 wins away from breaking Arsenal's win streak of 14 set in 2001-02. They were +1000 to break the streak a month ago and are now listed at +200 to do so with Man United and Swansea standing in the way. On Sunday, Man City are slight +123 favorites to win at Old Trafford.
Now, as an Arsenal fan, am I stuck rooting for Manchester United to break Manchester City's streak? I think the answer has to be yes, although I don't feel great about it. Maybe I just shouldn't turn the TV on during the game, but who am I kidding? This is the match of the year thus far and could make Man City unreachable for the rest of the season. Unless you're a Man City fan or holding a Man City futures ticket, you're probably rooting for the title race to open up.
Sunday's match may be best chance for Man United to get back in the title race– they're currently 8 points behind Man City with 23 games remaining in the season and +1000 to win the title. A loss would push the difference to 11 points while a win could close the gap to just 5 points. A draw would also be a great result for Man City who are -1000 favorites to win the league, although it would snap their consecutive wins streak. If there's one thing to be pessimistic about regarding Man City, it's that they've needed late goals in their last two EPL games to escape with wins. They don't look untouchable in the league lately, and a trip to Old Trafford could burst their bubble.
It's impossible not to think about Sunday's Derby without remembering Wayne Rooney's game-winning bicycle kick to beat Man City back in 2011.
Manchester United went on to win the Premier League title that season, and Rooney admitted it was his best goal for the club. Maybe not the most important or significant, but certainly his best. I can remember watching that game live, hoping Man City would dethrone Man United, but was in awe when Rooney connected. It seemed as if Man City would always be in United's shadow, but they did go on to win the league the following season, and again in 2013-14. Unless their season goes off the rails, Man City are headed for their 3rd league title in 7 seasons.
Overwhelming Public Support for Manchester United
Manchester City opened +105 for this matchup and moved up to +129 before settling at +123, where the line currently stands. We've seen a ton of early line movement toward Man United despite star midfielder Paul Pogba being suspended, with United moving from +287 to +246. Unfortunately Man City will also be missing a key contributor as midfielder David Silva is doubtful with an injury, but his absence wouldn't be enough to shift the line nearly 20 cents. So is it sharp money or public money moving the odds?


(Screenshot shows betting activity at Pinnacle from our Live Odds page)
We know that it's usually sharp money responsible for moving a line, but for a massive match like this, an influx of public bettors at +250 can really change the odds. So far we've tracked more than 60% of tickets on Manchester United and just 30% on Manchester City. Once again, public bettors are overlooking the draw which has decreased from +265 to +254 since opening despite just 8% of the tickets. Clearly there's been sharp money on the draw which we've tracked through reverse-line movement, and that's certainly the bet I'm eyeing right now. It also helps that there's hardly been any movement on the total at 2.5 (o-111), so we could see a 1-1 finish in this one.
Keep an eye out for our Premier League Betting Preview on Friday afternoon where I'll analyze the rest of the matches, show where the market is betting, and offer value plays (+18.23 units this season).
All Premium and Pro members can also track the latest odds, betting %'s, line moves and more using our Live Odds page.