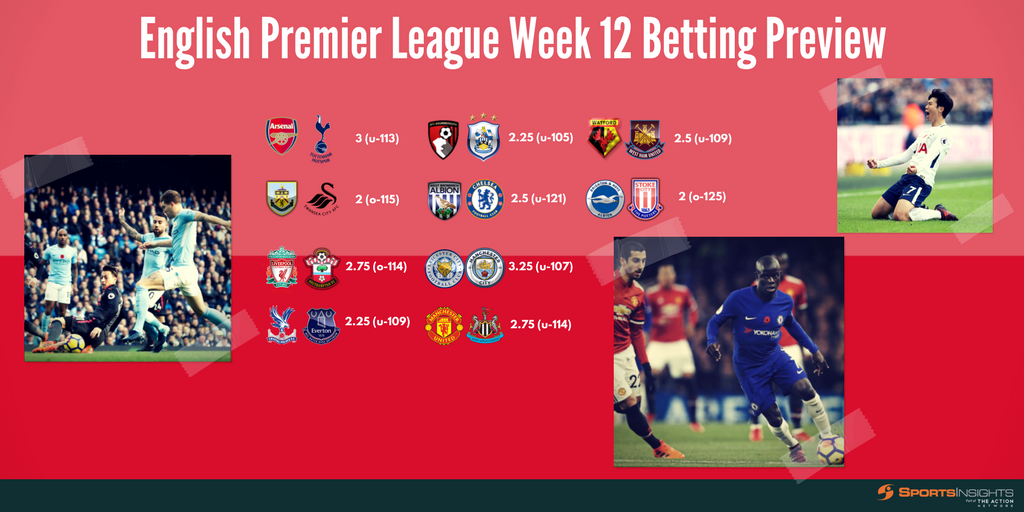 Premier League Week 12 Betting Preview: Derby Day and Draws
We've made it through another International Break after seeing the final 6 teams qualify for the 2018 World Cup. Unfortunately most of my heritage won't be there after Italy and Ireland were eliminated, along with other notable countries like USA, Chile, Netherlands, Ivory Coast, and Ghana. The Premier League is back bright and early Saturday morning with Arsenal hosting Tottenham in the North London Derby, but here's a quick look at the most recent results and season trends before getting to the Week 12 preview.
Week 11 Results:
Home 5 of 10 (+0.63 units)
Away 4 of 10 (+6.27 units)
Draw 1 of 10 (-6.74 units)
Season Results:
Home 50 of 110 (+2.34 units)
Away 35 of 110 (-4.66 units)
Draw 25 of 110 (-1.09 units)
Most Profitable Moneyline Bets:
Burnley +19 units
Huddersfield +10 u
Watford +6.5 u
Man City +3.56 u
Brighton +3.33 u
Least profitable EPL teams:
West Ham -7.05 u
West Brom -5.26 u
Everton -5.17 u
Swansea -4.82 u
Southampton -4.67 u
Title Odds via BetOnline:
Man City 1/6 (31 points)
Man Utd 14/1 (23 points)
Tottenham 14/1 (23 points)
Chelsea 16/1 (22 points)
Arsenal 66/1 (19 points)
Liverpool 66/1 (19 points)
Burnley 1000/1 (19 points)
Manchester City have won 9 consecutive Premier League games and BetOnline has placed +500 odds on them breaking Arsenal's record win streak of 14 back in 2001-02. You can bet that they won't achieve this feat at -800 odds.
In Week 11 I felt great about the 2 value draws, yet both games ended 1-0. However, the big risk on Burnley +565 paid off as they scored in the 82nd minute to beat Southampton 1-0. Value plays are now up more than +11 units on the season with a lot of matches left to be played.
This weekend's marquee matchup is the North London Derby between Tottenham and Arsenal. This is arguably the biggest game of the season for both clubs, and the importance is even higher now that Tottenham have finally overtaken Arsenal in the table over the last 1+ year. We've seen some small line movement toward Tottenham since opening at Pinnacle, moving from +202 to +189. The betting breakdown has been pretty even so far with 40% of tickets on Tottenham, 30% on Arsenal and 20% on the Draw. I'm really tempted to take Arsenal to win at home here, but just can't do it. I'm laying off this one and hoping the Gunners can at least get a point against their rivals.
This weekend isn't going to be as exciting as Week 11 for value plays with big underdogs, but hopefully we'll be even more profitable. The first value play I'll be taking is the Swansea/Burnley Draw +212. This is the sweet spot for draws with a very low total of 2 goals and short 3-way moneyline. We've also seen a little bit of reverse-line movement on the draw from +218 to +212 since opening at Pinnacle. I'm still really low on Swansea this season which I say every time I bet on one of their matches, but this is one they have to at least get a point from. Hope for a 0-0 or 1-1 finish and take the draw at +212.
The other draw I really like is Brighton and Stoke City at +217. This is the final game of Week 12 and will be played on Monday afternoon, right before the Week 13 matches start. Again, this game is in the wheelhouse for the draw with a low total of 2 goals, and very close 3-way moneylines on the home side, away side, and draw. Bettors have been heavy on Brighton so far and the line has moved from +155 to +138, but I think that has just created more value on the draw +217.
Most Lopsided:
94% on Chelsea (-163) at West Brom
71% on Brighton (+138) vs. Stoke
71% on Watford (+113) vs. West Ham
Biggest Line Moves:
Bournemouth (+110 to -119) vs. Huddersfield
Crystal Palace (+168 to +139) vs. Everton
Value Plays (11-12 season record, +11.18 units, 49% ROI):
Swansea/Burnley Draw +212
Brighton/Stoke Draw +217
Track all the latest Premier League line moves, betting percentages, market data and more with a Premium or Pro membership.