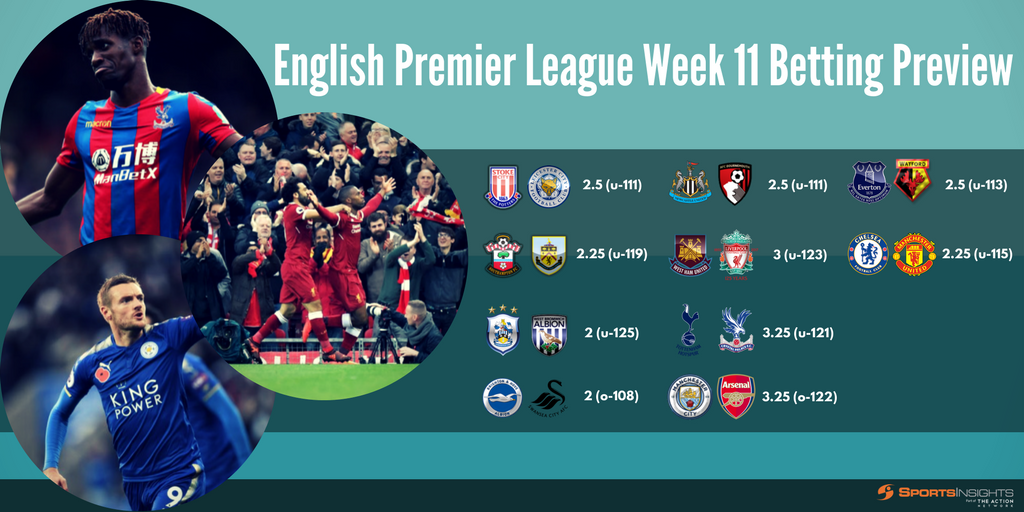 Premier League Week 11 Betting Preview: Draws, Dogs and Rivalries
Last week Manchester United edged past Tottenham 1-0 to ruin one of our value plays on the draw, but the other value play on the draw cashed on Southampton/Brighton at +222 odds. Plays are now 10-9 on the season for +8.53 units and a 45% ROI.
In other Week 10 action around the EPL, Arsenal came back to beat Swansea 2-1, Crystal Palace scored late to draw 2-2 with West Ham United, and Leicester City took care of Everton at home 2-0. Here's a look at the most recent results, season trends and biggest payouts.
Week 10 Results:
Home 5 of 10 (-0.15 units)
Away 3 of 10 (-3.07 units)
Draw 2 of 10 (-3.52 units)
Season Results:
Home 45 of 100 (+2.34 units)
Away 31 of 100 (-4.66 units)
Draw 24 of 100 (-1.09 units)
Season Biggest Payouts:
Burnley (+1125) at Chelsea in Week 1
Huddersfield (+875) vs. Man Utd in Week 9
Crystal Palace (+695) vs. Chelsea in Week 8
Tottenham/Swansea Draw (+695) in Week 5
Tottenham/Burnley Draw (+625) in Week 3
Title Odds:
Man City -500 (28 points)
Man Utd +900 (23 points)
Tottenham +1000 (20 points)
Chelsea +2000 (19 points)
Arsenal +4000 (19 points)
Liverpool +5000 (16 points)
Manchester City have won 8 consecutive Premier League games and BetOnline recently posted a prop on whether or not they'd surpass Arsenal's record of 14 straight wins back in 2001-02:
Will Man City break the EPL consecutive wins record of 14 set by Arsenal?

Yes +1000
No -2000

— ArsenalDMC (@ArsenalDMC) October 29, 2017
It just so happens that Manchester City will host Arsenal this weekend in a bid to extend the win streak to 9 games. We've seen considerable line movement around the market on Man City, moving from -175 to -235 while receiving nearly 75% of tickets in the process. City are a perfect 5-0 at home this year and while I'd love to bet on my beloved Gunners to salvage something in this game, I'll be sitting this one out.
The other marquee matchup this weekend is also on Sunday: Chelsea hosting Manchester United. We've seen much more equal betting in that game, with some slight line movement toward Man United. The big story to watch for is the return of former Chelsea manager Jose Mourinho to his old stomping grounds– he led the Blues to an EPL title in 2014-15, and is looking to replicate that magic with the Red Devils. Again though, I'm going to be sitting that one out from a betting perspective.
Have no fear though, I actually like FOUR value plays for the weekend including two draws and two big underdogs. Since Bet Labs recently introduced EPL data into the software, I've been looking for profitable historical trends to use in conjunction with the current betting market and like a couple big underdogs: Burnley +565 at Southampton, and West Ham +460 vs. Liverpool. While neither are exactly fading the public, dogs in this range have performed well in the past as long as the total stays below 3 goals. Lower totals are good for dogs/draws since there are fewer goals to be expected, which helps the "lesser" team stay in the match. You can tread lightly on these two plays since I normally don't pick out big underdogs, but both do have some value at the current odds.
As for draws, there are two games with an O/U of 2 and very equal 3-way moneylines: Swansea/Brighton +200 and Huddersfield/West Brom +215. In both matches, the public is loading up on one side (Huddersfield 48% and Swansea 58%) despite being moneyline underdogs, and we've seen reverse-line movement on the draw in both. It's going to be a busy Saturday for value plays, but hopefully a profitable one as well.
Most Lopsided: 74% on Watford (+267)
Biggest Line Moves: Man City -175 to -235, Brighton +293 to +242
Value Plays (10-9 season record, +8.53 units, 45% ROI): Swansea/Brighton Draw +200, Huddersfield/West Brom Draw +215, Burnley +565, West Ham +460
Just a reminder: if you're a new reader and still unsure about betting these plays, they earned +15.28 units last season with a 19% ROI following very similar betting strategies.
Track all the latest Premier League line moves, betting percentages, market data and more with a Premium or Pro membership.