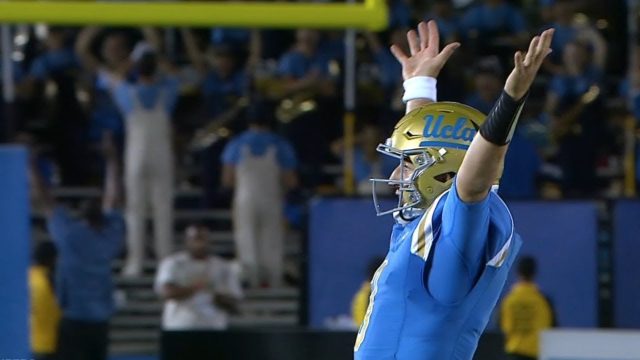 Overwhelming Public Support for Josh Rosen and UCLA
The UCLA Bruins aren't exactly known for their football prowess. They're a basketball school. Wooden, Alcindor (Abdul-Jabbar to the layperson), Walton, and all of those National Championships. Last year the Bruins football squad went just 2-7 straight up and 4-8 against the spread, but things are trending in the right direction thanks to their Heisman-candidate quarterback.
This year started off in a wild way for the boys in baby blue. Down 44-10 in week 1 against Texas A & M, junior QB Josh Rosen helped the team score 35 straight unanswered points to ultimately win 45-44. Though they were a seven point favorite and probably shouldn't have been down that much to begin with, it was still impressive nonetheless. Rosen's Heisman odds improved to 12/1 following that performance after he was available between 25/1 and 35/1 in the preseason.
Last week, they beat Hawaii 56-23—covering the 24 point spread in the process. After a strong start to the year, bettors have started to buy into the Bruins. Like…a lot of bettors…
In this weekend's contest against Memphis, the fourth most heavily bet game of the weekend, UCLA is getting close to 90% of spread bets. NINETY PERCENT! At the moment, they can be found at -3 at most books around the market.

Given the volume of bets on this game, a number pushing 90% is essentially unheard of. Though I expect it to drop a bit leading up to game time, I believe it will stay above the 80% mark.
With this degree of one-sided betting, one would imagine that the line would be moving towards UCLA. However, we have actually seen the line stay still and in some cases, move towards Memphis. After UCLA had been sitting at -3.5 for some time at Pinnacle, a reverse line move pushed the line to -3.

Similar instances of reverse line moves have occurred at Bookmaker and 5Dimes. These moves at three of the sharpest offshore sportsbooks show that professional bettors aren't joining the Rosen bandwagon quite yet.
If you plan on on taking UCLA, try and find them at -2.5. Our sportsbook insider members can set up a line watcher alert that will let you know when the line hits a specific number at the sportsbooks of your choosing.
It's also interesting to note that preseason win totals for each team: UCLA was listed at 6.5 while Memphis was listed at 8.5. Oddsmakers expected Memphis to be a very good team this year, yet they find themselves as underdogs at home after just one week. Don't sleep on this Tigers team.
Follow us on Twitter @SportsInsights for more news leading up to this weekend's college slate.