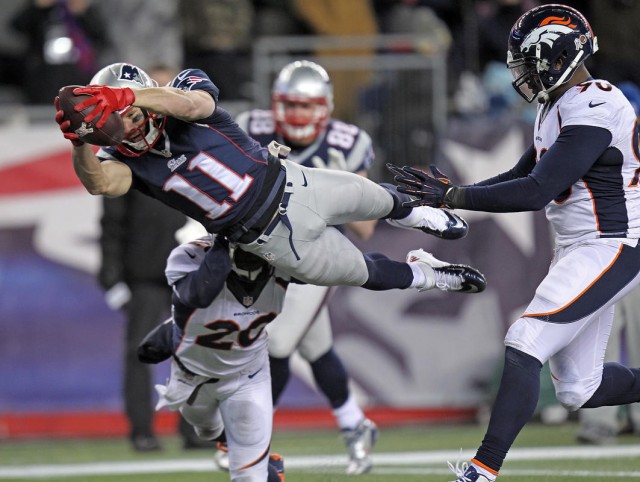 NFL Week 9 Betting Recap
– Tom Brady and Peyton Manning are the most profitable 'Over' QBs since '03, and their game easily went over the closing total of 52.5.
Due to the on-screen weather reports prior to the game, the percentage of over bets for Pats-Broncos dropped from 73% to 61%.

— SportsInsights.com (@SportsInsights) November 3, 2014
– On the flip side, Michael Vick and Alex Smith are the worst 'Over' QBs in our database. The Jets/Chiefs game went under 41.5 despite 72% of bettors taking the over.
– Each week former Caesars oddsmaker Todd Fuhrman tweets out the teams being pounded by sharp money and the teams being hammered by the less-informed public. This week he tweeted an early morning report and then updated the betting public with details of late action. Early Record: Pros 3-1 ATS, Joes 1-2 ATS
Early morning report…PROS: Dolphins -1.5/-2, Jaguars +11, Jets +10, Cardinals +3. JOES: Chargers, Cardinals (PK), 49ers — Todd Fuhrman (@ToddFuhrman) November 2, 2014
PROS: Dolphins -1.5/-2, Jaguars +11, Jets +9.5/+10, Cardinals +3/+3.5, Cowboys PK JOES: Cardinals, 49ers, Chargers — Todd Fuhrman (@ToddFuhrman) November 2, 2014
– Favorites went 6-6 ATS in Week 9 and are now 66-64 overall. Visitors went 7-5 ATS in Week 9 and are now 65-63 overall. The over went 7-5 in Week 9 and is now 71-62 overall.
– Best ATS Win % among Quarterbacks (min 32 starts) since 2003
Russell Wilson 65.9%
Andrew Luck 65.1%
Colin Kaepernick 61.8%
Aaron Rodgers 60.4%
Tom Brady 58.1% (only QB to cover this week)
Peyton Manning 57.5%
Andy Dalton 56.6%
– Best ATS Quarterbacks this season:
Andrew Luck 7-2
Alex Smith 6-2
Carson Palmer/Teddy Bridgewater 4-1
– Worst ATS Quarterbacks this season:
Geno Smith 1-6
Kirk Cousins 1-4
Josh McCown/Chad Henne 0-3
Full list of how many bets each NFL team is getting per game (not many surprises) pic.twitter.com/Jh2QvvUbNH

— SportsInsights.com (@SportsInsights) November 3, 2014
– Dallas hadn't received less than 25% of spread bets since November of 2006, however, the Cowboys closed with just 24% of spread bets.
– The Cowboys opened as 4-point favorites when Tony Romo (Back) was expected to start, however, when it was announced Romo was our and Brandon Weeden would start the game moved to a pick 'em. Romo currently listed as question for Sunday's (11/9) game against Jacksonville.
– Other key injuries to monitor include
Eagles QB Nick Foles, Collarbone, Will miss 6-8 weeks
Packers QB Aaron Rodgers, Hamstring, Probable
Jets QB Michael Vick, Foot, Questionable
Browns TE Jordan Cameron, Concussion, Doubtful
Broncos WR Wes Welker, Back, Doubtful
Bills RB Fred Jackson, Groin, Doubtful
Lions WR Calvin Johnson, Ankle, Probable
Lions RB Reggie Bush, Ankle, Probable
Bengals RB Giovani Bernard, Hip, Doubtful
Eagles LB DeMeco Ryans, Achilles, Out For Year
– For the latest news and injury updates, make sure to visit our free NFL injury page.
– NFL West Coast teams playing day games on the East Coast are now just 57-73 ATS since 2003 after San Diego got crushed in Miami. Find out more here.
– MVP odds movement since last week at Sportsbook.com:
Peyton Manning +130 to +220
Tom Brady +1200 to +400
Aaron Rodgers +500 (unchanged)
Andrew Luck +1000 to +700
Ben Roethlisberger +5000 to +800
DeMarco Murray +600 to +1000
Russell Wilson +2500 (unchanged)
Drew Brees +5000 to +2500
Philip Rivers +1500 to +5000
Antonio Brown N/A to +5000
Updated NFL Futures via 5Dimes Broncos +340 Patriots +750 Packers +825 Seahawks +850 Cardinals +1150 Colts +1550 Saints +1700 Eagles +1800 — SportsInsights.com (@SportsInsights) November 4, 2014
– Early Week 10 Lines of Interest (via Pinnacle)
Mark Sanchez and the Philadelphia Eagles opened as 6.5-point favorites for their MNF matchup against the Carolina Panthers.
The Denver Broncos opened as 11-point road dogs against the Oakland Raiders.
The Cowboys/Jaguars and Giants/Seahawks games are both currently off the board.
Preseason vs. Current Lines PHI -1 to -6 BAL -6 to -10 ARI -4 to -7 NO -1.5 to -4.5 DET -5 to -2.5 PIT -2 to -4.5 https://t.co/UGqi0N9BEF

— SportsInsights.com (@SportsInsights) November 4, 2014
– You can view the latest odds and public betting trends on our free NFL odds page,
– This season our NFL Best Bets have gone 24-19 ATS (+3.06 units) while our College Football Best Bets have gone 52-37 ATS (+10.21 units). Receive these plays along with real-time odds from 40+ sportsbooks, public betting trends from 7 contributing sportsbooks and much more by signing up for a 4-day trial of Sportsbook Insider Pro.
– Have any questions for the staff at Sports Insights? Utilize our live chat to speak with a customer service representative or e-mail us at help@sportsinsights.com.
[adrotate group="4″]