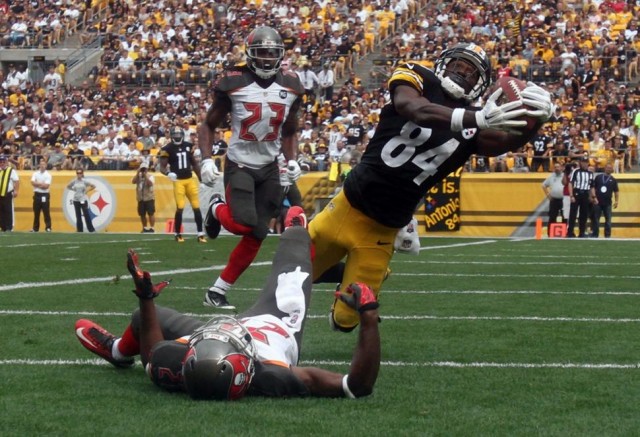 NFL Week 4 Betting Recap
– Favorites went 7-6 ATS in Week 4 but are still just 27-32 ATS for the season. Home teams went 8-4 ATS in Week 4 but are also below .500 this season with a 28-30 ATS record. Teams coming off a loss in the Week 3 were just 6-7 ATS this week but have gone 24-20 ATS on the season.
– Underdogs went 6-7 straight up this week, and betting every dog on the moneyline would have resulted in a gain of +3.22 units won. On the year, betting every underdog in the moneyline has resulted in a net gain of 5.35 units won.
– In Week 4 the Over went 10-3 (+6.46 units) bringing the record to 33-28 (+3.6 units) on the season.
– For early Super Bowl betting, the NFC is currently a 3-point favorite against the AFC with a total of 51.5. On the moneyline the NFC is listed at -145 | AFC +130.
– The Oakland Raiders have fired head coach Dennis Allen after the team's 0-4 start. Before the season Allen has the third best odds (+600) of being the first coach to be fired.
– Heading into the week, these were the likeliest Super Bowl matchups at Sportsbook.com:
SEA-DEN +550
SEA-NE +800
SEA-CIN +1300
NO-DEN +1900
GB-DEN +2000
SEA-SD +2000
SF-DEN +2300
– The most bet NFL games this weekend all consisted of NFC teams:
Falcons/Vikings
Saints/Cowboys
Eagles/49ers
Packers/Bears

 
– Key injuries to monitor for Week 5:
Bears WR Brandon Marshall, Ankle, Probable
49ers TE Vernon Davis, Back, Questionable
Titans QB Jake Locker, Wrist, Questionable
Vikings QB Teddy Bridgewater, Ankle, Probable
Texans WR Andre Johnson, Ankle, Probable
Cardinals QB Carson Palmer, Shoulder, Probable
Packers LB Clay Matthews, Hamstring, Questionable
Colts S LaRon Landry, Suspension, Out
Panthers RB DeAngelo Williams, Ankle, Doubtful
Bucs WR Mike Evans, Groin, Out
Raiders QB Derek Carr, Knee, Out
– It was an up-and-down week for back-up quarterbacks with Minnesota and Teddy Bridgewater (+3.5 vs. Atlanta) winning 41-28 and Tampa Bay and Mike Glennon (+7.5, at Pittsburgh) winning 27-24. However, Jacksonville and Blake Bortles (+13 at San Diego) lost 33-14 and Charlie Whitehurst and Tennessee (+7.5 at Indy) lost 41-17.
– Speaking of back-ups, there's a new quarterback in Buffalo with Kyle Orton replacing E.J. Manuel behind center this week. The Bills are currently receiving 25% of spread bets as 7-point underdogs in Detroit.
– Looking ahead to Week 5, the Browns/Titans game is currently off the board as it is unknown weather Jake Locker (Wrist) or his back-up Charlie Whitehurst will get the start.
– Before the season CG Technologies released lines for every single NFL game between Week 1 and 16. The list below compares these pre-season predictions followed by the current consensus line:
Minnesota Vikings at Green Bay Packers (-10/-9)
Buffalo Bills at Detroit Lions (-7.5/-7)
Houston Texans at Dallas Cowboys (-4.5/-4)
Chicago Bears at Carolina Panthers (-3.5/-3)
Pittsburgh Steelers (-6.5/-7) at Jacksonville Jaguars
Baltimore Ravens at Indianapolis Colts (-3/-3.5)
Cleveland Browns at Tennessee Titans (-2.5/Off Board)
St. Louis Rams at Philadelphia Eagles (-6/-7)
Atlanta Falcons at New York Giants (-2.5/-4)
Tampa Bay Buccaneers at New Orleans Saints (-7.5/-10.5)
Arizona Cardinals at Denver Broncos (-9/-7)
Kansas City Chiefs at San Francisco (-7/-6)
New York Jets at San Diego Chargers (-4/-6.5)
Cincinnati Bengals at New England Patriots (-4/pick 'em)
Seattle Seahawks (-4.5/-7) at Washington Redskins
– As you can see, the biggest moves include CIN/NE (4 points), TB/NO (3 points), SEA/WAS (2.5 points) and NYJ/SD (2.5 points).
– Week 5 Byes: Miami Dolphins and Oakland Raiders
– There was only one O/U in the NFL this week where the public majority was on the Under (NE-KC), but that total has increased from 45 to 46.5. The bettors following that reverse line movement covered easily as the teams combined for 55 points (41-14 Chiefs).
– Via Todd Fuhrman: PROS: Packers, Bills, Titans, Jets, Bucs, Jaguars JOES: Colts, Lions, Steelers, Chargers, Falcons.
– The Buccaneers scored a touchdown with 7 seconds left to take a 27-24 lead over the Steelers. Tampa Bay was listed at +554 to come back and win for live, in-game betting prior before the drive.
Patriots fall from 8/1 to 14/1 to win the Super Bowl @LVSuperBook. Seahawks 7/2 Broncos 9/2 Bengals 8/1 Packers 12/1 Chiefs 50/1

— David Payne Purdum (@DavidPurdum) September 30, 2014
– NFL teams whose Super Bowl futures dropped the most since last week:
New Orleans +1600 to +2200
Chicago +2500 to +4000
Pittsburgh +4000 to +5500
– Looking ahead to Week 5, in early action the most lopsided bet games are:
Houston (+4 at Dallas) receiving 20% of spread bets
Jacksonville (+7 vs. Pittsburgh) receiving 20% of spread bets
New England (pick 'em vs. Cincinnati) receiving 25% of spread bets
Buffalo (+7 at Detroit) receiving 25% of spread bets
St. Louis (+7 at Philadelphia) receiving 27% of spread bets
– Before the year we published an article detailing how sharp bettors could effectively buy low on teams that made the playoffs in the previous season. This system has gone 1-0 in 2014 and is 62-31 (+27.72 units) overall and has one game match for Week 5.
NFL Teams whose Super Bowl futures improved the most since last week: GB +2200 to +1500 DAL +5000 to +3500 SD +1600 to +1400

— SportsInsights.com (@SportsInsights) September 29, 2014
There was not a single NFL dog that lost and covered today. Either the favorite covered or the dog won straight up. — SportsInsights.com (@SportsInsights) September 29, 2014
PIT and ATL both lost outright RT @SportsInsights: Teams involved in most parlays/teasers: Steelers -7 Falcons -3.5 Chargers -13 Colts -7 — SportsInsights.com (@SportsInsights) September 28, 2014
– Have any questions for the staff at Sports Insights? Make sure to leave your thoughts and opinions in the comment section below or e-mail us at help@sportsinsights.com.
[adrotate group="3″]