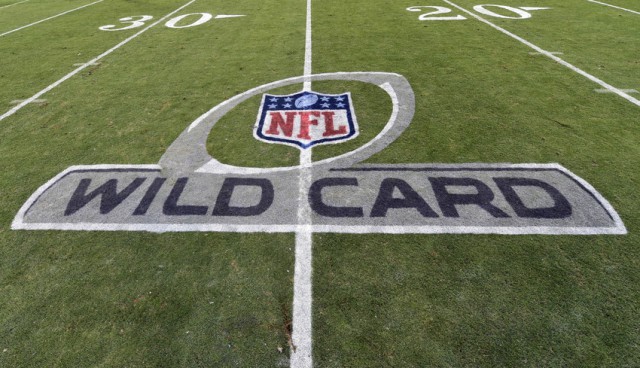 NFL Playoffs: Wild Card Weekend Betting Preview
Every week in this space we highlight the most interesting line moves at the market-setting offshore sportsbooks — typically CRIS and Pinnacle which take the highest limits and therefore attract the sharpest bettors. By contrasting the opening and current lines with the public betting trends from our seven contributing offshore sportsbooks, we're able to explain what factors are influencing line movement.
In recent weeks we have started to compare our offshore trends with ticket counts and total dollars wagered at William Hill — one of the most prominent Las Vegas sportsbooks. This gives us a more complete overview of the sports betting marketplace.
Although the only picks we fully endorse are our Best Bets, sharp money indicators like reverse line movement help offer insight into which teams are offering value and whether public perception is creating artificial line value.
This week we will preview the four wild-card games and determine which factors are responsible for early line movement.
Kansas City Chiefs at Houston Texans (Saturday at 4:35 PM eastern)
In this weekend's first game, the Chiefs opened as a 3-point favorite at the market-setting Pinnacle sportsbook and, according to the public betting trends from our seven contributing sportsbooks, have received 71% of spread bets. This one-sided public betting has moved the line from Kansas City -3 to -3.5.
There have been several bet signals triggered on Kansas City, which indicates that public money isn't solely for this half-point line move. That includes a steam move at Pinnacle which has gone 54-42 ATS (56.25%) with +6.6 units won.
William Hill Betting Trends:
Spread: 83% tickets on Kansas City, 81% total dollars wagered on Kansas City
Moneyline: 53% tickets on Kansas City, 82%

total dollars wagered 

on Kansas City

Total: 58% tickets on the over, 63% money on the under
Pittsburgh Steelers at Cincinnati Bengals (Saturday at 8:15 PM eastern)
Saturday's late game features a showdown between AFC North teams as the Cincinnati Bengals host the Pittsburgh Steelers. With Andy Dalton listed as doubtful due to a thumb injury, AJ McCarron is expected to make his fifth consecutive start at quarterback.
The Steelers, who boast an inferior record, opened as 3-point road favorites at Pinnacle and have received 67% of spread bets. Despite this overwhelming public support, Pittsburgh has dropped from -3 to -2.5 at Pinnacle. This reverse line movement is a strong indicator that sharp money has been taking the Bengals.
The screenshot below, available to our Sportsbook Insider members, illustrates how this game has been bet at our contributing sportsbooks:

The public betting trends at William Hill similarly indicate that there has been some sharp money on Cincinnati. Although Pittsburgh has received more than three-quarters of public bets, there has been equal money on each side.
William Hill Betting Trends:
Spread: 77% tickets on Pittsburgh, 56%

total dollars wagered 

on Pittsburgh
Moneyline: 65% tickets on Cincinnati, 83%

total dollars wagered 

on Cincinnati
Total: 60% tickets on the over, 57%

total dollars wagered 

on the under
Readers may be interested to know that Marvin Lewis has gone 0-6 ATS during his playoff career — the worst record in our database. It seems like bettors are overreacting to Cincinnati's past struggles and their injury woes, which could make them an excellent buy low candidate.
Seattle Seahawks at Minnesota Vikings (Sunday at 1:05 PM eastern)
In this weekend's most heavily bet game, the Seahawks opened as 4.5-point favorites at Pinnacle and have received 74% of early spread bets. This lopsided public betting has pushed the line to Seattle -4.5 to -5; however, "5" is considered a dead number which makes this a fairly insignificant line move.
That said, there are a handful of fascinating trends involving this game. Our research shows that, since the start of the 2003 season, there have only been two home underdogs of at least 4-points during the playoffs — both of whom won straight up.
Denver Broncos (+7.5) vs. Pittsburgh Steelers – January 8, 2012
Seattle Seahawks (+9.5) vs. New Orleans Saints –

January 8, 2011
It's also interesting to note that the Vikings fit the criteria for our wild-card betting analysis which was featured on ESPN Insider last season. The highlighted system has gone 22-8 ATS (73.3%) with +12.47 units won and a 41.6% return on investment (ROI).
Additionally, there are several over/under betting trends that bettors should monitor. Despite popular belief, the over has gone 123-94 (56.7%) when the game is played at freezing temperatures. It's still early, but meteorologists are projecting average temperatures of just 2° Fahrenheit on Sunday afternoon. We have also found that the over has gone 19-11 (63.3%) during the NFL playoffs when the closing total is 40 or less.
Our betting systems point towards value on the over, however, the public betting trends indicate that sharp bettors are taking the under. When we observe this type of contradicting information, it's best to lay off entirely.
William Hill Betting Trends:
Spread: 86% tickets on Seattle, 88%

total dollars wagered 

on Seattle
Moneyline: 73% tickets on Minnesota, 53%

total dollars wagered 

on Minnesota
Total: 60% tickets on the over, 85%

total dollars wagered 

on the under (Excellent sharp money indicator)
Green Bay Packers at Washington Redskins (Sunday at 4:45 PM eastern)
Although this game is receiving fewer bets than any other Wild Card weekend game, there has been some fascinating line movement in early action. The Redskins opened as a 2-point favorite at Pinnacle and have received 53% of spread bets at our contributing sportsbooks.

Despite this even public betting, Washington has actually dropped from -2 to +1. This 3-point line move includes a steam move triggered on Green Bay +1 at BetOnline (19-13 ATS, +4.1 units won this season).
Our research also found that teams who made the playoffs have gone 34-26 ATS (56.7%) when their opponent missed the playoffs in the previous season. By examining teams who are receiving less than 50% of spread bets, that record improves to 16-8 ATS (66.7%). Once again, this trend favors the visiting Packers.
William Hill Betting Trends:
Spread: 66% tickets on Washington, 61%

total dollars wagered 

on Washington.
Moneyline: 63% tickets on Green Bay, 84%

total dollars wagered 

on Green Bay
Total: 59% tickets on the over, 89%

total dollars wagered 

on the under (Excellent sharp money indicator)
---
Want our official Best Bet picks for Wild Card Weekend?
Sign up for a 4-day trial of our Sportsbook Insider Pro and access all of our picks instantly! That includes NFL, NCAAF, NBA, NCAAB and NHL. Schedule a one-on-one demo with our customer service manager and we'll tack four free days onto your subscription.
These numbers are subject to change before kickoff, so bettors should be sure to visit our free NFL odds page for the latest lines, injuries, public betting trends and more.
Have any questions for the staff at Sports Insights? Utilize our live chat to speak with a customer service representative or e-mail us at help@sportsinsights.com.
David Solar is the Content Manager for Sports Insights and can be reached directly at David@sportsinsights.com
Join us live Sundays at noon ET
We're now holding our members-only live Sports Betting Hangouts Sunday mornings to prepare you for a full day of NFL games. Members, simply log into your account Sunday morning to access the hangout.
Not a member? Start a trial today to join our Sports Betting Hangouts held six days a week, plus all the other Sportsbook Insider Pro benefits.