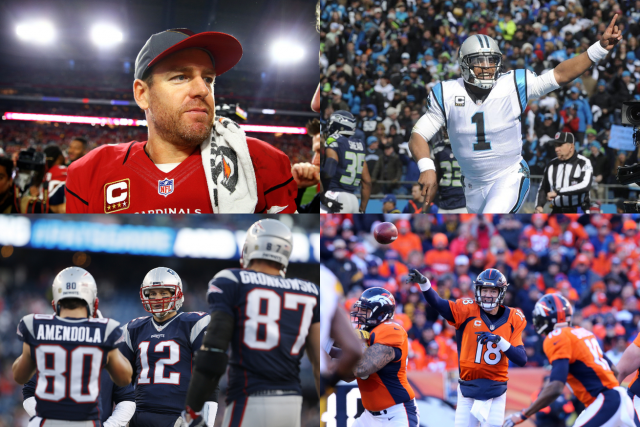 NFL Playoffs: Conference Championship Betting Preview
Every week in this space we highlight the most interesting line moves at the market-setting offshore sportsbooks — typically CRIS and Pinnacle which take the highest limits and therefore attract the sharpest bettors. By contrasting the opening and current lines with the public betting trends from our seven contributing offshore sportsbooks, we're able to explain what factors are influencing line movement.
In recent weeks we have started to compare our offshore trends with ticket counts and total dollars wagered at William Hill — one of the most prominent Las Vegas sportsbooks. This gives us a more complete overview of the sports betting marketplace.
Although the only picks we fully endorse are our Best Bets, sharp money indicators like reverse line movement help offer insight into which teams are offering value and whether public perception is creating artificial line value.
For years, we have received the percentage of bets on each side with limited information about the number of dollars being wagered. Last week we introduced our new offshore money percentages which track the ratio of money being bet on the spread, moneyline and over/under. This feature, which is only available to Sportsbook Insider customers, helps provide a more complete overview of the sports betting marketplace.
Existing customers can add this information to their live odds page by entering their settings, selecting betting percentages and checking the boxes under money percentage columns.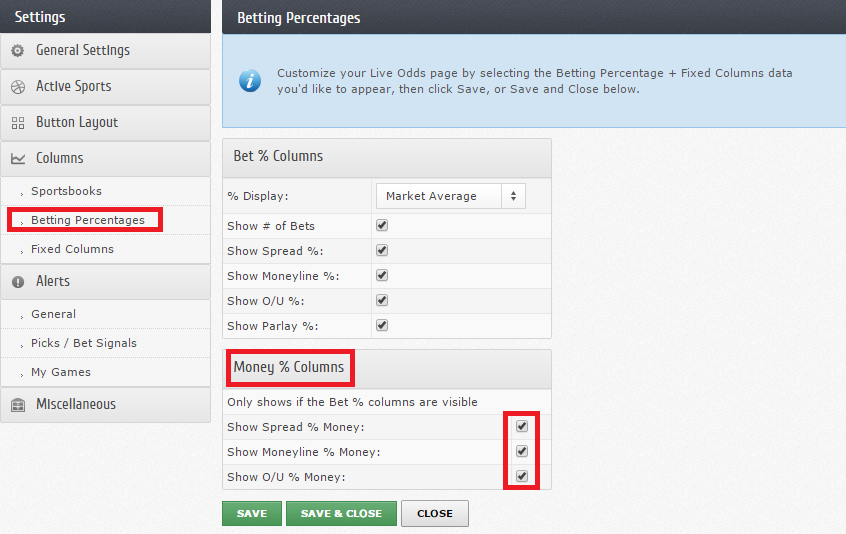 There has been lopsided public betting in both conference championship games, however, these money percentages offer additional insight into which teams are being backed by sharp money.
New England Patriots at Denver Broncos (Sunday at 3:05 PM eastern)
The Patriots opened as 3.5-point favorites at the market-setting CRIS sportsbook and have received 79% of spread bets. Despite this one-sided public betting, New England has actually dropped from -3.5 to -3. The screenshot below displays how public betting has affected the spread at CRIS.

Typically this reverse line movement is an excellent indicator of sharp money on Denver, but our newly added money percentages should give bettors a pause for concern. New England is currently receiving 79% of spread bets and 72% of moneyline bets, but the money percentage is even higher. At the time of publication, the Patriots were receiving 82% of total dollars on the spread and 85% of total dollars wagered on the moneyline. That information would seem to indicate that both sharp and square bettors are supporting the reigning Super Bowl champs.

These numbers are very similar to the trends we received from the William Hill sportsbook in Las Vegas. According to Michael Grodsky, the Patriots were receiving 84% of spread bets and 91% of total dollars wagered in early betting. That said, we do have some contradicting information on this game.
The Broncos fit the criteria from last season's conference championship betting system which was detailed on ESPN.com. The featured system, which focused on fading top two seeds when they receive overwhelming public support, has gone 21-5 ATS (80.8%) with +11.5 units won since the start of the 2003 season.
On Wednesday afternoon, we triggered a line prediction alert which suggested that there was a strong likelihood that Denver would drop from +3 to +2.5 with the next line move. According to historical indicators, there was an 81% probability that the line would drop a half-point.
We predict with 81% confidence that the Broncos will drop from +3 to +2.5 with the next line move. pic.twitter.com/eK5SFBwqEP

— Line Predictor (@LinePredictor) January 20, 2016
Unfortunately, it appears that this prediction was inaccurate and many oddsmakers have already moved to Patriots -3.5. Although the market-setting sportsbooks like CRIS and Pinnacle have only made a slight adjustment to their juice, several sportsbooks are trying to protect themselves from this influx of public money on New England. That includes both offshore books (Bovada, Sportsbook.com, Sports Interaction) and Las Vegas books (Coasts, MGM, Wynn).
Most of our traditional sharp money indicators point towards value on the Broncos, but those offshore money percentages are fairly disconcerting. Whenever there is this level of contradicting information, the best course of action is usually to lay off. That said, it will be interesting to see whether there is immediate buy back if market-setting books offer Denver +3.5.
Arizona Cardinals at Carolina Panthers (Sunday at 6:40 PM eastern)
The Panthers opened as 3-point favorites at CRIS and have received 70% of spread bets. In spite of this even public betting, the line has not moved since opening on Sunday afternoon. The screenshot below displays the public betting percentages at all seven of our contributing sportsbooks.

Perhaps the most interesting component in this game is the discrepancy between the percentage of bets and the percentage of money on each team. Although the Cardinals are only receiving 30% of spread bets, they have received 42% of total dollars wagered. This information indicates that several large bets — typically from wise guys and/or betting syndicates — have been pounding the road underdog.
The public betting trends from William Hill have been even more conclusive and significant. Although the Cardinals have received just 34% of spread tickets, they have received 53% of total dollars wagered. This type of schism perfectly exemplifies the "Pros vs. Joes" paradigm with square bettors taking Carolina and sharp bettors taking Arizona.
There have been no bet signals triggered on this game, but the Cardinals fit several historically profitable betting trends.
Playoff underdogs have gone 46-34 ATS (57.5%) when they were favored in their previous game.
Playoff underdogs have gone 33-17 ATS (66%) when their opponent's winning percentage is at least 80%.
Playoff underdogs have gone 42-22 ATS (65.6%) when the closing total is at greater than 45.
Playoff teams have gone 6-1 ATS (85.7%) when their opponent's winning percentage is at least 90%.
Bruce Arians has gone 39-23 ATS (62.9%) since taking over as the Colts interim coach in 2012. That's the best record in football.
The Cardinals (+140) could also be offering value on the moneyline. Since 2003, playoff underdogs have gone 29-43 (40.3%) with +24.62 units won and a 34.2% ROI when the closing total is at least 45.
As always, we strongly encourage bettors should be sure to shop for the best line before placing their wager. Bovada is currently the only offshore sportsbook hanging Arizona +3.5 and, as we have explained ad nauseam, "3" is the most common margin of victory.
---
Want our official Best Bet picks for the Conference Championship Round?
Sign up for a 4-day trial of our Sportsbook Insider Pro and access all of our picks instantly! That includes NFL, NBA, NCAAB and NHL. Schedule a one-on-one demo with our customer service manager and we'll tack four free days onto your subscription.
These numbers are subject to change before kickoff, so bettors should be sure to visit our free NFL odds page for the latest lines, injuries, public betting trends and more.
Have any questions for the staff at Sports Insights? Utilize our live chat to speak with a customer service representative or e-mail us at help@sportsinsights.com.
David Solar is the Content Manager for Sports Insights and can be reached directly at David@sportsinsights.com