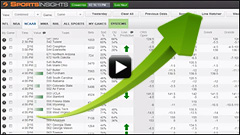 The world's first Line Prediction tool is here! Line Predictor is an advanced computer model that accurately predicts imminent sports betting line movement. It is a feature of both Sports Insights memberships. The model is built on the analysis of 10+ years of public betting percentages, line moves, betting volume, steam moves, injury news and weather updates.
Bettors who have lost wagers by one half-point or pushed because of bad numbers can instantly improve their winning percentage with the Line Predictor.
For example, if you want to bet on the Miami Heat at -4.5 and the Line Predictor is 92% confident that the next line move will drop the Heat to -4, why not wait and get the better line at -4? Conversely, if Line Predictor is forecasting a line move to Heat -5, you'll want to go ahead and bet Miami at -4.5 before the move takes place.
Have questions regarding our line prediction tool? Check out the FAQs.
Features
After loading the Sportsbook Insider software, you'll instantly see a prediction arrow to alert you about lines that are likely to move.

Hover
For more information, simply hover your mouse over the arrow. In the example below, you can see that the Line Predictor is 80% confident that Yale will move to -5 (from the current -4.5) with the next line move.

Popup
For further details, click on the arrow to launch a popup window that includes the line forecast, confidence level and a line history chart detailing the game's previous movement.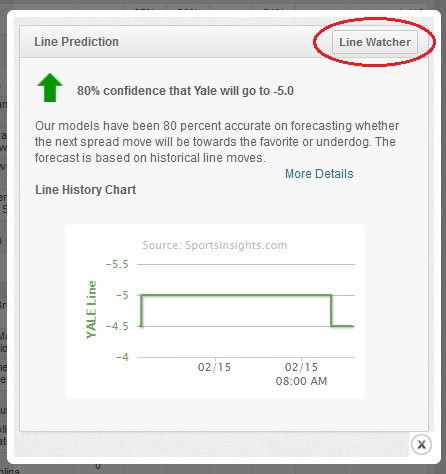 Using the example above, if you're interested in betting on Cornell and want to wait for the line to move from +4.5 to +5, simply click on the Line Watcher button (circled) and we'll instantly alert you via email, popup or smart phone push alert as soon as the line move occurs.
Archives
To see a list of previous line predictions, visit the Line Predictor archive that includes the prediction, confidence level and grade of the prediction.