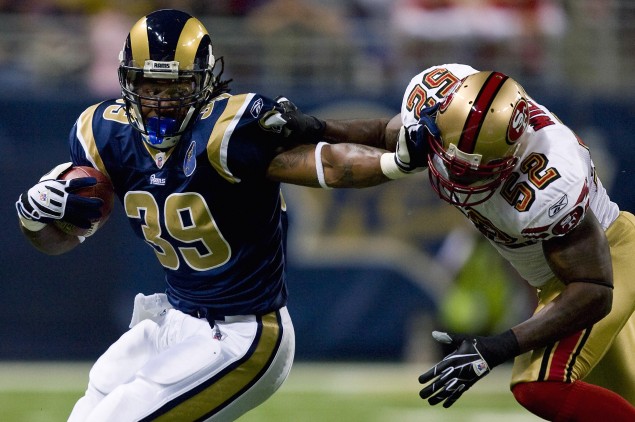 NFL Marketwatch – St. Louis Rams vs. Green Bay Packers
Welcome to the 2012-13 edition of NFL Marketwatch, where the team at Sports Insights gives sports fans unprecedented insight into the NFL point-spread market.
Every week we analyze the sports betting marketplace to pinpoint which games the public is chasing and which the sharps are pounding.
Overall Record: 2-1 (66.6%)
The goal of this weekly column is to highlight games that offer true line value. Often, if a line looks too good to be true, there is a reason. You'll occasionally need the worst teams on the board to come through. We typically buy on bad news and sell on good.
St. Louis Rams vs. Green Bay Packers (10/21 – 1:00 p.m. ET)
Before the season began, the Packers were considered early Super Bowl favorites with 6:1 odds to take home the Lombardi Trophy. On the flip side, the Rams were near the bottom of that list with 75:1 odds. Nonetheless, after the first six weeks of the NFL season, both teams are sitting on 3-3 records.
Last year, Green Bay flirted with perfection up until the final few weeks of the season, but the Packers have seemed to regress — particularly on the offensive side of the ball. After leading the league in scoring (35.0 ppg) in 2011, the Packers have dropped to tenth this season. Aaron Rodgers, who was awarded the MVP trophy just a year ago, has seen his QBR drop by 20 points while his passing yardage has dropped off by an average of 37 yards per a game.
For St. Louis, this 3-3 start has defied expectations and finally, fans are feeling optimistic about the team's future. Although Steven Jackson looks like he's nearing the end of his career and Sam Bradford has yet to establish himself as an elite quarterback, the Rams defense has carried the team this season. Cortland Finnegan's addition has dramatically upgraded the team's secondary while Robert Quinn (6 sacks) has shown why he was deserving of a first round selection in 2011. Perhaps, that helps to explain why St. Louis ranks fifth in the league in points allowed.
This matchup has all the makings of a trap game. Green Bay is coming off a momentous Sunday Night victory over the previously undefeated Texans, while the Rams are coming off a 17-14 loss to the Dolphins. This recent history explains part of why an overwhelming percentage of bettors are jumping on the road favorites.
Green Bay opened as a 5.5-point favorite at CRIS and is currently receiving 84% of spread bets, 74% of moneyline bets and 88% of parlay wagers. Despite this lopsided betting, the line has actually dropped a half-point to -5. This is an example of reverse line movement, which indicates sharp money has been coming in on the Rams.
The table below shows a breakdown of the spread betting percentages from our seven contributing sportsbooks.
Teams

Sprtsbk

BetUs

Carib

Wager

5Dimes

SIA

CRIS

GB
STL
94%
6%
80%
20%
82%
18%
91%
9%
66%
34%
96%
4%
81%
19%
On Wednesday, Sports Insights President Daniel Fabrizio joined ESPN's Chad Millman on his "Behind The Bets" podcast. The two discussed betting against the public and talked at length about this matchup. Click here to listen to the podcast.
The chart below shows the changes in spread betting percentages and line movement since this game opened at Pinnacle.

Game to Watch (2-1)
St. Louis Rams +6 (Bovada)
It should be another exciting week of NFL Football action. Keep Marketwatch handy and your browser pointed to SportsInsights.com for the latest real-time updates.
Enjoy the games!
Daniel Fabrizio
President
SportsInsights.com
Join us live Sundays at noon ET
We're now holding our members-only live Sports Betting Hangouts Sunday mornings to prepare you for a full day of NFL games. Members, simply log into your account Sunday morning to access the hangout.
Not a member? Start a trial today to join our Sports Betting Hangouts held six days a week, plus all the other Sportsbook Insider Pro benefits.