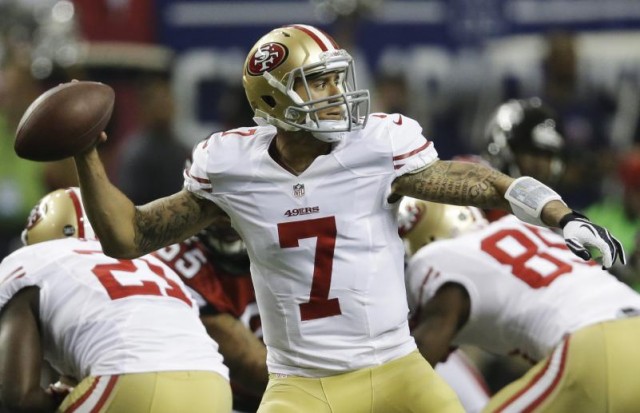 Super Bowl Sharp Money: Is There Value on The Total?
Shortly after the Ravens' victory catapulted them into Super Bowl 47, both offshore and Vegas odds opened for betting. The MGM, a well-respected Las Vegas sportsbook, set their opening line with the 49ers listed as 4.5-point favorites and a total of 50. Immediately, they took a big bet on the under, dropping the total to 49.5, as detailed by this tweet by David Payne Purdum:

Since then the public has been betting the over, however, the total continues to drop. Despite 57% of public bets taking the over, most of the market-setting sportsbooks have dropped the total down to 47.5. This is an example of reverse line movement, a strong indicator that sharp money is responsible for the waning total.
This is particularly interesting as the total has already moved past several key numbers. Many bettors are already familiar with key numbers for spread betting. Because a touchdown is worth seven points and a field goal is worth three, the final score is often times a multiple of those numbers. That means sportsbooks are typically hesitant to move their line past key numbers like 3, 7, 10 or 14 and they will often try to adjust the juice rather than moving their line a half-point (also known as "the hook").
Similarly, there are ten very frequent totals in football (33, 37, 38, 41, 44, 45, 47, 48, 51, and 54) that nearly 40% of all NFL games will land on. Already, we have seen the total move past the key number of 48, and a handful of books — including BetUS and BetOnline — have already dropped to 47.
Although there have been no NFL Betting Systems triggered on Super Bowl XLVII thus far, the line graph below shows how the total has changed since it opened at Pinnacle. This information is available to all Sportsbook Insider customers on our Live Odds 4.0 page.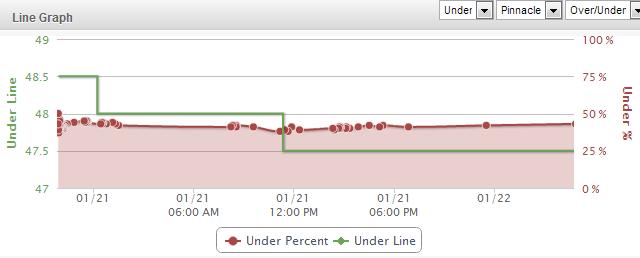 It's worth noting that, historically, there has been very little edge betting the total in the Super Bowl. There was no over/under for the first Super Bowl, but in the 45 games since, the under has gone 23-22, including a 6-2 mark in the past eight games.
It's also interesting to look at defensive statistics that both of these teams posted on the season. The 49ers are widely regarded as one of the top defenses in the league, sending six defensive players to the Pro Bowl while allowing just 17.1 points per game — good for second best in the NFL. For the Ravens, their 21.5 ppg allowed ranked just 12th in the league, however, with Ray Lewis finally healthy, this team held Tom Brady and the Patriots to a season-low 13 points in the AFC championship.
The Super Bowl is still a week and a half away, but make sure to check in with our NFL betting trends as the big game approaches. These numbers will continue to change, but if you do opt to bet on the total, make sure to shop for the best line as you can find totals ranging between 47 and 48.
We will continue to track Super Bowl sharp money in the days leading up to the big game, but do you have any questions for us? Think there is value betting the total in Super Bowl XLVII? We invite you to leave your comments in the section below.
Join us live Sundays at noon ET
We're now holding our members-only live Sports Betting Hangouts Sunday mornings to prepare you for a full day of NFL games. Members, simply log into your account Sunday morning to access the hangout.
Not a member? Start a trial today to join our Sports Betting Hangouts held six days a week, plus all the other Sportsbook Insider Pro benefits.