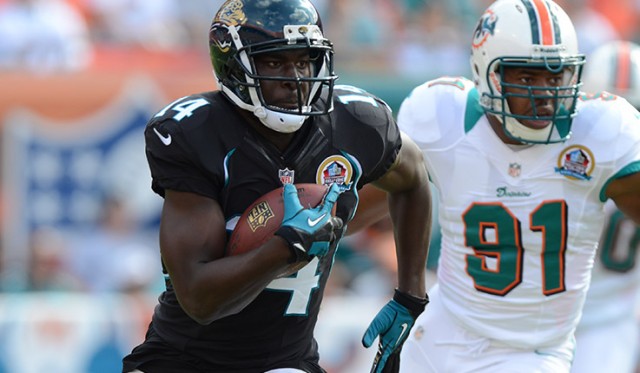 NFL Marketwatch – Jacksonville Jaguars vs. New England Patriots
Welcome to the 2012-13 edition of NFL Marketwatch, where the team at Sports Insights gives sports fans unprecedented insight into the NFL point spread market.
Every week we analyze the sports betting marketplace to pinpoint which games the public are chasing and which the sharps are pounding.
Overall Record: 5-4 (55.5%)

The goal of this weekly column is to highlight games that offer true line value. Often if a line looks too good to be true, there is a reason. You'll occasionally need the worst teams on the board to come through. We typically buy on bad news and sell on good.
Jacksonville Jaguars (2-12) vs. New England Patriots (10-4) – 12/23 at 1:00 p.m. ET
Last Monday, the New England Patriots were on the national stage yet again for their highly anticipated matchup with the San Francisco 49ers. After falling behind 31-3 early in the third quarter, Tom Brady showed why he is already considered a living legend, leading the offense to four straight touchdowns to tie the game late in the fourth quarter.
Although the Patriots ultimately lost 41-34 — greatly diminishing their chances of earning a first-round bye in the process — the offense showed that they could score against anybody even without Pro Bowl tight end Rob Gronkowski. As for the Jaguars? Well, let's just say their season has been more painful to watch than a Pauly Shore movie.
Tied with the Chiefs for the worst record in football, the Jaguars have already lost their best player (Maurice Jones-Drew) and starting quarterback (Blaine Gabbert) while seeing their second and third string running backs succumb to injury. While the Patriots lead the league in both yardage and points, the Jags currently rank second to last in both categories. By all means this is a mismatch of epic proportions, but first impressions can often times be misleading.
With arguably the worst team in football hosting one of the prohibitive Super Bowl favorites, it was no surprise that Jacksonville opened as a 13.5-point underdog at Pinnacle. It should also not be surprising that the public was more than willing to pound the Patriots with 80% of spread bets, 71% of moneyline bets and 91% of parlay wagers being placed on New England.
That extremely one-sided public betting percentage has moved the line past the key number of 14 to 14.5. With no betting systems triggered on New England, it becomes apparent that the line movement is based solely on public betting — essentially giving us a free point.
The table below shows a breakdown of the spread betting percentages from our seven contributing sportsbooks.
Teams

Sprtsbk

BetUs

Carib

Wager

5Dimes

SIA

CRIS

NE
JAX
83%
17%
73%
27%
90%
10%
93%
7%
59%
41%
89%
11%
69%
31%
This game fits a number of oft-mentioned systems, including our 80/20 NFL betting system. Since 2003, underdogs receiving less than 20% of spread bets have gone 87-67 with 15.51 units earned and a 10.1% return on investment (ROI).
Additionally, our research indicates that there is tremendous value on late season home underdogs. Our research indicates that home dogs of 8+ points have gone 30-10 with 18.08 units won and a ridiculous 45.2% ROI from Week 15 on.
In addition to these numerous historic trends, there have also been a number of betting systems triggered on this game including a smart money move from BetMacho (10-8, +1.18 units). With that in mind, we encourage you to shop for the best line, fade the public, and take the home dog in this AFC showdown.
Game to Watch:
Jacksonville Jaguars +14.5

It should be another exciting week of NFL Football action. Keep Marketwatch handy and your browser pointed to SportsInsights.com for the latest real-time updates on NFL point spreads.

Enjoy the games!
Daniel Fabrizio
President
SportsInsights.com