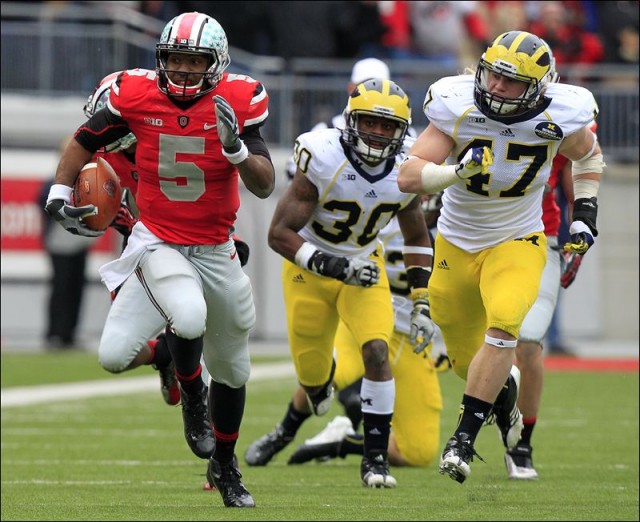 What Is Causing the Line Movement in the Ohio State/Michigan Game?
It's Rivalry Week in College Football, and there is no shortage of exciting matchups on the schedule. From the Iron Bowl to the Palmetto State Showdown to the Territorial Cup, there are a number of long-standing rivalries with more than just pride at stake. However, one of these rivalries should be particularly intriguing to bettors.
Known by many as "The Game," Ohio State (11-0 SU, 7-4 ATS) and Michigan (7-4 SU, 6-5 ATS) have been facing off almost every year since 1935. Although most years this game decides the Big Ten champion, this season the Wolverines merely hope to spoil the Buckeyes perfect season.
Ohio State opened as a 12-point favorite at the market-setting Pinnacle sportsbook and have received 80% of public bets as of Friday morning. With this extremely lopsided betting, the line has moved to -16. There have been no profitable betting systems triggered on this game, which indicates that this 4-point line movement is attributable solely to public betting.
This type of line movement is not unheard of as there are 369 past instances within our Bet Labs software in which the line moved at least four points from open to close. In these games, the team who saw the line move against them performed admirably by posting a 192-177 ATS record, with 4.97 units won and a 1.3% ROI. The return on investment jumps to 6.7% when focusing on teams receiving less than 25% of spread bets.
In fact, some sportsbooks (specifically square books like Sportsbook.com) have actually moved this game to -17. Not only is it significant that they would move their line to a key number, but we have also observed even more impressive results when there is line movement of at least five points. Since 2003, teams that see the line move at least five points against them have gone 77-62 for +10.59 units won and a 7.6% ROI.
This is a rivalry that has been dominated by Ohio State with the Buckeyes holding a 7-1 ATS record over the team's last eight games including a streak of five straight ATS wins. The head to head table displayed below can be found on our live odds page by selecting the "Matchups" tab.

We have already released our Best Bets for Friday's College Football games, but there will also be picks released for Saturday's NCAAF games and Sunday's NFL matchups. Receive these plays and more by signing up for a 4-day trial of our Pro subscription.
[adrotate group="4″]