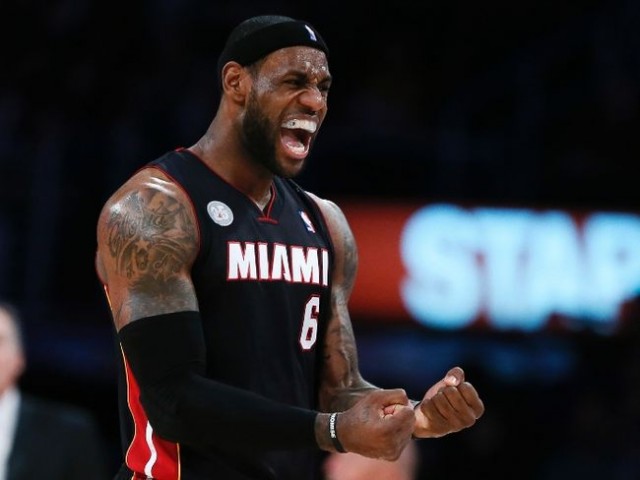 NBA Betting System: Fading a Home Favorite After a Blowout Victory
We're more than halfway through the NBA season and already it has been a terrific year for betting against the public. In fact, this season our Best Bets have catapulted to a 68-43 record (+19.4 units) while our Square Plays have also been quite profitable with a 77-64 mark (+7.5 units).
Typically, we would advise that our members look at our NBA betting trends so they can fade the public, but we also stress the importance of not overreacting to a single game or piece of news. We constantly preach the importance of buying on bad news and selling on good news — all a part of our contrarian approach. This oft-overlooked psychological aspect can provide great value for sports bettors.
On Saturday, the New York Knicks, who closed as 11-point home favorites, trounced the Sacramento Kings by a score of 120-81. The next day, the Miami Heat traveled to Toronto and knocked off the Raptors 100-85. With these two blowouts fresh in the minds of bettors, it is no surprise the Heat (-13.5 vs. Charlotte) and Knicks (-10 vs. Detroit) are both receiving more than 70% of spread bets for their games tonight.
However, if history is any indicator, tremendous value exists in betting against both of these favorites tonight.
Since 2003, home favorites of at least 10 points, coming off a victory of at least 15 points, have struggled mightily. Using our BetLabs software, we determined that teams fitting this criteria have gone 110-149 — good for a 42.5% winning percentage. Although you should never bet this system, it is prime for fading. If you bet against any team that fits this criteria, you would have produced a 149-110 record.
The screenshot below displays this NBA betting system in BetLabs.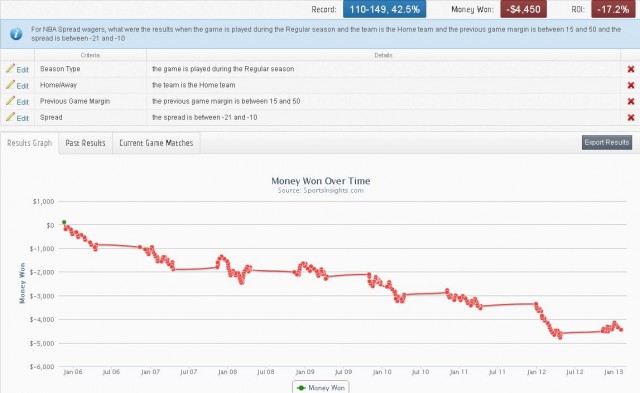 Because Pinnacle is a reduced juice sportsbook, most spreads will have -106 juice as opposed to the normal -110. By multiplying .94 by the 149 wins, we get 140.06. If we take that 140.06 and subtract one unit for each of the 110 losses, we end up with a total profit of +30.06 units. To find the return on investment (ROI), we simply divide the winnings by total game matches (30.06/259). This results in a very solid return on investment of +11.6%.
It's essential to remember this NBA betting system is all about fading teams coming off a huge victory, which means you want to bet against New York and Miami this evening. In fact, Miami is also playing the second game of a back-to-back and while receiving 74% of spread bets. In an article published nearly two months ago, we found that teams receiving over 65% of public bets on the second night of a back-to-back have gone just 84-116. This means that Miami fits two highly profitable fade systems, and that there is excellent value on Charlotte +13.5.
Do you have any thoughts about this NBA betting system? Please leave any questions or comments in the section below.