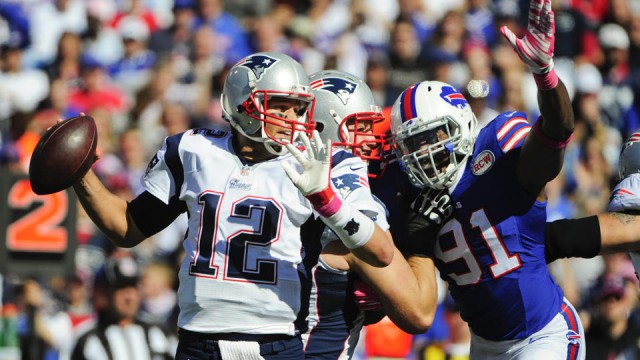 NFL Game of the Week: New England Patriots at Buffalo Bills
In this week's most highly bet game, the New England Patriots will travel to Ralph Wilson Stadium to face off against the new look Buffalo Bills. After hiring Rex Ryan this off-season and defeating the Colts in Week 1, Bills fans finally have reason to be excited. In fact, this weekend the folks from Guinness will be in Buffalo as fans attempt to break the record for loudest crowd roar at a sports stadium — breaking a record set last season in Kansas City.
The Bills opened as a pick 'em at the market-setting Pinnacle sportsbook, which is notable for a number of reasons. Since 2003, the Patriots have opened as a pick 'em or underdogs on 37 occasions with just 7 of those games occurring in divisional play. If we exclude the 2008 season (when Matt Cassel started for New England), the Pats have gone 5-2 ATS in division games and 19-9 ATS in non-division games.
Since '03, the #Patriots are 24-11 ATS when a dog or pick'em with Tom Brady as QB. pic.twitter.com/l5wUM2Ar4S

— Bet Labs Sports (@Bet_Labs) September 15, 2015
Despite the Bills hot start and the emergence of Tyrod Taylor as a potential franchise quarterback, bettors simply could not ignore the prospect of taking the defending Super Bowl champions as a pick 'em. At the time of publication, 71% of spread bets and 76% of moneyline bets had taken New England, pushing the line from a pick 'em to Patriots -1.
The screenshot below displays the breakdown of public betting at each of our seven contributing sportsbooks:

Although there are no current game matches for any of our previously discussed betting systems, there have been two very profitable bet signals triggered on this game including a reverse line movement alert and steam move at CRIS — one of the top books that we track. On Monday evening, we saw sharp bettors hammer Buffalo +1 which temporarily dropped the line back to a pick'em. Since that time, public betting has continued to pour in for New England, moving the line back to Buffalo +1.
The Patriots have won 21 of their past 23 games against the Bills, and we always preach the importance of buying on bad news and selling on good. This seems like an excellent opportunity to buy low on the Bills, as they're also offering contrarian value and have been hammered by sharp money.
In addition to this movement on the spread, we've also seen some interesting trends involving the total. Since 2003, the over has gone 101-75 (+20.69 units won) during regular season games where Tom Brady starts. Despite his success and the propensity for bettors to overwhelmingly take the over, only 54% of bettors are taking the over in this week's matchup. Although public betting has been evenly split, the total has dropped from 46 to 44 at CRIS.
The line chart below shows how the total and public betting have changed since opening on Sunday:

These numbers are subject to change before kickoff, so bettors should be sure to visit our free NFL odds page for the latest lines, injuries, public betting trends and more. There are also a number of injuries to monitor including two key playmakers for the Bills: LeSean McCoy (Hamstring) and Percy Harvin (Hip). Bettors can view the latest updates and breaking news by visiting our free NFL injury page.

Have any questions for the staff at Sports Insights? Utilize our live chat to speak with a customer service representative or e-mail us at help@sportsinsights.com.
David Solar is the Content Manager for Sports Insights and can be reached directly at David@sportsinsights.com.