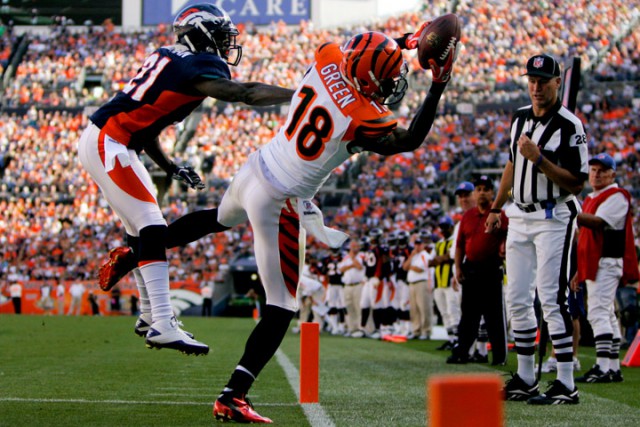 NFL Game of the Week: Cincinnati Bengals at Denver Broncos
In the past, we have discussed the importance of having access to multiple sportsbooks. Ideally bettors would have access to three sportsbooks: one sharp (like CRIS or the Greek), one square (like Bovada, SIA or Sportsbook.com) and one reduced juice (like Pinnacle or 5Dimes).
Getting that extra half-point is particularly important when it involves key numbers, and that point was evident in last week's game of the week analysis. We explained that the Cowboys fit a number of profitable betting systems and were offering value to bettors. However, sharper sportsbooks like CRIS were offering Dallas +3 while square sportsbooks like Sports Interaction (SIA) were offering Dallas +3.5.
After blowing an early lead, the Cowboys ultimately lost to the Jets by 3-points on a last-second field goal. That means that many bettors pushed, while bettors who shopped for the best line were able to add one to the win column.
In this week's edition, we wanted to analyze another prime time game — Monday night's showdown between the AFC North leading Cincinnati Bengals (11-3) and the AFC West leading Denver Broncos (10-4).
When this line first opened on Sunday evening, it was unknown whether Peyton Manning (Foot) would reclaim the starters role from Brock Osweiler. Despite this uncertainty, the Broncos opened as 3.5-point favorites at the market-setting Pinnacle sportsbook.
On Tuesday evening, we spoke with Ryan Oakes of the William Hill sportsbook who reported that the Broncos were receiving 72% of tickets and 80% of total dollars wagered. At our seven contributing offshore sportsbooks we saw similarly one-sided trends with 70% of spread bets taking the Broncos.

Despite this overwhelming public support, the line has not moved since opening. There have been no bet signals triggered at the time of publication, which indicates that sharp money has yet to pick a side. We have also observed multiple betting systems on each team, which means bettors may want to lay off the spread.
On Wednesday afternoon it was announced the Brock Osweiler would make his sixth consecutive start, but the Broncos remained 3.5-point favorites across the sports betting marketplace.
While there may not be clear-cut value on the spread, there are several interesting angles regarding the total. The Bengals (17.4 ppg) have the league's top ranked scoring defense while the Broncos (18.5 ppg) unit is ranked fourth. With two elite defenses squaring off, the over/under opened at 40.5 at Pinnacle.
In early betting 65% of bettors have taken the over, yet the total has dropped from 42 to 40.5 at Pinnacle. This reverse line movement would seem to indicate that sharp money is taking the under, but there are other factors to consider. For starter, the over has actually gone 480-396 (54.8%) when there is reverse line movement on the under.
There are several additional betting systems which indicate that the over could be offering value, so bettors should be ecstatic about getting these free points.
The over has gone 122-91 (57.3%) when the

 temperature is below freezing (

32

°

F).

The over has gone 93-57 (62.0%) when the temperature is below freezing (

32

°F) and the closing total is 46 or less.
The over has gone 447-364 (55.1%) when the visitor allows less than 20 ppg and the home team scores less than 24 ppg.
The over has gone 457-384 (54.3%) when the total drops at least a half-point and the closing total is 42.5 or less.
Meteorologists are projecting the temperature to be 27°F in Denver on Monday night, which points to tremendous value on the over. We have also found that the over has done horrendously in division games (573-641, 47.2%) and much better in all other games (1116-1032, 52.0%).
---
These numbers are subject to change before kickoff, so bettors should be sure to visit our free NFL odds page for the latest lines, injuries, public betting trends and more.

Have any questions for the staff at Sports Insights? Utilize our live chat to speak with a customer service representative or e-mail us at help@sportsinsights.com.
David Solar is the Content Manager for Sports Insights and can be reached directly at David@sportsinsights.com.