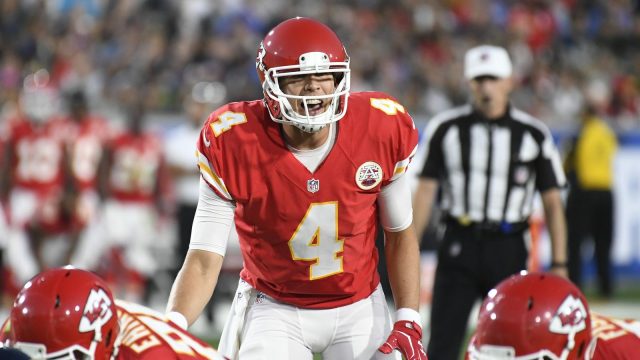 NFL 2016: What Should Bettors Know for Week 9?
For all of you weekend warriors out there looking at this weekend's NFL slate for the first time, here is what you need to know when making your bets.
To see how the lines have moved over the week, take a look at our opening line report. Also, refer to our free odds page to see which lines have moved.
LINE MOVES
The Chiefs will be without a few key players on offense this week when they take on the Jaguars, including quarterback Alex Smith. Smith, along with Spencer Ware, will both be sidelined with concussions. Nick Foles will take Smith's spot under center after seeing some time last week when Smith went down with the injury. Foles ended up going 16-22 for 223 yards, 2 TDs, and no picks. Despite that solid performance, the Chiefs line quickly dropped from -10 to -7.5. Although the Chiefs are receiving almost 70% of the spread bets, they are only receiving about half of the spread dollars, which is likely why their line hasn't gone back up.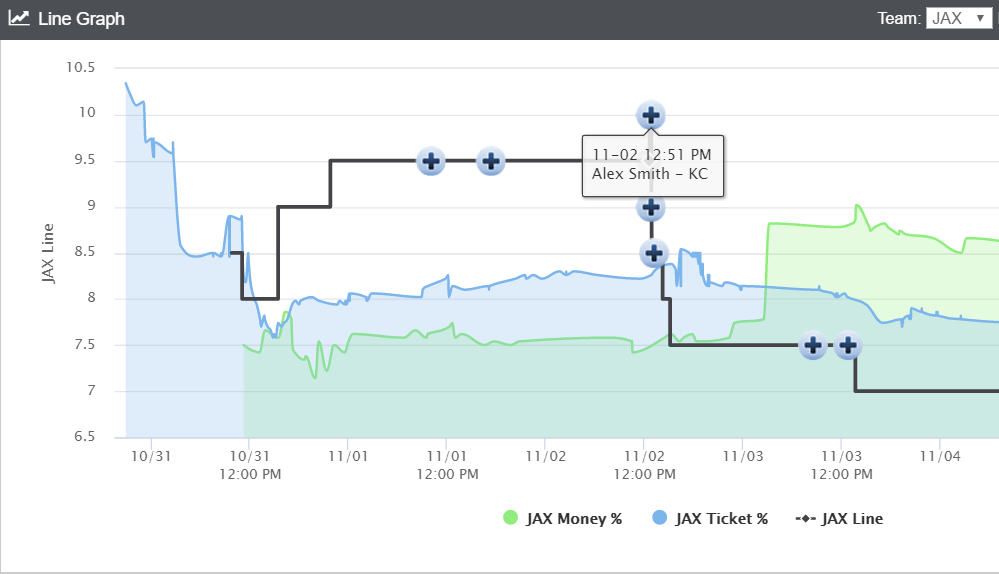 In an important divisional matchup, the Giants are slight favorites at home against the Eagles. Last week, our research showed that it was more profitable to take 2.5 and 3 point dogs on the moneyline rather than the spread, which is exactly what bettors are doing in this game. While the Eagles are receiving more than 60% of spread bets, they are only receiving half of the spread dollars. However, they are receiving more than 75% of moneyline tickets and dollars, which has pushed that moneyline way down.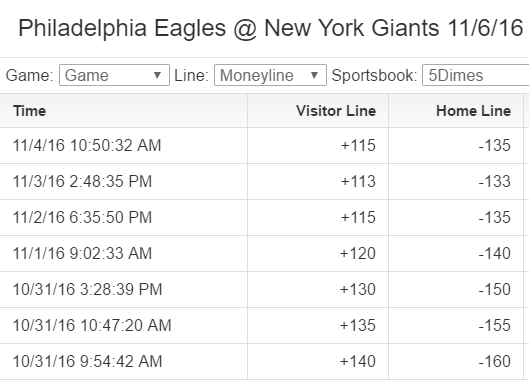 In Los Angeles, we see a rare situation where both the percentage of tickets and dollars are both on the under, just one of two such games this week. The total for that game reflects those percentages, too. It has gone from 46 to 44.5.

For a more in-depth look at this week's key line moves, read our Line Moves That Matter piece.
KEY INJURIES
Ben Roethlisberger- Knee- Probable. Although he is officially listed as questionable on the injury report, it is expected by many that the Steelers will have their franchise QB back this week against the Ravens. However, due to the uncertainty of his availability, the game is off the board at most sportsbooks.
Alex Smith and Spencer Ware- Concussion- Out. As I mentioned previously, Smith and Ware will both be watching from the sidelines this week with concussions. Both left last week's game with their respective injuries.
LeSean McCoy- Hamstring- Probable. It appears that McCoy will miss just one game with his hamstring injury, as he is back on track to play on Monday night in Seattle.
T.Y. Hilton- Hamstring- Probable. Another star playmaker with a hamstring scare is expected to play this week despite some speculation. Hilton, who was a non-factor last week after tweaking his hamstring early in the game, is expected to play despite saying that he wasn't sure if he could play earlier in the week.
Randall Cobb- Hamstring- Questionable. Another hamstring…hmm. The Packers have been hit hard these past few weeks by injuries and may be without Cobb for a second straight week. It appears as if he will be a gametime decision on Sunday against the Colts.
Other Notable Injuries:
Probable- Antonio Brown, Amari Cooper, Dez Bryant, Jordy Nelson, DeMarco Murray, Ezekial Ansah, Sheldon Richardson, Ty Montgomery, Travis Benjamin, Jeremy Maclin, Markus Wheaton, Cody Kessler, Haloti Ngata, Delanie Walker, Jonathan Stewart, Luke Kuechly, Julius Thomas, Terrelle Pryor, Michael Crabtree, Jerick McKinnon, Corey Coleman, Terrell Suggs.
Questionable- Steve Smith Sr, Kam Chancellor, Muhammad Wilkerson, Carlos Hyde.
Doubtful/Out- Marcell Dareus, Hunter Henry, Aqib Talib, Michael Bennett, Jamaal Charles, Tony Romo.
ODDS and ENDS
To much surprise, the New England Patriots traded Jamie Collins to the Browns on Monday for a conditional third round pick. Under Bill Belichick, the Patriots have made more than their fair share of surprising moves, but this one still comes as a shock. Despite this move, the Patriots still remain overwhelming Super Bowl favorites. You can check out the week by week Super Bowl odds from Westgate here.
If you have an ESPN Insider account, you can check out the latest piece on ESPN Chalk by our own David Solar.
The Offensive Rookie of the Year award is all but a lock to go to a Dallas Cowboy this year. Carson Wentz dropped from +900 to +1200 this past week at Bovada, leaving Ezekiel Elliott and Dak Prescott alone at the top. Elliott's odds fell from -250 to -225, while Prescott's went up from +220 to +200.
Tom Brady (+125) remains the favorite to win the NFL MVP Award at @BovadaLV. pic.twitter.com/76vTNIZXaa

— Sports Insights (@SportsInsights) November 3, 2016
Tom Brady's MVP campaign will take a week off with the Patriots on a bye, but don't be surprised if his odds still rise, as they've gone up each week since his return. However, Matt Ryan doesn't appear to be giving up, either. Coming off a solid week, Ryan's odds rose from +1200 to +550, but another QB made an even bigger jump. Oakland's Derek Carr had the game of his career and in the process, saw his MVP odds go from +3300 to +1200. Keep an eye on him if Brady falters.
According to @Bet_Labs, taking the under in windy (10+ mph)
NFL games has gone 10-5 this year and 407-323 (+60.5 units) since 2003

— Sports Insights (@SportsInsights) November 2, 2016
The wind is expected to be blowing pretty hard at a few different NFL stadiums this Sunday, with Miami's 14 MPH winds being the strongest. Taking the under in weather like this has been very profitable this year and in years past. Check out the blog over at Bet Labs Sports for other profitable gambling trends.
Dan and David discuss some of the week's hottest topics in the latest Smarter Bets Podcast.
Purchase a Sportsbook Insider PRO membership and get NFL picks, contrarian plays, dollar percentages and bet signals, along with a fully customizable live odds page, line watcher, line predictor, the number of bets on every game, and more.
If you have any thoughts or questions, feel free to reach out to the Sports Insights staff by utilizing our live chat feature, commenting below, or emailing us at help@sportsinsights.com