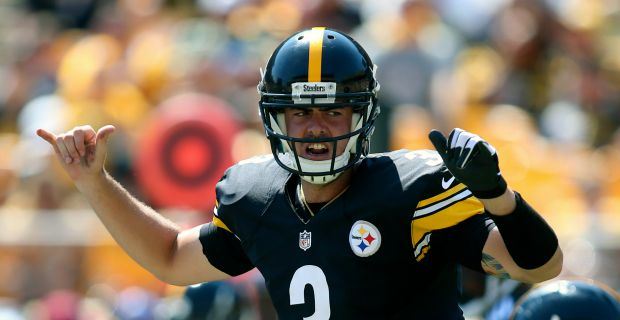 NFL 2016: What Should Bettors Know for Week 7?
For all of you weekend warriors out there looking at this weekend's NFL slate for the first time, here is what you need to know when making your bets.
To see how the lines have moved over the week, take a look at our opening line report. Also, refer to our free odds page to see which lines have moved.
LINE MOVES
The Broncos have been the biggest movers of the week, going from -6 to -9 at home against the Texans. The most important moves took place within a day after opening, as the went from -6 to -7.5 relatively quickly. It has stayed at -9 for the past couple of days with Denver currently getting around 60% of the spread bets, so it should be interesting to see where it ends up on Monday.

Another prime-time game has seen some considerable line movement, with the Cardinals falling from -2.5 to -1 at home against the Seahawks on Sunday night.  These division foes are facing off for the first time this season and the public has heavily backed Seattle so far. With 63% of the bets and 84% of the dollars on the Seahawks, it appears that both pros and joes aren't too confident in Carson Palmer and the 3-3 Cardinals.

One total that has seen a lot of movement is in Atlanta. As one could have guessed, this one has gone way up. With the Chargers visiting the Falcons, the public is expecting to see touchdowns galore, but who could blame them? The over has gone 5-1 in Falcons games this year and 4-2 in Chargers games. With 86% of bettors taking the over, the line has gone from 51.5 to 54.5 over the week. No total has closed higher than 54 so far this season, and the over has gone 2-1 in the three games that have closed that high.

For more line moves and analysis, read our line moves that matter piece.
KEY INJURIES
Ben Roethlisberger- Knee- Out Indefinitely. The Steelers will be without Big Ben for an extended period of time as he recovers from a meniscus tear that he suffered last weekend in Miami. Backup QB Landry Jones will immediately be tested when he faces the Patriots tomorrow in Pittsburgh.
Joe Flacco- Shoulder- Probable. The Ravens got a scare earlier in the week when their franchise QB missed practice with a shoulder issue. It has since been reported that his status has improved over the past couple of days and it is expected that he starts against the Jets. That leaves only one question unanswered…is Joe Flacco elite?
Doug Martin- Hamstring- Out Indefinitely. The Bucs are one of many teams that received some bad news this week regarding their starting running back. Martin, who was nearing a return, suffered a setback and has no timetable to return.
LeSean McCoy- Hamstring- Doubtful. The Bills RB had a scare in last week's game when he went down with what looked to be a knee injury, but later returned to the game. However, in practice this week, McCoy suffered a separate injury to his hamstring and is expected to miss tomorrow's game.
Other Notable Injuries.
Probable- Muhammed Wilkerson, Stefon Diggs, T.Y. Hilton, Odell Beckham Jr., Tyler Eifert, Carson Palmer, Michael Bennett, Emmanuel Sanders, Jimmy Graham, Travis Benjamin, Will Fuller.
Questionable- DeSean Jackson, Nick Mangold, Jamaal Charles, Terrelle Pryor Sr., Jamie Collins.
Doubtful/Out- Kam Chancellor, Carlos Hyde, Jordan Reed, Steve Smith Sr., Justin Houston, Terrell Suggs, Markus Wheaton.
ODDS AND ENDS
With Ben Roethlisberger out, we looked at how his absence affects bettors and how his replacements have done over the years. After being listed as a pick 'em on the Westgate look ahead line, the Patriots are currently seven point favorites. Despite 87% of bets being placed on New England to cover, the line hasn't moved. The lowest percent of bets the Steelers have received since 2003 has been 23%, but it looks like that will no longer be the case. Since Big Ben took over as starting QB, his backups have gone 14-6 ATS when they have filled in, including 8-1 when the Steelers were dogs.
The Jets announced earlier in the week that Geno Smith will start at QB this week against the Ravens. The line has moved from a PK to Jets -2 over the week.
Cowboys teammates Ezekiel Elliott and Dak Prescott are currently in a battle for Offensive Rookie of the Year. Bovada's most recent odds have Elliott and -160 and Prescott at +120, with Carson Wentz falling from +300 to +700 over the past week. Check out the full list and line history here.
Despite missing the first four games, Tom Brady has quickly made it to the top of the MVP odds list. At +250, he has a commanding lead over Matt Ryan, who is currently second at +750. Before the season began, Brady's odds were around +1600, while Ryan's were at a whopping +13500. Check out the full list and line history here.
The Patriots have become heavy Super Bowl favorites as it appears they will have a relatively easy time in the AFC this season.
Super Bowl Odds (5D)

NE +275
SEA +725
MIN +800
GB +1200
DAL, PIT +1300
ATL +1400
KC +2100
DEN +2200
ARZ +2400
BUF +4300
OAK, PHI +5700

— Sports Insights (@SportsInsights) October 17, 2016
Dan and David discuss some of the week's hottest topics in the latest Smarter Bets Podcast.
Purchase a Sportsbook Insider PRO membership and get NFL picks, contrarian plays, dollar percentages and bet signals, along with a fully customizable live odds page, line watcher, line predictor, the number of bets on every game, and more.
If you have any thoughts or questions, feel free to reach out to the Sports Insights staff by utilizing our live chat feature, commenting below, or emailing us at help@sportsinsights.com