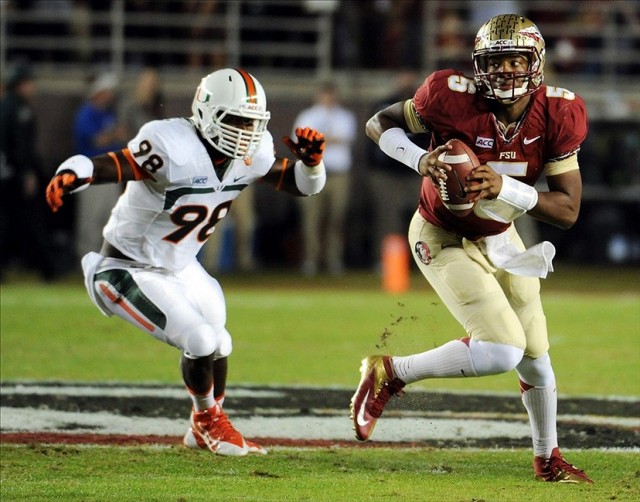 NCAAF Game of the Week: Florida State at Miami
Tonight at 8 p.m. ET, #3 Florida State (9-0, 6-0 ACC) will put their undefeated season on the line when they travel to Coral Gables to face Miami (6-3, 3-2 ACC). Although the Seminoles have not lost with Jameis Winston under center (their last loss was 11/24/12 vs. Florida with E.J. Manuel starting), Florida State opened as just a 2.5-point favorite at the market-setting Pinnacle sportsbook.
According to our historical database, Florida State has been a favorite of at least 3-points in every game dating back to September 24, 2011 when they were 1.5-point underdogs at Clemson. Perhaps this explains why the public has been pounding the Seminoles, with 77% of spread bets taking the road favorite.
What makes this even more interesting is the fact that Miami is typically one of the more popular teams for bettors. In fact, the Hurricanes have never received less than 28% of spread bets in our historical database. The table below displays the current public betting percentages at each of our seven contributing sportsbooks.

There's an old adage, "If it seems too good to be true, it probably is." That saying can be applied to almost anything in life, and in this case that includes sports betting. All week long the betting public has been pounding Florida State, yet none of the sharpest sportsbooks (CRIS, Pinnacle and the Greek) have moved off FSU -2.5. Considering that 3 is the most important key number for football bettors, this is quite telling.
According to our Bet Labs software, underdogs have gone 257-224 (+19.88 units) in ACC conference games. We've also found that historically Florida State has been the worst performing team in ACC conference games with a 35-46 record (-13.13 units)  since 2005.
Bettors may also be interested to know what our sharp money indicators are saying about this game. Although most of the market has this game at Miami +2.5, there have been five reverse line moves and one steam move triggered on Miami +3. Those two bet signals help explain why sharp sportsbooks are skeptical about moving their line.
That said, it's not all sportsbooks that are unwilling to shade their line to adjust for this influx of public money on Florida State. Sportsbook.com, which is definitely considered to be a "square" sportsbook, opened this game at Miami +3 and has since moved to Miami +3.5, the current number.
It's incredibly rare to find a sportsbook hanging a line that is a full point off the market average, so this once again highlights the importance of having access to multiple sportsbooks and always shopping for the best line.
It would be fair to say that we are leaning towards Miami +3 in this game due to the contrarian value and sharp money indicators, however, the only plays we endorse are our Best Bet picks. This season our College Football Best Bets have gone 55-40 for +9.9 units and at the time of publication we have seven pending plays for Saturday.
The table below, which is available to Sportsbook Insider customers, shows how the Miami line has moved at Pinnacle throughout the week:

Sign up for our 4-day Pro trial to receive real-time odds and public betting data plus any picks and bet signals for this weekend's slate of football action. If you have any questions or would like assistance with your account, please contact our customer service department at 877-838-2853, e-mail us at help@sportsinsights.com, or utilize our live chat to speak directly with a representative.
[adrotate group="4″]