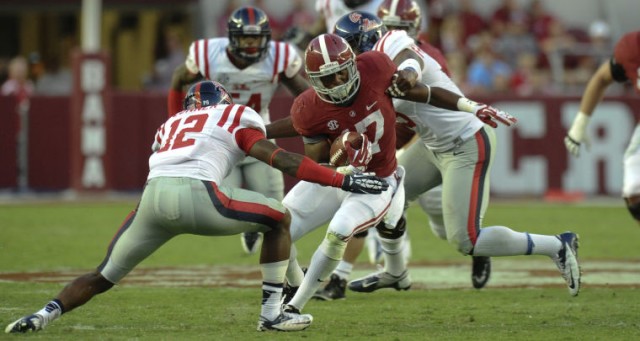 Is Sharp Money Moving the Alabama/Mississippi Line?
It should be an exciting weekend of College Football, but the game receiving the most attention from bettors is Saturday afternoon's SEC showdown between the 3rd ranked Alabama Crimson Tide (4-0) and the 11th ranked Ole Miss Rebels (4-0).  Both teams feature defenses that rank among the top ten in points allowed and passing attacks that rank within the top 20 nationally.
According to the public betting trends available on our free NCAAF odds page, Alabama opened as a 4.5-point favorite at the market-setting CRIS and are currently receiving 79% of spread bets. By Thursday, this one-sided betting had moved the line to Alabama -6 across the sports betting marketplace. Similarly, the total for this game opened at 48.5 with 61% of bettors taking the over. This slightly lopsided action has moved the total 4.5 points to 53 at CRIS.
However, by Friday afternoon the line had dropped back to the original opening line of Alabama -4.5 with a Pinnacle reverse line move and steam move triggered on Mississippi +6 late Thursday evening.
The table below displays the public betting trends at our seven contributing sportsbooks. This information is available to all Sportsbook Insider subscribers.

With the line movement correlating directly with our public betting percentages, it would appear that public money was responsible for the initial 1.5-point line move on the spread; however, sharp bettors were happy to take this artificially inflated line and bet Ole Miss back to +4.5.
Speaking of sharp money, there have been eight bet signals triggered on this game, including seven bet signals on the spread. This includes a reverse line movement alert at Buckeye (11-5, +5.04 units) and SIA (9-5, +3.19 units) on Mississippi +7.
The one bet signal triggered on the total was a steam move at CRIS (30-16, +9.46 units) on Bama Over 51. This is the second most profitable NCAAF O/U steam move this season trailing only Pinnacle (72-42, +20.79 units). Bettors can receive these steam moves, reverse line movement alerts and contrarian plays along with our highly profitable Best Bets by signing up for our Pro subscription.
This information seems to indicate that public money loves Alabama in this matchup, regardless of the line. However, as soon as the line hits -6 or -7 we've seen smart money taking Ole Miss. Perhaps that explains why sharp sportsbooks like CRIS, Pinnacle and The Greek has refused to move to past Alabama -6.5.
This is a classic example of Pro's versus Joe's with the public pounding the favored Crimson Tide and sharp bettors pouncing on the Rebels as a home underdog.
The screenshot below displays a line graph for this game and visualizes every line movement since this game opened at Pinnacle back on Sunday evening.

We always encourage our customers to shop for the best line before placing a bet, and that is particularly important in this game. Although most sportsbooks are currently offering Alabama -4.5, very square books like Bovada have moved their line to Alabama -6. Simply getting an extra half-point can increase your expected winning percentage by 2%, so getting an additional 1.5-points is crucial for bettors.
---
Many members may not be familiar with our matchup page, but all Sportsbook Insider subscribers have access to this data. This page offers a one-stop shop for all game day information including season stats, recent trends, past matches and more. The table below is taken from the Alabama/Mississippi matchup page and shows how the two teams compare statistically this season:

This game is currently receiving almost twice as many bets (17,618) as any other game on Saturday, with Nebraska/Michigan State (10,388) providing the closest competition. There are a number of key injuries to monitor including RB T.J. Yeldon (Hamstring, Probable) and QB Blake Sims (Shoulder, Probable) for Alabama and DB Senquez Golson (Hamstring, Probable) and WR Collins Moore (Knee, Questionable) for Ole Miss.
Although Sportsbook Insider customers can receive alerts via e-mail or text message, free users can view our new and improved injury page for the latest updates. Bettors can also download our free app for smart phones and tablets to receive these injury updates along with live odds, public betting trends, futures and more.
Readers may be interested to know that ESPN's College Gameday crew will be covering this game and every week 5Dimes posts a prop bet regarding Lee Corso's selection. This week, Alabama is listed at -700 to be Corso's pick with Mississippi listed at +460.
Sign up for our 4-day Pro trial to receive real-time odds, public betting data plus any picks and bet signals for this weekend's slate of football action. If you have any questions or would like assistance with your account, please contact our customer service department at 877-838-2853, e-mail us at help@sportsinsights.com, or utilize our live chat to speak directly with a representative.
[adrotate group="4″]