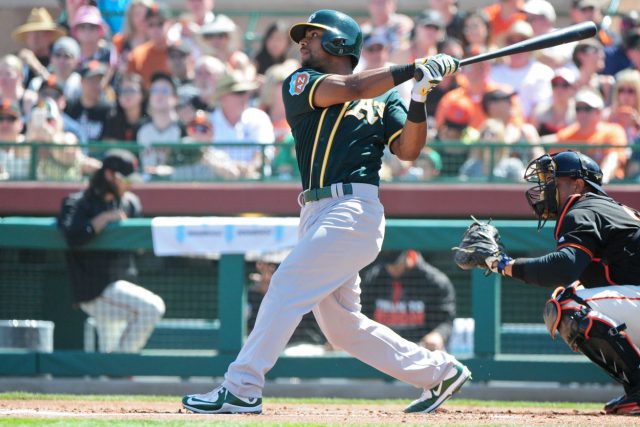 MLB Game of the Week: Oakland Athletics vs. Chicago Cubs
Throughout the season, we have used the tools available to Sportsbook Insider and Bet Labs subscribers to examine the most interesting line moves and highlight the most profitable betting systems. By examining these top trends and sharp money indicators, we have been able to pinpoint the top value plays for contrarian bettors.
Last week my coworker Andrew Fine explained why bettors should be fading San Diego Padres starting pitcher Edwin Jackson due to his past struggles, high walk rate, and steam on their opponent — the Cincinnati Reds. The Reds went on to win that game 8-6, which led to a plus-money payout for any bettors who followed our advice.
In this week's edition, there's a huge underdog that appears to be offering value in an interleague showdown. The Oakland Athletics opened as +192 underdogs at the market-setting Pinnacle sportsbook and have received just 22% of moneyline bets at our contributing sportsbooks. Despite this limited public support, Oakland dropped from +192 to +179.
Line movement that contradicts the public betting data is known as reverse line movement, and it's an excellent indicator of sharp money.

Following that reverse line move, public money continued to pound the Cubs, causing the line to move back to the opener. However, our newly added money percentages provide further evidence that sharp bettors are hammering the home 'dog.
Oakland is only receiving 22% of moneyline bets, but they are receiving 51% of total dollars wagered. That suggests that although a majority of casual bettors are backing the Cubs, large bets from wise guys and betting syndicates have been taking Oakland. In other words, this is the perfect example of "Pros vs. Joes" or "Sharps vs. Squares."
We always advocate taking a contrarian approach to sports betting, and constantly going against the grain to find value. By understanding the tendencies of casual bettors and capitalizing on public perception, bettors are able to take advantage of artificially inflated lines. That means betting against the public, buying on bad news, taking the teams that other bettors won't touch and fading the league's top teams. In tonight's game, bettors are able to accomplish all of those goals.
This season the Cubs (66-41) boast the best record in baseball, and have quickly become a public darling. Chicago has received a majority of moneyline bets in roughly 90% of their games this season (96 of 107), which is considerably higher than any other team in the league. However, that doesn't mean it has been profitable to take the Northsiders.
Bettors who wagered $100 on every single Cubs game this season would have actually lost $175, which puts them being supposedly woeful teams like the San Diego Padres and Philadelphia Phillies. Sportsbooks know they're going to take Cubs money regardless of the price, so they shade the opening line accordingly.
It's very rare to a road team listed as a favorite of greater than -200, but it's particularly rare to see them receiving overwhelming public support during interleague play. Since 2005, American League teams have gone 1751-1441 (54.9%) with +126.1 units won and a 4% return on investment (ROI) in interleague play. When they're also receiving less than 30% of moneyline bets that ROI skyrockets to 10.8%.

In the past, I have explained that underdogs are undervalued in high-scoring games, which bodes well for Oakland given tonight's 8.5 total. I have also explained that there is value fading tired teams, and the Cubs have played six games in the past seven days. There's also been value fading "elite" teams, and the Cubs currently have a 61% win rate. All of these trends are included in our 2016 MLB Betting Against the Public Report, which has posted a 24.3% ROI this season and 20.2% ROI all-time.
Betting on baseball can be a long grind, especially when you're constantly taking moneyline underdogs throughout a 162-game regular season. The expectation shouldn't be winning every game, but rather exploiting market inefficiencies and capitalizing on public perception.
There's obviously a reason that the A's are large underdogs tonight, but this is an excellent spot to buy low on Oakland and sell high on Chicago. At +192, Oakland would only need to win this game 34.25% of the time to break even. That's why I'm going to recommend that bettors go against the grain and take the home underdog.
These numbers are always subject to change, so make sure to visit our free MLB odds page for up to the moment lines, betting trends, injuries and more.
Have any questions for the staff at Sports Insights? Utilize our live chat to speak with a customer service representative or e-mail us at help@sportsinsights.com