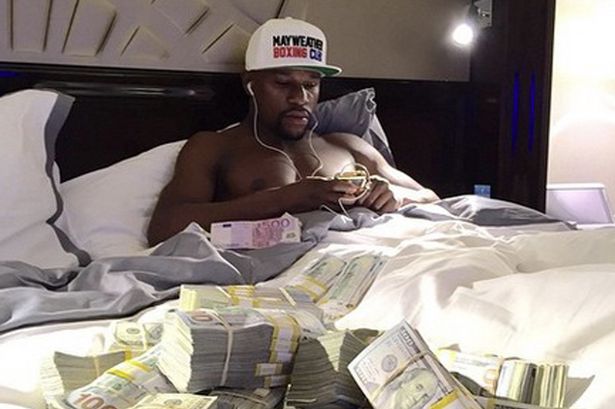 Mayweather vs McGregor: The Ultimate Pros vs Joes Matchup
At Sports Insights, we have two core betting philosophies: fade the public and follow sharp action.
The thought process is simple. More often than not, the public loses. They are biased, always bet with their gut instinct and don't even look at the betting percentages or line movement. Sure they'll win a few here and there, but in the long run, betting with the public is a losing strategy. If it were as easy as taking all favorites and home teams, Vegas would go bankrupt. There's a reason why casinos make loads of money every single year.
In addition to going contrarian, we also love following sharp action. We always want to be on the same side as the professional bettors who have a long track record of success. As an added bonus, this also allows us to place ourselves on the side of the books and casinos. As we all know, the house always wins.
Both strategies are profitable on their own, but the sweet spot is when you can combine them together on the same side. If a team is both contrarian *and* has sharp action, that's the perfect play for us.
On Saturday night, our philosophies will be put to the ultimate test when Floyd Mayweather and Conor McGregor step into the ring.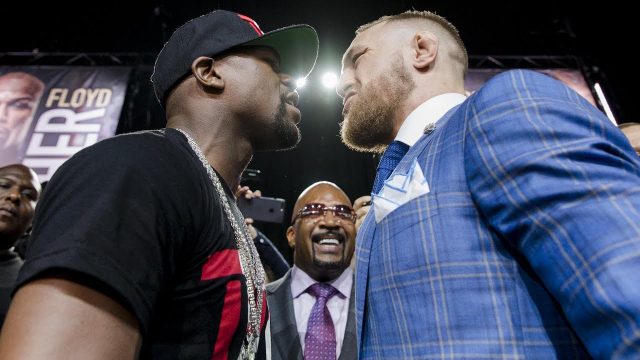 PROS ON MAYWEATHER, JOES ON McGREGOR
Last summer, before the fight was official, Mayweather opened as a -2000 favorite at Bovada, with McGregor a +900 underdog. Since that time, the line has absolutely plummeted across the market. Earlier this week, Mayweather reached -400 at Bovada, a new all-time low, with McGregor moving to +300.
At Las Vegas sportsbooks Westgate, William Hill and CG Technology, McGregor is getting over 90% of bets, but only about 20% of dollars. On the flip side, Mayweather is getting less than 10% of wagers but it accounts for more than 75% of the money– a clear indication that the public loves McGregor, but the big sharp bettors are on Mayweather.
Boxing updated

Saturday, Aug 26, 2017

C McGregor +400
F Mayweather -550

tickets: 94% McGregor (16-1 ratio)
money: 81% Mayweather

— Jeff Sherman (@golfodds) August 19, 2017
#MayweatherMcGregor is the biggest bet fight ? & currently the biggest liability ?(McGregor) on any event in @WilliamHillUS history. pic.twitter.com/MpO1guRVdU

— William Hill US (@WilliamHillUS) August 19, 2017
#MayMac update for 8/21 @CGTechnology_

92% of bets on McGregor

79% of money on Mayweather.

— Jason Simbal (@jsimbal) August 21, 2017
In an excellent article posted by ESPN, Vegas oddsmakers explain the precarious position they find themselves in. Simply put, they are stunned and "alarmed" by the overwhelming amount of action McGregor is receiving.
"Most of the people just ask to bet McGregor," South Point oddsmaker Jimmy Vaccaro told ESPN. "They don't even care what the price is."
Heavy, one-sided McGregor betting has created huge exposure and liability for the books. If McGregor is able to pull off the upset, public bettors will be rewarded with a massive plus-money payout, which would be a nightmare for the books.
"This could be the worst loss in the history of MGM Resorts," Jay Rood, VP of MGM, told ESPN.
Needless to say, the books will be rooting hard for Mayweather to run his record to 50-0 on Saturday night.
"All I know is we're less than a week away from making a lot of money or getting clobbered," Nick Bogdanovich, William Hill director of trading, told ESPN.
Is there any chance the public gets this one right?
"As we know, anything can happen," Vaccaro told ESPN. "But truthfully, this thing should be 50-1. To me, it's absurd."
Vegas bookmakers baffled by Mayweather-McGregor odds https://t.co/fENTdgahv5

— Doug Kezirian (@DougESPN) August 22, 2017
While many sportsbooks appear terrified of a McGregor upset, keep in mind that they are positioned exactly where they want to be.
WHEN WILL SHARPS POUNCE?
While public bettors hammer McGregor at an unprecedented rate, sharp bettors are sitting back and waiting to jump on Mayweather when the line "bottoms out." Will that be later today? Tomorrow? Saturday night 5 minutes before the fight? At this point, it's not a question of "if" but "when."
8/23 Update: We are now seeing Mayweather buyback across the market
.@FloydMayweather buyback alert!

Last 24 hours
Bookmaker: -484 to -550
5Dimes: -500 to -515
BetOnline: -465 to -480
Heritage: -470 to -510 pic.twitter.com/j50jTnh1f4

— Josh Appelbaum (@Josh_Insights) August 23, 2017
8/24 Update: Mayweather buyback continues, the line has bottomed out, sharps are now getting down hard on Floyd

Buyback continues on @FloydMayweather. He is now up to -600 at both @5Dimes and @bookmaker_eu. Sharps coming in hard. #MayweatherMcGregor pic.twitter.com/BDoKdZnO9f

— Josh Appelbaum (@Josh_Insights) August 24, 2017
Boxing updated

Saturday, Aug 26, 2017

C McGregor +425
F Mayweather -600

average ticket size
C McGregor $186
F Mayweather $8038

— Jeff Sherman (@golfodds) August 24, 2017
Kornegay says Westgate is at Mayweather -600 and doesn't expect to move it back to -500, indicating Floyd's price already bottomed out. https://t.co/roISVzKLLu

— Sports Insights (@SportsInsights) August 24, 2017
.@JimmyVaccaro has two more big bets here @southpointlv. 20 min apart. $200k. pic.twitter.com/2IyO39YYix

— VSiN (@VSiNLive) August 24, 2017
Over $400,000 bet on #Mayweather in the past half hour. +475/-575 now

— Chris Andrews (@andrewssports) August 24, 2017
.@MGMRaceSports took a $1 million bet on Floyd Mayweather today, per Jay Rood.

— David Payne Purdum (@DavidPurdum) August 24, 2017
One thing we know for sure, Mayweather bettors are getting incredible value. Instead of laying -2000, you can now take the best boxer of his generation at around -500 to -600 against a fighter making his boxing debut. As an added bonus, you can also fade the public, follow the sharp bettors and place yourself on the side of the books.
.@VSiNLive on #MayweatherMcGregor: "Line movement is NFL equivalent of fav opening -14.5 and moving to -10… Fav still likely to dominate." pic.twitter.com/LSunmympVB

— Josh Appelbaum (@Josh_Insights) August 23, 2017
While it's always difficult to compare sports betting to political betting, the Mayweather/McGregor match has some interesting similarities to the 2016 Election— not in terms of "favorite" vs "dog" but in terms of overwhelming public support and line movement.
Just like McGregor now, Hillary Clinton's odds skyrocketed in the final weeks and days before November 8th thanks to an influx of public betting, which created great value for bettors to go against the grain and take a shot on Trump at an inflated number.
We all know how that one turned out.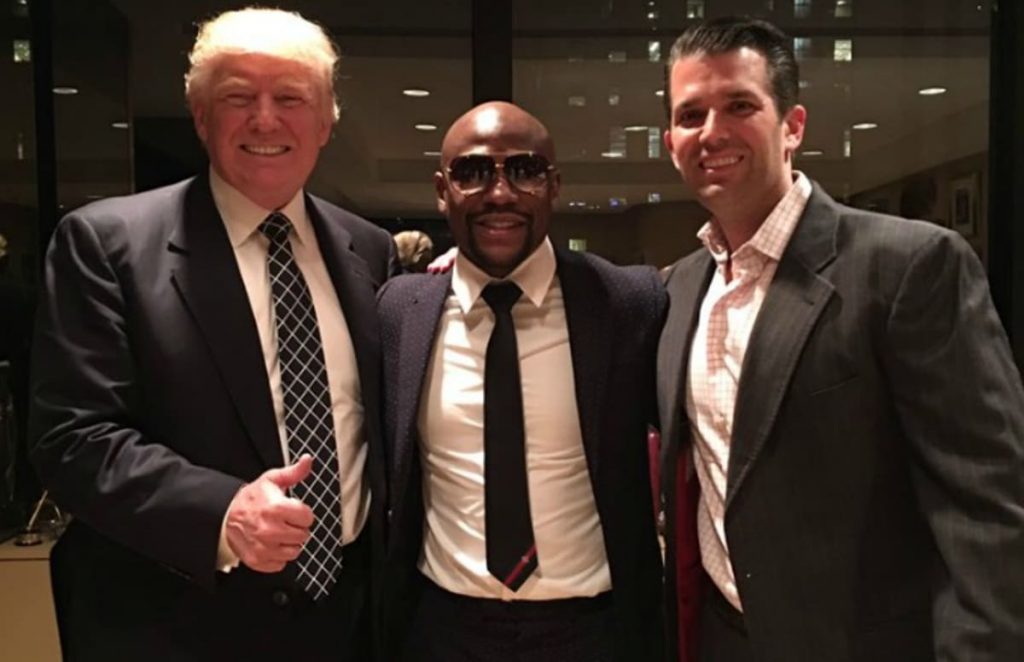 SHOP FOR THE BEST LINE, CHECK LIMITS
At Sports Insights, we always preach the importance of shopping for the best line. Here are the latest odds at several offshore sportsbooks.
Updated odds as of 7:30 PM ET Thursday August 24th
5Dimes: Mayweather -600, McGregor +450
Bookmaker: Mayweather -650, McGregor +450
Heritage: Mayweather -537, McGregor +412
Bovada: Mayweather -450, McGregor +325
BetOnline: Mayweather -530, McGregor +414
PaddyPower: Mayweather -450, McGregor +400
GT Bets: Mayweather -556, McGregor +385
Also, be sure to check the betting limits as they can vary substantially at different books.
Updated Floyd Mayweather vs. Conor McGregor Betting Limitshttps://t.co/9Y1waP0CyE pic.twitter.com/9clV6Wcrfy

— Sports Insights (@SportsInsights) August 22, 2017
WHAT DO YOU THINK?
Will you be placing a wager on the fight? Are you taking McGregor to pull off the upset of the century? Or will you fade the public, follow the big professional bettors and get down on Mayweather at a low number? Please leave your thoughts in the comments section below.
For more Mayweather-McGregor betting updates, follow us on twitter @SportsInsights