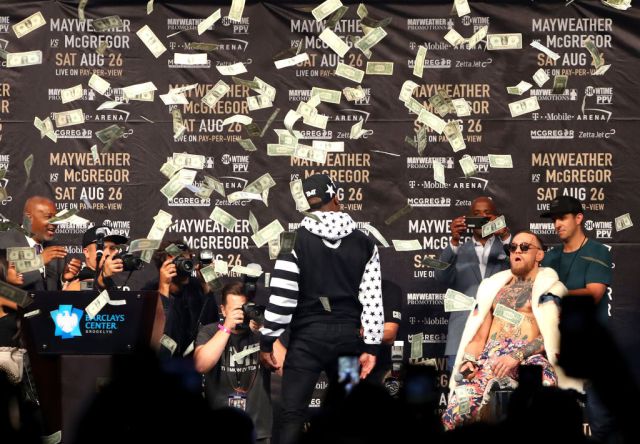 Mayweather vs. McGregor: Sifting Through Betting Buzzwords
Leading up to Saturday's highly-anticipated Floyd Mayweather vs. Conor McGregor fight, mainstream sports media has jumped aboard the hype train, reporting on topics such as recreational vs. professional action, the handle the fight is generating and how current liability is concerning for Las Vegas sportsbooks.
While you may already be familiar with these popular sports betting concepts, we sifted through the buzzwords to explain what's really going on behind the sportsbook counter.
Recreational money
It's no secret that this fight is generating significantly more attention from average sports fans than any other boxing and/or UFC fight. As a result, sportsbooks have seen a massive increase in wagers from recreational players (also referred to as "squares") who normally don't bet on boxing. In general, recreational players are interested in action and betting on popular games to have something to root for as opposed to betting solely for value.
A poll among our Twitter followers revealed that 67% of voters will be watching the fight in some capacity, whether it be at home, a bar or fight party.
POLL: Do you plan on watching the Conor McGregor/Floyd Mayweather fight on Saturday night?

— Sports Insights (@SportsInsights) August 22, 2017
With a flood of recreational bettors entering the market, sportsbooks are seeing more longshot money than originally expected. These players don't want to lay odds of -400 or greater in return for minimal profit. Instead, they're more inclined to bet small amounts on McGregor in hopes of catching lightning in a bottle and a much larger payout.
As recently as Tuesday, Westgate Las Vegas Superbook Manager Jeff Sherman reported that 92% (and a 13-1 ratio) of all tickets have taken McGregor.
Boxing updated

Saturday, Aug 26, 2017

C McGregor +400
F Mayweather -550

tickets: 92% McGregor (13-1 ratio)
money: 81% Mayweather

— Jeff Sherman (@golfodds) August 22, 2017
While the splits aren't as drastic, offshore books like BetOnline (83%), Bookmaker.eu (74%) and Pinnacle (72%) are also reporting one-sided McGregor action.
Historic handle
With recreational money flooding the market, the overall handle on this fight has skyrocketed. The handle is a term used by sportsbooks or bookmakers to indicate the total amount of money bet on an event. Simply describing this fight's handle as huge, unprecedented, etc., doesn't tell us much without knowing the actual dollar amount. Unfortunately, sportsbooks aren't in the business of revealing that information, but Scott Cooley, an Odds Consultant for Bookmaker.eu, helped put this fight in perspective by comparing it to other popular sporting events.
"In terms of handle, we've already eclipsed the Mayweather/Pacquiao fight," Cooley said. "It will be the largest handle for money and tickets in our combat sports history here at BookMaker.eu." Cooley added, "It's not going to trump what we do for a marquee Sunday Night Football game or the National Championship, but will certainly exceed some of the lesser NFL and Bowl games on the schedule."
Sportsbook liability
So with recreational bettors piling on and driving up the handle, how are sportsbooks being affected? In a great piece from ESPN's Doug Kezirian, multiple Las Vegas oddmakers offered "clobbered", "worst loss in the history of MGM resorts" and "destroyed" when asked to describe the potential impact of a McGregor upset.
While this is a reasonable conclusion based on how the line has moved, make no mistake, sportsbooks are in this position because they WANT to be in this position. It's a common misconception that sportsbooks are looking to balance their action so no matter who wins a game, match or fight, they collect their vig and guaranteed profit.
In reality, sportsbooks will move their lines to help manage liability, but are also very willing to take a position when they feel they're on the right side. In this example, sure, sportsbooks are facing massive losses if McGregor wins but they're obviously willing to take that risk.
If sportsbooks were truly in a bad spot, they could quickly attract Mayweather money by adjusting Floyd below -400. And let's be clear, that's not to say that between now and Saturday night they won't say uncle and move in that direction. But as of this moment, the largest sportsbooks in Las Vegas and offshore are comfortable with the volume of Conor McGregor wagers they've taken, and that alone speaks volumes.