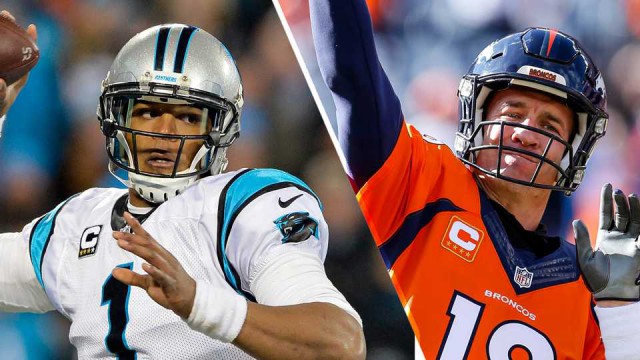 How Has Public Betting Affected The Super Bowl 50 Line?
Last week in this space, we examined how early money had been affecting the spread in Super Bowl 50. In short, the Panthers were listed as a 3-point favorite on the look-ahead line, but ultimately opened as 4-point favorites following their dominating performance against the Cardinals.
In early betting, a whopping 81% of spread bets had taken Carolina. This one-sided public betting had moved the line to Panthers -4.5 at sharp sportsbooks (i.e. CRIS, Pinnacle) and Panthers -6 at square sportsbooks (i.e. Bovada, Sportsbook.com).
This early public betting was fascinating since no Super Bowl team in our database had ever received more than 68% of spread bets and no NFL playoff team had ever received more than 79% of spread bets. When accounting for the number of bets placed on the Super Bowl, Carolina was shaping up to be one of the most popular sides of all-time. Nick Bogdanovich, director of trading for William Hill, echoed these sentiments in an article for ESPN.
"I can't remember a more one-sided Super Bowl."

Line is up to CAR -5.5 in most Las Vegas books. My Chalk newser: https://t.co/SVMr91tcNN

— Ben Fawkes (@BFawkesESPN) January 28, 2016
In the past week we have seen this lopsided public betting continued, albeit not as dramatically. Since last Wednesday the percentage of spread bettors taking the Panthers has dropped from 81% to 73% at our seven contributing sportsbooks. At William Hill, the percentage of spread tickets taking the Panthers has dropped from 90% to 81%.
With these betting trends adjusting, Carolina is now receiving the third highest level of support of any NFL playoff team trailing the Indianapolis Colts (received 79% of spread bets on 1/3/09) and the San Francisco 49ers (received 74% of spread bets on 1/12/14). However, the Panthers are still the most popular Super Bowl side by a wide margin.
With this non-stop influx of public money on Carolina, oddsmakers have been forced to continually increase the line. Almost immediately after publishing our last article, CRIS and Pinnacle moved from -4.5 to -5.5 which is a fairly insignificant line move since "5" is considered a dead number. However, the more interesting action happened later the following morning.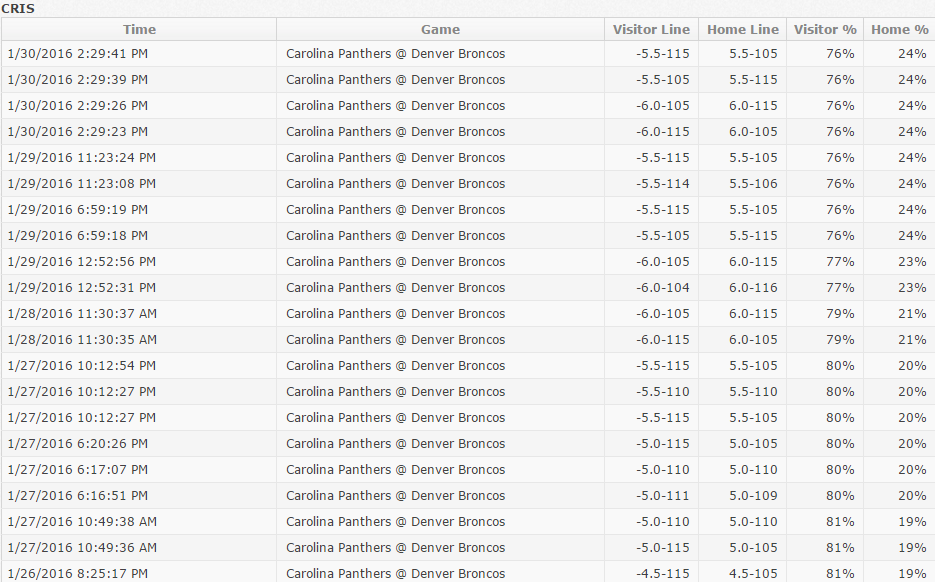 As you can see, the oddsmakers at CRIS moved from Carolina -5.5 to -6 for the first time on Thursday, January 28th at 11:30 AM eastern. The line remained unchanged for several hours until buy back on the Broncos dropped the line back to 5.5.
After seeing the line dip back to 5.5, public bettors continued to pound Carolina and the line once again moved from -5.5 to -6 on Saturday, January 30th at 2:29 PM eastern. That line was posted for a grand total of 16 seconds before buy back on the Broncos caused the line to drop to 5.5. That's an excellent indication that sharp bettors love the value on Denver +6.
The line graph below, which is available to Sportsbook Insider customers, displays how public betting has affected the line since opening at CRIS.

To quickly summarize, Carolina has received overwhelming public support which caused the line to move from -4 to -6. Sharp bettors saw that this line was being artificially inflated, but it was important to wait until the line reached Denver +6. That's because "5" is considered a dead number while "6" is the fourth most common margin of victory.
We have also noticed something interesting regarding the moneyline betting trends for this game. Although the Broncos (+200) are receiving just 54% of moneyline bets, they have received 72% of total dollars wagered. That means sportsbooks could have a lot of liability if Denver is able to win the game straight up.

These trends are also interesting because large underdogs have fared extremely well during the NFL playoffs. Since 2003, underdogs of at least 4.5-point have gone 42-28 ATS (60%) with +11.51 units won. When we tack on our contrarian philosophy and examines teams that are receiving less than 50% of spread bets, that record improves to 28-14 ATS (66.7%) with +12.05 units won.
If we apply that same philosophy to the moneyline, we find that contrarian 'dogs of at least 4.5-points have gone just 15-28 ATS (34.9%). However, since we're always getting plus money this system has actually been even more profitable than our spread system.

Since this article was initially published on Tuesday, public betting has started to even out and the percentage of spread bettors taking Carolina has dipped from 73% to 70%. It's also interesting to point out that although the line hasn't moved, we've started to seen more sharp money hammering Denver. In the past three days, the percentage of total dollars wagered on Carolina has dropped from 65% to 59%.
Spread ticket percentages are holding strong while actual spread dollars are evening out. #SuperBowl50 pic.twitter.com/lr5KXLdjvt

— Sports Insights (@SportsInsights) February 5, 2016
Want our official Best Bet pick for the Super Bowl?
Sign up for a 4-day trial of our Sportsbook Insider Pro and access all of our picks instantly! That includes NFL, NBA, NCAAB and NHL. Schedule a one-on-one demo with our customer service manager and we'll tack four free days onto your subscription.
These numbers are subject to change before kickoff, so bettors should be sure to visit our free NFL odds page for the latest lines, injuries, public betting trends and more.
Have any questions for the staff at Sports Insights? Utilize our live chat to speak with a customer service representative or e-mail us at help@sportsinsights.com.
David Solar is the Content Manager for Sports Insights and can be reached directly at David@SportsInsights.com