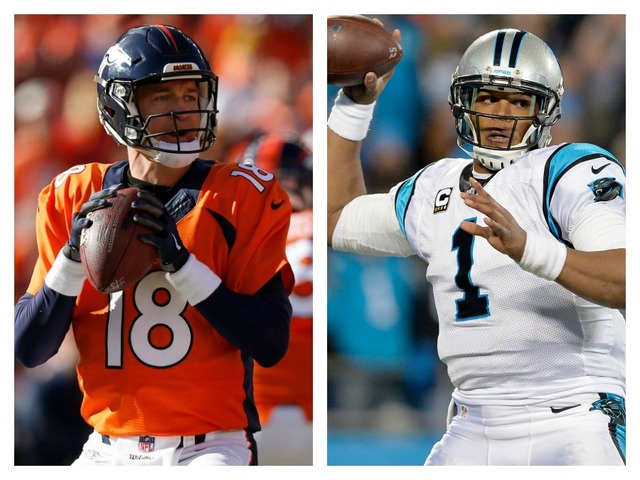 Where is Early Money Going in Super Bowl 50?
The Denver Broncos (14-4) defeated the New England Patriots and the Carolina Panthers (17-1) knocked off the Arizona Cardinals to advance to Super Bowl 50. It's still early in the week which makes it difficult to fully gauge public sentiment, but there are several indicators that this line has been artificially inflated.
Last week, 5Dimes posted look-ahead lines for all four potential Super Bowl 50 matchups. These look-ahead lines had the Carolina Panthers listed as 3-point favorites against the Denver Broncos.
Super Bowl Look-Ahead Lines

NE (-1.5) vs. ARI | OU 50.5
NE (-1) vs. CAR | OU 48.5
ARI (-2.5) vs. DEN | OU 44.5
CAR (-3) vs. DEN | OU 43.5

— Sports Insights (@SportsInsights) January 22, 2016
Although the look-ahead lines had Carolina listed as a 3-point favorite in this game, it's interesting to see the impact of public perception. The Broncos defense looked phenomenal against the Patriots' one-dimensional offense, but they struggled to close out their victory. On the other hand, the Panthers racked up 49-points against an acclaimed Cardinals defense.
With the public seemingly overreacting to the Panthers dominant victory, Carolina opened as a 4-point favorite across the sports betting marketplace. This adjustment from Carolina -3 to -4 was massive when you consider that "3" is considered the most important key number for NFL bettors.
During the regular season we typically see a majority of public bettors taking the favorite, but that trend is typically turned on its head during the playoffs. When two "elite" teams square off, bettors have been more than willing to simply take the points. In fact, on average the favorite has received just 48.54% of spread bets in the Super Bowl.
That has not been the case this season. According to our public betting trends, which are available to members on the free NFL odds page, the Carolina Panthers have received 81% of spread bets at our seven contributing sportsbooks.

In addition to receiving 81% of spread bets, the Panthers have received 76% of total dollars wagered according to our newly added money percentages. There has been similar public betting at the William Hill sportsbook — a prominent oddsmaker in Las Vegas. According to Michael Grodsky, the Panthers have received 90% of all spread tickets and 86% of total dollars wagered.
---
Imagine the sports betting marketplace as a seesaw. If too many bettors load up on one side (typically caused by an overreaction to recent results), oddsmakers will need to even the weight by adjusting the line and encouraging action on their opponent. These shaded lines create additional value for contrarian bettors who are willing to go against the grain and take the unpopular side.
During the NFL playoffs, the number of bets placed on every game nearly doubles, with much of the action from uneducated bettors. In this instance, an influx of money from these "squares" has caused oddsmakers to adjust their spread from Carolina -4 to -4.5.
The line graph below, which is available to Sportsbook Insider subscribers, shows how public betting has affected the line at CRIS.

It's still early in the week and these numbers are subject to change, but no Super Bowl team has ever received more than 68% of spread bets. In fact, the Panthers are receiving more public support than any NFL playoff team in our historical database.
Super Bowl 50 is on pace to have the most lopsided public betting of any NFL playoff game in our database. pic.twitter.com/CiFtq6ur8s

— Sports Insights (@SportsInsights) January 26, 2016
The value of our betting against the public strategies is magnified based on the number of bets, and the Super Bowl is typically the most heavily bet game of the year. It's one of the few instances where oddsmakers take enough public money to mitigate their risk from wise guys and betting syndicates. That fact becomes readily apparent by surveying the sports betting marketplace.
Sharp sportsbooks accept professional action and take the highest limits, so they will not typically shade their lines off the market. On the other side of the spectrum, square sportsbooks shade their lines towards public favorites which has provided additional value for our betting against the public strategies.
Pinnacle is offering a $500,000 maximum bet limit and CRIS/Bookmaker is offering a $100,000 maximum bet limit on Super Bowl 50 spread bets. Even though a majority of public bettors have been hammering Carolina, these two sharp books have been holding steady at Panthers -4.5. However, "square" sportsbooks like Bovada take much smaller limits ($2,000) which means that public money becomes a larger determinant in the line movement.
At the time of publication, Bovada was hanging their Super Bowl line at Panthers -6. This was very interesting since "6" is considered the fourth most important key number for NFL bettors. This also highlights of shopping for the best line and having access to multiple sportsbooks.
Have any questions for the staff at Sports Insights? Utilize our live chat to speak with a customer service representative or e-mail us at help@sportsinsights.com.
David Solar is the Content Manager for Sports Insights and can be reached directly at David@SportsInsights.com